Six Decades of "Tonight"
THE TONIGHT SHOW: Six Decades of Television and Camera History
A look back at more than 60 years of the cameras that brought us everyone from Allen, Paar and Carson to Leno, O'Brien, Leno and Fallon

Included below: RCA TK10s, TK11s, TK41s, TK44s, TK47s, Sony HD 1000s and Sony HD 1500s and 1550s
I'll begin by saying this article and its great pictures from the "Tonight Show with Conan O'Brien' would not have been possible without the help of cameraman Bruce Oldham, and our friends at NBCU Photo Bank.com. Bruce worked with Conan at NBC and is now with him at the Warner Brothers stage for his TBS show; in another Gallery article, we'll show you that studio, too! Since this history comes all the way to modern times, we'll see modern Sony cameras in action. There's a lot of interesting information here on the current state of broadcast cameras that will be exciting and educational for all of us.
The Tonight Show was a creation of Sylvester "Pat" Weaver, first president of NBC Television, and has been on the air since 1954. It is the longest currently-running regularly scheduled entertainment program in the United States, and the third longest-running show on NBC after Meet the Press and Today.
When the show began it was broadcast live, but on January 12, 1959 the show began to be videotaped for broadcast later on the same day, although initially the Thursday night programs were kept live.
Color broadcasts began on September 19, 1960, during Jack Paar's tenure as host, and below is the only known photo of a color camera on the Paar set in Studio 6B.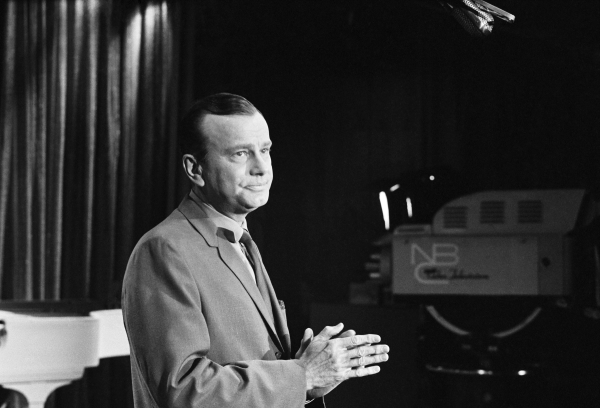 Photo courtesy NBCU Photo Bank.com. Copyright NBC. This image may not be archived, copied, leased or shared.
The Tonight Show has been hosted by Steve Allen (1954-1957), Jack Paar (1957-1962), Johnny Carson (1962-1992), Jay Leno (1992-2009, 2010-2014), Conan O'Brien (2009-2010), and Jimmy Fallon (2014-present).
The longest-serving host to date was Carson, who hosted The Tonight Show Starring Johnny Carson for 30 seasons, from the fall of 1962 through the spring of 1992. NBC's Broadway Open House, which began in 1950, first demonstrated the potential for late-night network programming. The format for The Tonight Show can be traced to a nightly 40-minute program Allen hosted on WNBT, NBC's New York station, starting in 1953. Network president Pat Weaver saw it, liked Allen and made a deal. In September 1954, it was renamed Tonight! and shown on the full NBC network.
Steve Allen (1954-1957)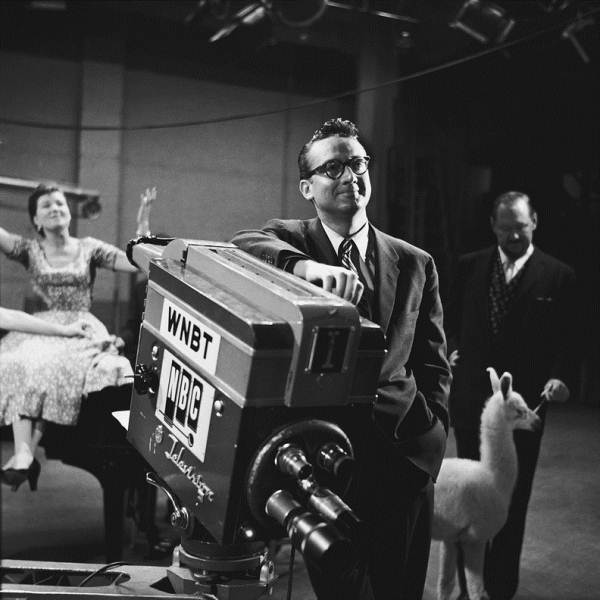 Photo courtesy NBCU Photo Bank.com. Copyright NBC. This image may not be archived, copied, leased or shared.
Above is Steve Allen with an RCA TK10 on the Tonight set at the Hudson Theater. The first Tonight announcer was Gene Rayburn. Allen's version of the show originated such talk show staples as an opening monologue, celebrity interviews, audience participation, and comedy bits in which cameras were taken outside the studio. The show also had music, including guest performers and a house band under the direction of Skitch Henderson.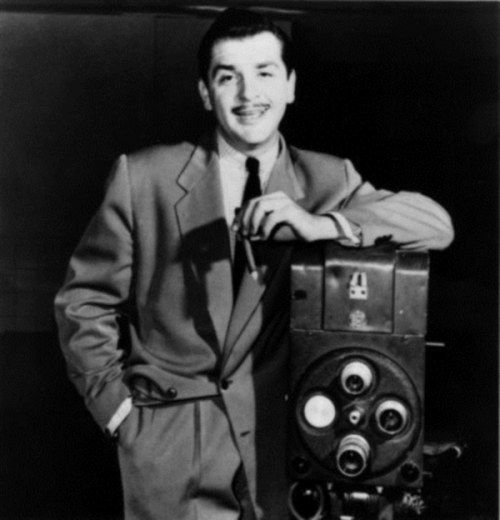 When the show became a success, NBC asked Allen to do a prime-time Sunday comedy-variety show in June 1956 and put him up against Ed Sullivan. This led him to share Tonight hosting duties with Ernie Kovacs during the 1956-1957 season. To give Allen time to work on his Sunday evening show, Kovacs hosted Tonight on Monday and Tuesday nights, with his own announcer (Bill Wendell) and bandleader, Kovacs was in essence, the first guest host, but Paar is credited with introducing that concept (and one of his early guest hosts was Johnny Carson).
Tonight! America After Dark (1957)
NBC wanted Allen to focus on his Sunday program in order to compete with Ed Sullivan, and thus Allen and Kovacs departed Tonight. The network changed the format of Tonight! into a late-night counterpart of Today, focusing on news and features. It was originally hosted by Jack Lescoulie, who was later replaced by Al "Jazzbo" Collins. Hy Gardner conducted interviews. The show was unpopular and a number of affiliates dropped the program.
The Jack Paar Era (1957-1962)
With Tonight! America After Dark a fiasco, NBC hired comedian Jack Paar to host a retooled Tonight that hewed more closely to Allen's original formula of comedy, music and interviews. After Tonight Starring Jack Paar (which began the practice of branding the show with the host's name) debuted in July 1957, the affiliates that had dropped the earlier show began to return. Paar's original announcer was Franklin Pangborn, but he was replaced after a few weeks by Hugh Downs. Jose Melis, Paar's Army buddy, led the house band. The program's home was Studio 6B at NBC's New York studios at 30 Rockefeller Plaza. (Remember this, for a great circle will be completed at the end of this article.)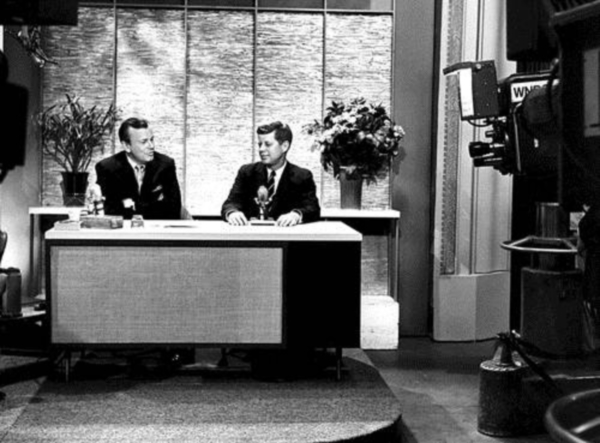 Above, Jack interviews future president John F. Kennedy as RCA TK11s beam it to the nation.
On February 11, 1960, Paar walked off his show after NBC censors edited out a segment, centered around a joke about a "water closet," taped the night before. As he left his desk, an emotional Paar said, "I am leaving The Tonight Show. There must be a better way of making a living than this." Paar's abrupt departure left his startled announcer, Hugh Downs, to finish the broadcast himself.
Paar returned to the show on March 7, 1960. He strolled on stage, struck a pose, and said, "As I was saying before I was interrupted…" After the audience erupted in laughter and applause, Paar continued: "When I walked off, I said there must be a better way of making a living. Well, I've looked… and there isn't."
Paar left the show in March 1962, saying he could no longer handle the load of putting on the show five nights a week. The Jack Paar Show moved to prime time as The Jack Paar Program, and aired weekly, on Friday nights, through 1965. Jack was a favorite of mine…quite a sharp man!
The Johnny Carson Era (1962-1992)
Johnny Carson had been hired by NBC to replace Jack Paar, but contractual obligations prevented him from taking over Tonight until October 1, 1962. For all but a few months of its first decade on the air, Carson's Tonight Show was based in NBC's Studio 6B at 30 Rock. Ed McMahon was his announcer and sidekick. Below, we see Carson and McMahon in 6B, surrounded by TK41s.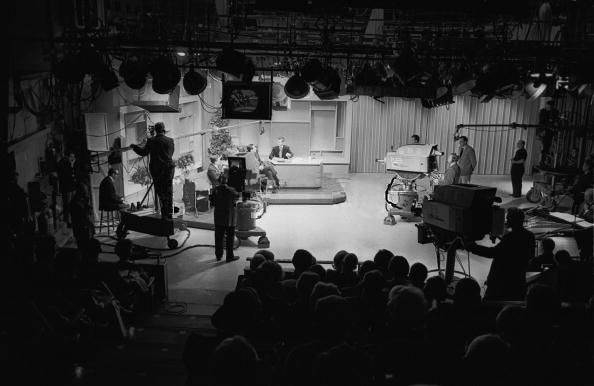 Photo courtesy Lytle Hoover's Old Radio.com.
The TK41 images were so good, Carson kept them on his show until about 1971.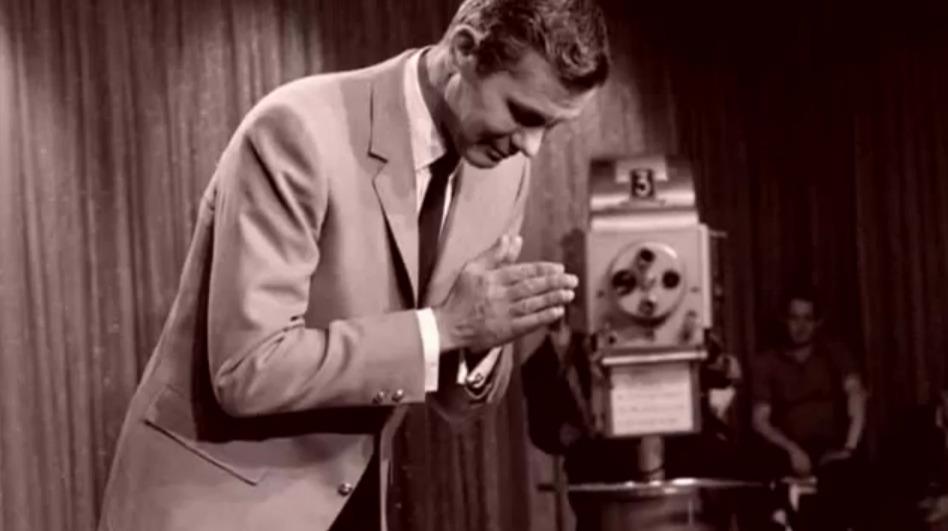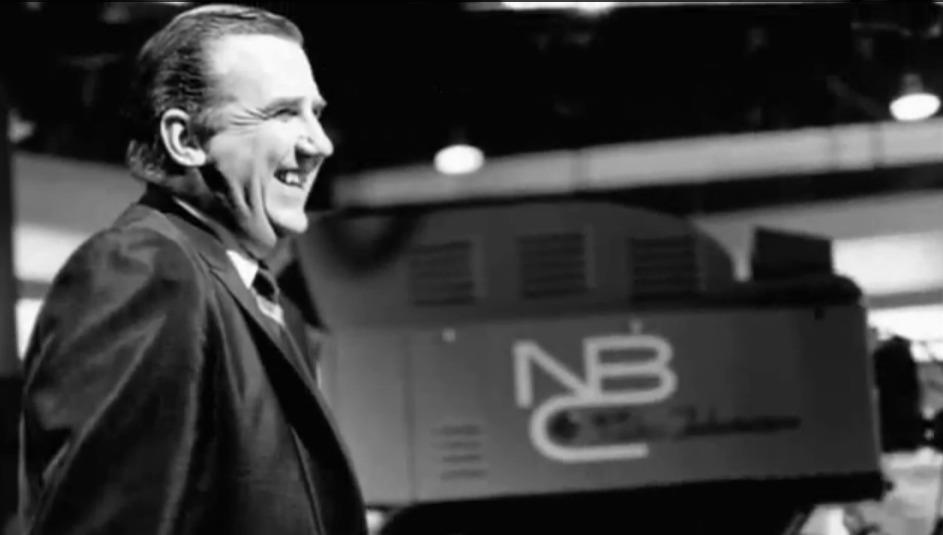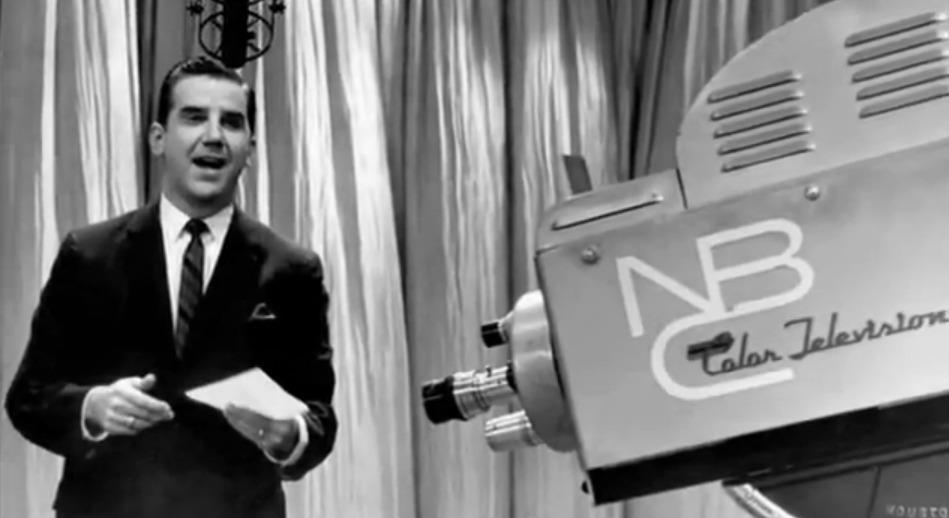 A year before the move to Los Angeles, NBC Studio 6B was equipped with 4 RCA TK44s. Had it been up to Johnny, they would have kept the TK41s till the move, but they needed to get the audience used to the new images the TK44s made.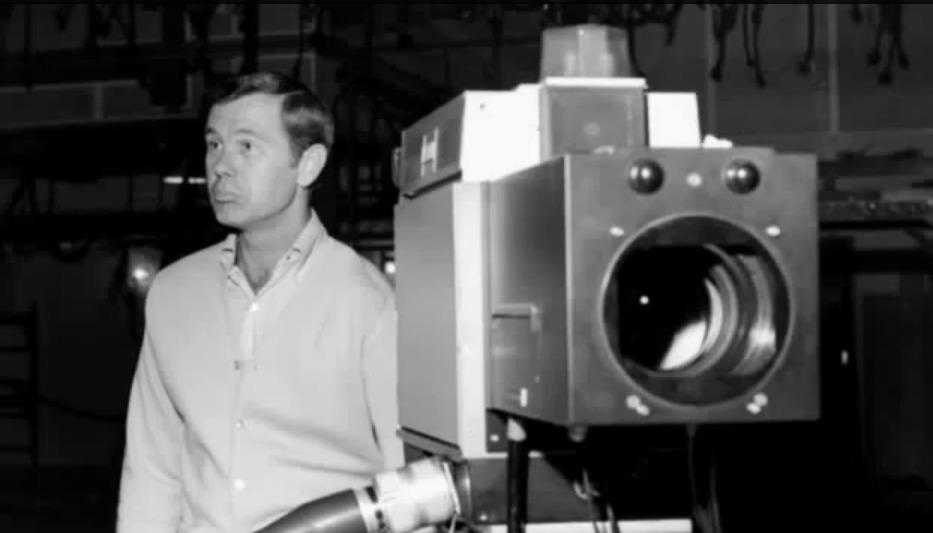 In May 1972 the show moved to Burbank, California into Studio 1 of NBC Studios West Coast (although it was announced as coming from nearby Hollywood). The Carson show originated from there for the remainder of his tenure. Below are four shots from the Carson show showing RCA TK44s on the set.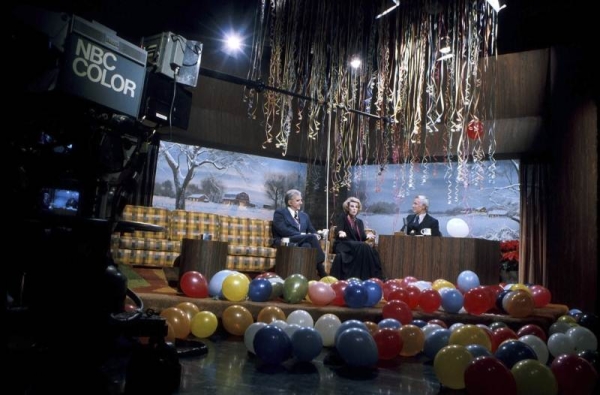 Johnny, Joan and Ed celebrate the Tonight Show's anniversary in 1975.
Photo courtesy NBCU Photo Bank.com. Copyright NBC. This image may not be archived, copied, leased or shared.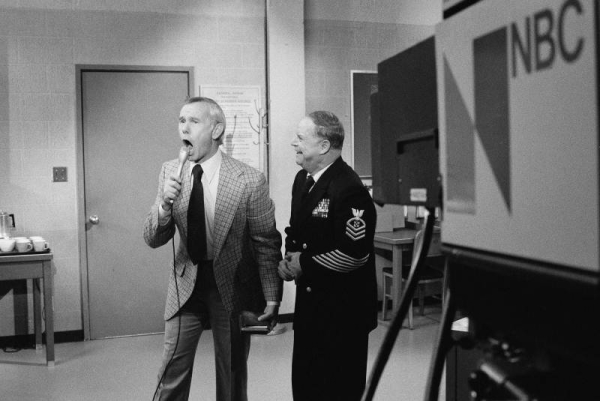 Remember this? In December 1976, Johnny marched next door and busted onto the set of CPO Sharkey to confront Don Rickles after finding out Don had broken his cigarette box while guest hosting. Note the new "Nebraska" logo on the TK44.
Photo courtesy NBCU Photo Bank.com. Copyright NBC. This image may not be archived, copied, leased or shared.
The First Jay Leno Era (1992-2009)
Johnny Carson retired on May 22, 1992, and was replaced by Jay Leno amid quite a bit of controversy. It was no secret that David Letterman, whose Late Night program aired on NBC after for Carson for years, wanted to host The Tonight Show when Johnny retired. Carson, and others, considered David his natural successor despite Leno having been Carson's permanent guest host for several years. It was an ugly situation behind the scenes and Leno prevailed. Letterman, having had his heart set on Tonight, left NBC and joined CBS. The Late Show with David Letterman, airing in the same slot, finally made CBS a contender in late-night, a competition that continues even after Leno and Letterman have made way for Jimmy Fallon and Stephen Colbert.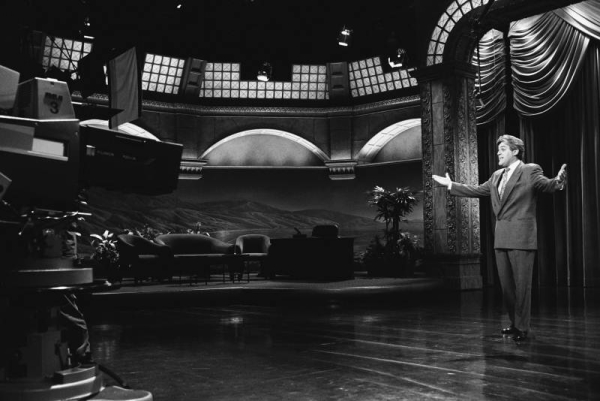 The photo above was taken the first week Jay took over the show, with TK47s now in use. The 47s came to Burbank in 1980 and were used till 1996.
Photo courtesy NBCU Photo Bank.com. Copyright NBC. This image man not be archived, copied, leased or shared.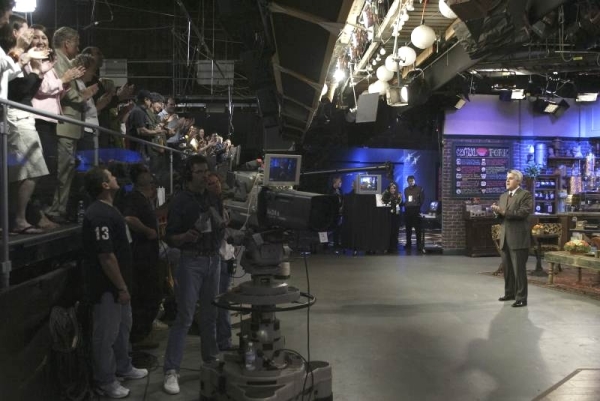 Above is Jay Leno in May of 2004 doing his monologue to new Sony cameras…not yet HD, but that progression is shown below with a Sony HD 1000 camera on stage with Jay in June of 2007. The Sony HD 1000 is a great camera. In the business, it's called a "hard body" camera…as you will see below, things have changed!
Photo courtesy NBCU Photo Bank.com. Copyright NBC. This image may not be archived, copied, leased or shared.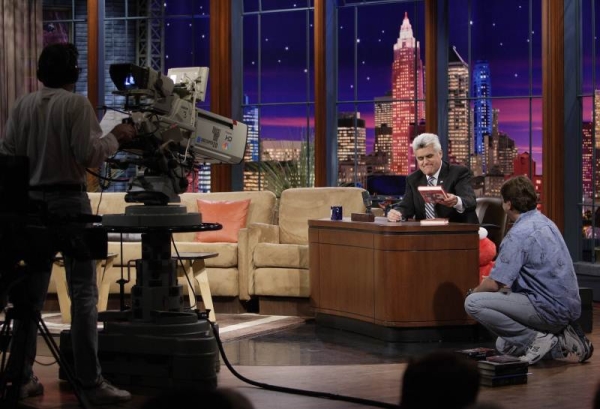 The Conan O'Brien Era (2009-2010)
On September 27, 2004, the 50th anniversary of the show's premiere, NBC announced that Jay Leno would be succeeded by Conan O'Brien in 2009. Leno explained that in yielding to Conan, he wanted to avoid repeating the hard feelings that developed between him and David Letterman, and called O'Brien "certainly the most deserving person for the job." I guess it's the thought that counts, right? What was thought, at the time, to be the final episode of The Tonight Show with Jay Leno aired on Friday, May 29, 2009.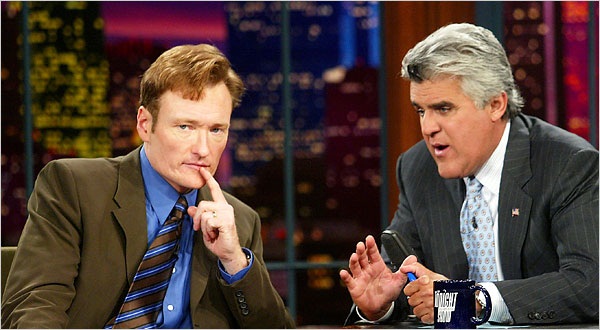 O'Brien replaced Leno as host of The Tonight Show on Monday, June 1 from a new studio in Stage 1 of the Universal Studios Hollywood back lot, ending an era (since 1972) of taping the show in Burbank. All the photos below were taken in that new multimillion dollar studio, where six floor cameras and four or more fixed-position audience reaction cameras were in use daily.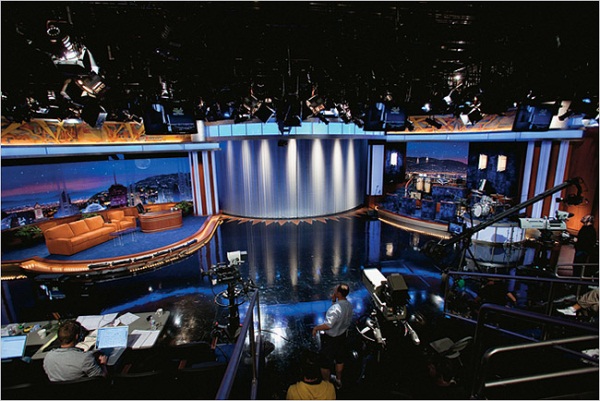 Above, a bird's-eye view of the new studio and below, a view from the house audio console.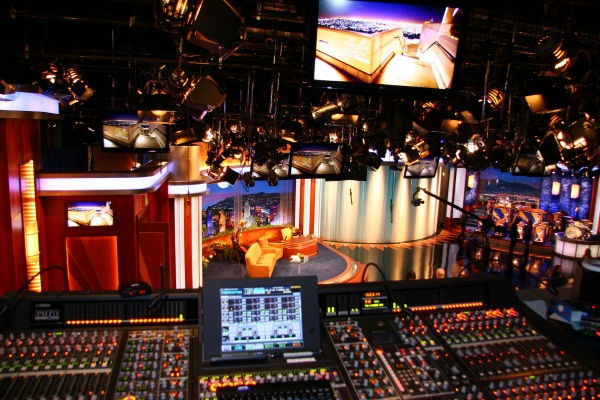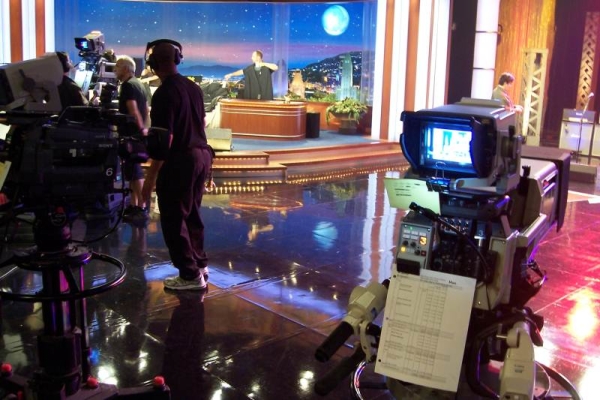 Now, let's go on the stage floor at camera rehearsal. At first glance, it looks like there are big Sony studio cameras everywhere, right? Not so fast. There's more below.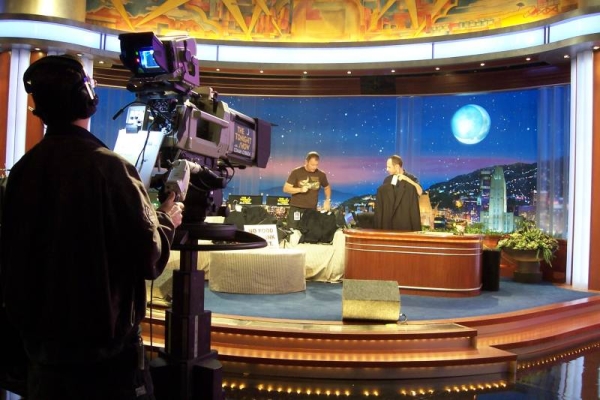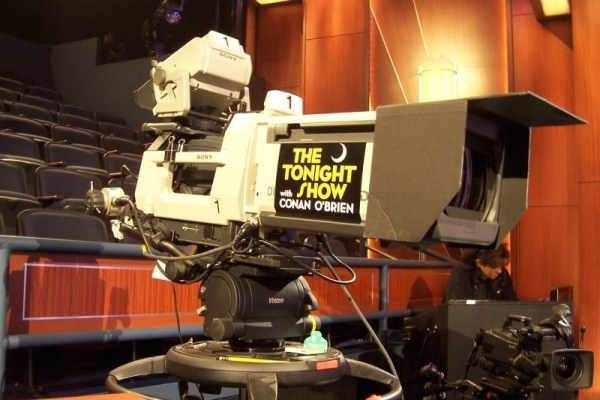 If you have not quite caught on yet, this should do the trick. Do you notice the difference in the light and dark parts of the camera? Well, that's because these are two unique elements. These are "build up kits" that use small Sony HDC 1500 EFP cameras and HD lens adapters.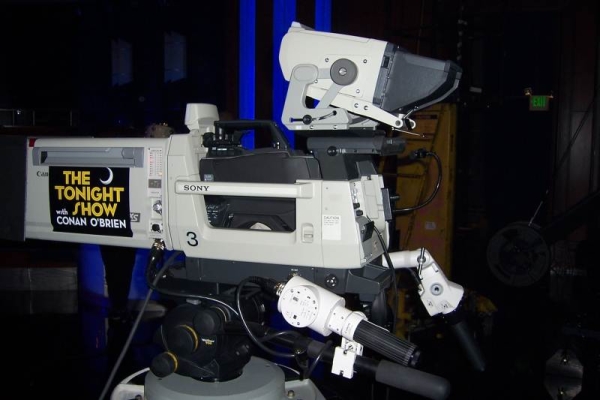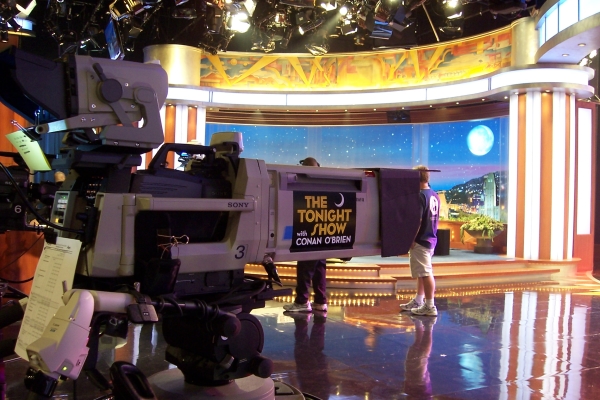 We'll close with a couple of shots that show Bruce's camera 3 (above) and the main interview set. His was one of the three large-lens cameras mounted on the new Vinten Quattro peds, and was equipped with a 72X lens. His camera did guest close-ups at home base and other zones. He has the exact same setup now and is on camera 3 of the Conan show on TBS. The other two large-lens cameras had 27X lenses and were cameras 1 and 2. All together, there were nine cameras with eight operators in the studio. Cameras 4 and 6 were the combo hand-held and ped-mounted. Camera 5 was the jib, and 7 and 8 were robo cams with one operator. There were also two Iconix lockoff lipstick cameras for audience shots.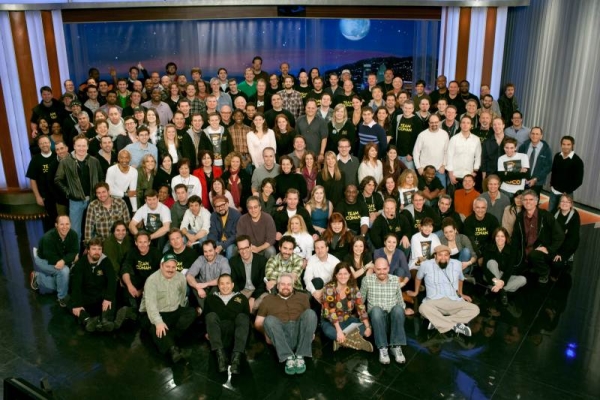 Here is the final class picture of The Tonight Show with Conan O'Brien…a great crew, and a lot of great talent here. Fortunately, TBS made a deal with Conan and most of these staff members are again "Coco"-nuts…including Bruce, who's still on camera 3. Something I did not know about "how things work now" is that the camera operators and many other technical people were not NBC employees. They are called "day hires," and that seems to be the way the new television business works…too many accountants in radio and television these days. Many thanks again to Bruce Oldham for the great photos.
---