How To Comment: Since many of our world wide readers are not using social media, we have made it easy for you to register and log in to comment too. Notice on all of the Daily Post articles, and at the bottom of each page in other sections, there is a comment area, with a message inviting you to log in to comment. Just click the underlined Login link there (or the green text here), and you will be directed to a one time registration process. On that page, under the white box that asks for username and password, notice the Register button (click here or there), and add your user name, email and name. Then, click Register and an email will come to you with a link to choose a password, after you choose it, save it and sign in. Check your spam box if you don't see the email reply from us. Until you sign out, you can comment anywhere. When you come back, just enter your name and password. Only your name will appear with your comment, and not your email address. It's that easy. 
If you are using social media, like Facebook, as above, click the Login link and you will find the social media buttons on the registration tab, so just click it to sign in using your account.  Many of the prior comments here were imported from our sister Facebook page, with valuable insights in posted by our large family of broadcast veterans, so enjoy them.    
About This New Site: The "new heart" of Eyes Of A Generation is the Daily Posts section, with almost 3,500 articles, displayed 30 per page. The Library and Archives sections are bigger and better than ever, and fascinating. An entirely new part of the site is the Studios And Network History which is unique to Eyes Of A Generation. There, you'll find over 700 pages of history and rare photos you will not find anywhere else. These essays cover the history of ABC, CBS and NBC, and their studio histories on each coast, with a one of a kind time line in each. Finally, there is now a Contribution/Contact page too. If you need to contact me, just use that form. If you would like to contribute to the effort I have made each day for 10 years in preserving our broadcast history, that would be very welcome, as are your contributions of photos, videos, comments and support. 
On November 3, 2016 -
About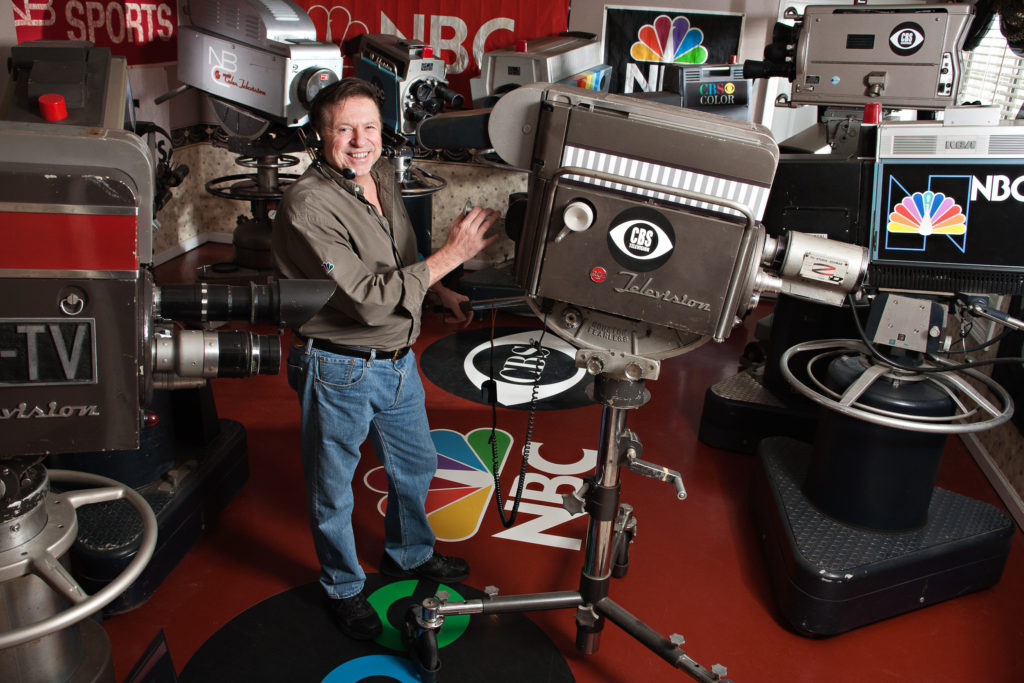 As I write this in my office here at home, there is something sitting 20 feet from me that kind of started this whole thing. It, to me, is the alpha and the omega in one. It, is a Marconi Mark IV camera (upper right, top). It was the first camera I ever wanted to own and the last camera that I wanted for my collection.
As you can read in The Ellerbee Collection, where I'll show you pictures of the Marconi fully restored, seeing that particular camera for the first time at around age 11 sparked something in me, and I remember vividly two of them taking my picture at Georgia Public Television in Atlanta, when my sixth grade class went there to perform a dance. Even before that though, I was already interested in being a part of radio and television and that started in kindergarten.
My mother had an Electrolux vacuum cleaner that had a removable cord. One end was male, the other female and rectangular. I remember many times playing 'announcer' with that cord and the female end was a perfect microphone. I even had the mic cord pulling routine down to a tee and, just like the game show hosts on TV, I would walk all around the living room describing the furniture and candy bowls to my imaginary viewers. I stopped that the day I got the great idea of plugging the cord in into the wall. My mic technique was good, but it got a little too close to my spit wet lips and sparked.
Believe it or not, by the time I had finished the first grade, I had done my first national commercial and you can hear it below. The product was Windex and the venue was the ABC Radio Network.
Every weekday morning, WLS in Chicago broadcast The Don McNeil Breakfast Club nationwide from the Sherman Hotel. Fortunately, that's the hotel my dad chose for us in 1956 when my mother and I went with him on a business trip. Mother and I got up early and went to watch, and that day, they asked the children in the audience to come up and be part of a skit with Gail Davis, who played Annie Oakley on the hit ABC western series.
There were only two kids there, me and a 4 year old girl who fortunately did not talk much. Don was talking to us and asked me a question that segued us right into a Windex live spot. As he hit the out cue line, a 12 piece band with singers played the Windex jingle. They were thoughtful enough to send me an aircheck of what I had done and I almost wore that little 45 rpm record out, listening to me on the radio. I was hooked. You can hear my edit of the Don McNeil, 1956 aircheck below in the audio files. For me, that would be the first of many thousands of air checks.
I started playing drums in the second grade (and still play), and have spent most of my life in and around music, radio and television. Fortunately, my next door neighbor owned a few radio stations, and at age 16, I began my career as a broadcaster. I was a disc jockey on weekends till I finished high school, I was a full time DJ at WRFC and WDOL in Athens, and WZGC in Atlanta while attending the University of Georgia's, Grady School of Journalism where I majored in Radio, TV and Film. Below, at age 18, I am interviewing two big stars of 1968…Johnny Rivers and Gary Puckett. Under that I'm on the air at age 20 at WDOL in Athens.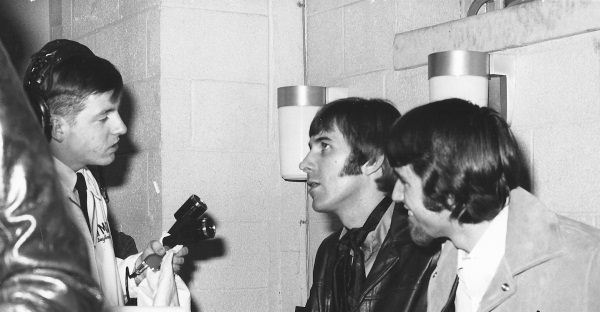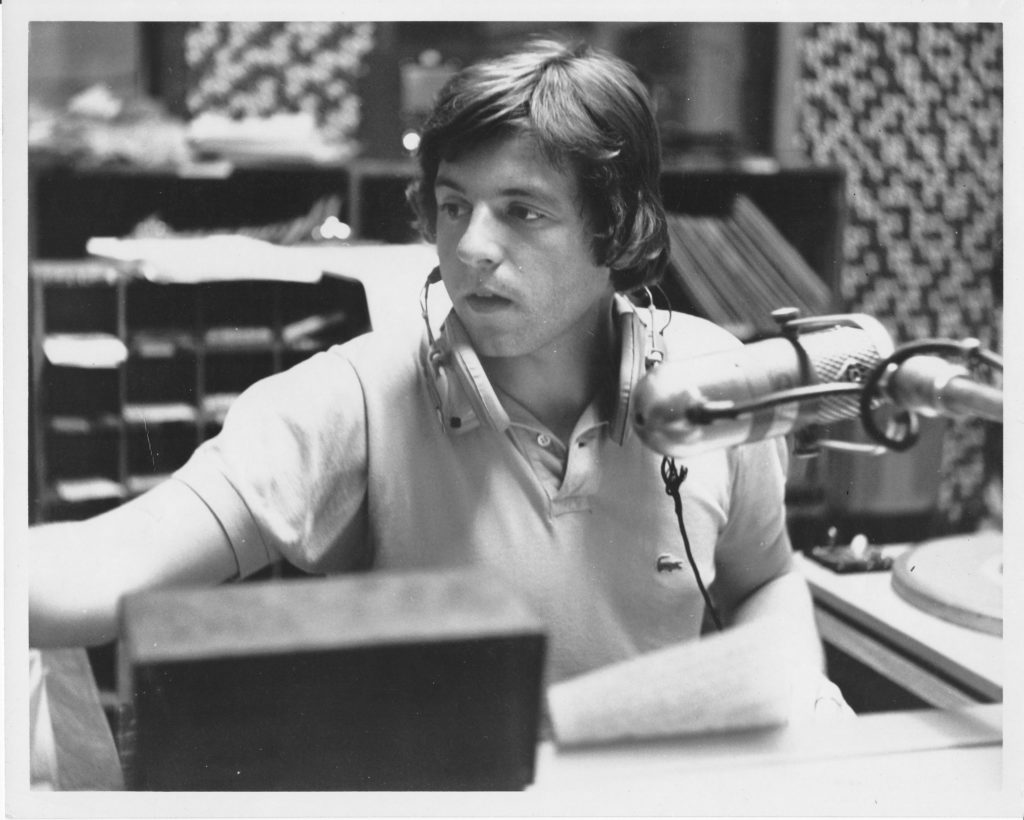 I wanted to be a television director, but, as it turns out, I was pretty damn good on the air and my radio abilities kept me in demand for 22 years. I was on the air six days a week, usually in afternoon drive, and had the privilege of working with some of the best radio people in America.
I worked in Top 10 markets at stations like 96 Rock/WKLS and V103/WVEE in Atlanta. K104/KKDA Dallas-Ft. Worth, The Big 610/KFRC San Francisco and I put the first HOT format station on the air as the afternoon personality at HOT 105/Miami-Ft. Lauderdale-Palm Beach. I finally got into television too as the main voice for NBC 6 / WTVJ Miami. You can hear the KFRC, HOT 105 and NBC 6 airchecks below in the audio player.
I spent nearly 20 years in South Florida before moving back to the Athens area, and until 2015, I was still head there for Warren Henry on radio and TV. At age 38, I left the daily, on air part of radio and became the Creative Director for Miami's top radio group, WLYF/WMXJ/WAXY. I was writing and creating award winning advertising for local, regional and national clients there. I also started doing a lot of national voice work then too, and for 5 years, I was the world wide voice of Johnny Walker Black Label Scotch. The checks from Johnny Walker were from the Royal Bank Of Scotland and were hand written by a professional calligrapher. They were almost too beautiful to deposit…almost.
I've had my own creative broadcast services company since 1989 when I began working with South Florida's top luxury car dealership, Warren Henry Automobiles. As of 2015, when our 25 year relationship ended, I had done over 1,200 consecutive monthly campaigns on radio and television for this one client alone, I've also worked with other luxury car clients around the country and even exotic brands like Rolls Royce, Bentley, Ferrari and Lamborghini. I've created broadcast advertising for some of the country's top home furnishings chains, high end lighting dealers and manufacturers and exclusive residences and realtors, winning two national awards for my work on spots for Jupiter Medical Center and Thunderball Yachts…the 007 yacht makers.
I also wrote, voiced and produced all of Dick Clark's commercials for his American Bandstand Cafe chain. He was great to work with and, yes, I always left donut holes for Dick's voice, which he would gladly record and send me the tape.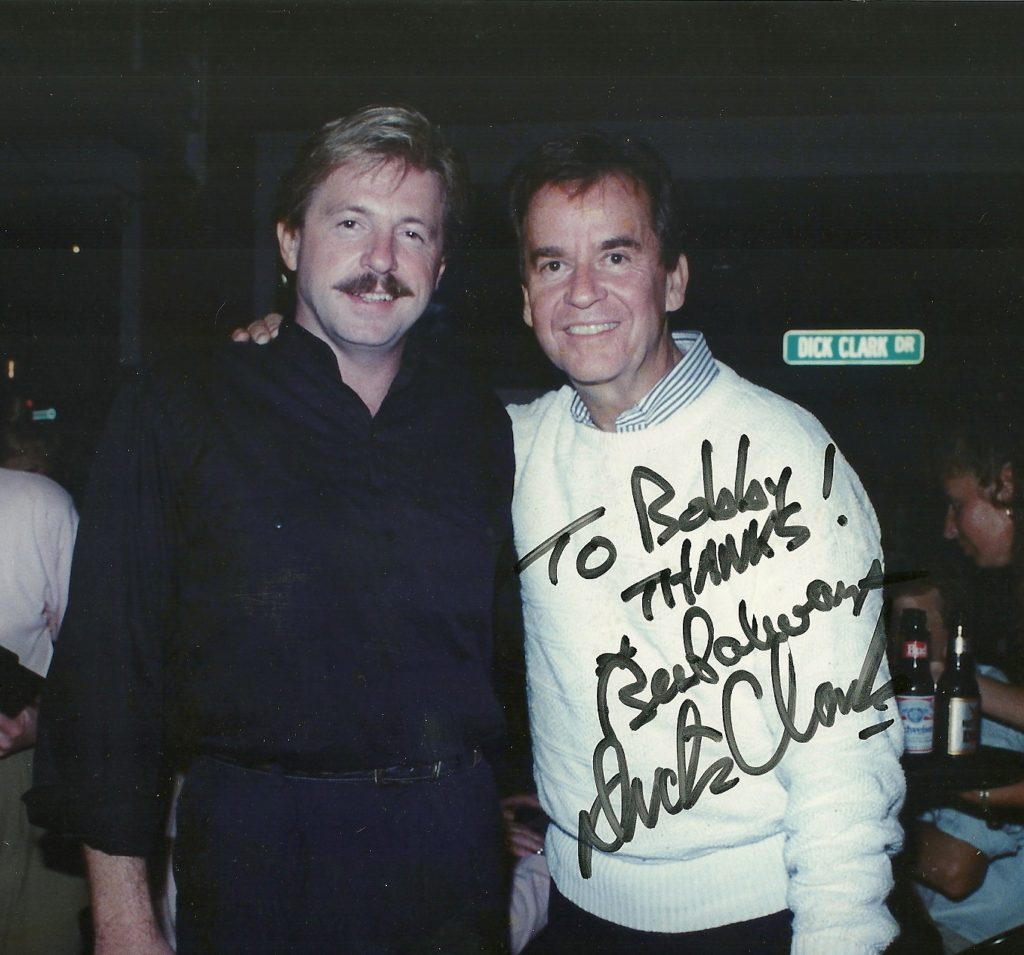 I have created more spots for Infiniti and Jaguar than anyone, anywhere, and I've attached a demo of some of my radio spots, as well as me on the air in San Francisco and Miami in the audio player.
Something else I've always wanted to be is a cartoon character, and now I am!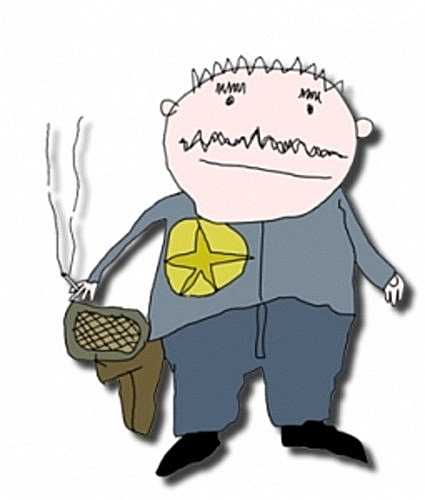 Since 2006, I've been the voice of the Sheriff on 'Squidbillies'. We're on the Cartoon Network's, Adult Swim…a night time programming block of cartoons for adults. That means we get to use cuss words. Thankfully, we are a huge hit with the college set and beyond. Last year, even though we are on cable, we actually won our time slot nationwide for men 18 to 34 including all broadcast channels! Below are a few quick excerpts that I think you'll like. My character, Sheriff is the only human on the show and a nice guy at heart, but does carry a very big gun though and is not to be messed with.
The Playlist is in the top, upper left corner. There are 4 short cartoon clips, and clip 5 is a behind the scenes video, that I think you'll enjoy.
I was auditioned and hired after the first six episodes, when veteran actor Charles Napier was released from his contract

Charles has been in movies that range from "The Blues Brothers" to "Silence Of The Lambs" and has a very distinct voice. After I Goggled him, I knew immediately who he was and was quite surprised that we sounded so much alike.  We are working on Season 11 now!

I got pretty restless in the summer of '73 and I decided to leave radio, and UGA to work in the music business for a record company. That would be Capricorn Records in Macon, and that would be at their peak when they had huge acts and albums. Although I went back to school a six months later, and back into radio, that experience opened a door that has really never closed and gave me a once-in-a-lifetime opportunity to meet and tour with some of biggest of the big names in music. By the way, I finally graduated from UGA in 2016, by going back and taking five elective courses in my minor. Here is the NPR story I did with Linda Wertheimer about my return to college.  http://www.npr.org/2016/05/15/478114640/after-40-year-detour-squidbillies-voiceover-actor-graduates-college

I'll make a long and fascinating story short and sweet. While working for Capricorn, Gregg Allman's album 'Laid Back' and the Allman Brothers 'Brothers and Sisters' came out. I took Gregg to Athens to jam with Elton John at the UGA Coliseum. Elton introduced me to Robert Nix of the Atlanta Rhythm Section. Robert and I became best friends, and still are. Robert's other best friend was Ronnie Van Zant. Yep…Skynyrd.

When Skynyrd needed a new drummer, I recommended Atriums Pyle who I had heard about from Doug Grey of Marshall Tucker. Ronnie auditioned him and, bingo…new drummer.

I used to live with Skynyrd bass player Leon 'Uncle Only' Wilkerson. God Bless you Robert! We've had some mighty fine 'emotional holidays' together. To Gregg Allman, I'd like to say thank you for 'naming me' Bobby. Before I met you, I had always been called Bob and hated that name.
| | |
| --- | --- |
| Above, that night in Athens with Elton John, and below, Gregg and I at the 1974 Capricorn Picnic in Macon. | |
Through Robert, Gregg and Ronnie, I've met everyone from The Rolling Stones to Count Basie. Although, being in radio for so long, I met a lot of music greats there too and have interviewed a few hundred of them like Dizzy Gillespie, Chaka Khan, Dionne Warwick, Marvin Gaye, Willie Nelson, Jackson Brown, Isaac Hayes (who for years called me Bobby Lee…we miss you) Stevie Wonder, Frankie Vallie, James Brown, Patty LaBelle, Julio Iglesias, Frank Zappa, Sly Stone, Dick Clark, George Benson, Smokey Robinson and so many more, I can't remember them all, but I do remember Luther Vandross. He and I were dear friends and I miss him. It was also fun to interview comedians and actors too like Tom Cruise, Red Foxx, Phyllis Diller, Fay Dunaway, Wayland Flowers and Madam, Chris Atkins, John Davidson and Harrison Ford.
Below top, me with Michael Jackson in Atlanta, Under that, Phyllis Diller and I on my 33rd birthday in Dallas. Third down, me a very young, 19 year old Tom Cruise on a long fun night at Limelight. Forth down, Julio Iglesias in my recording studio in Miami.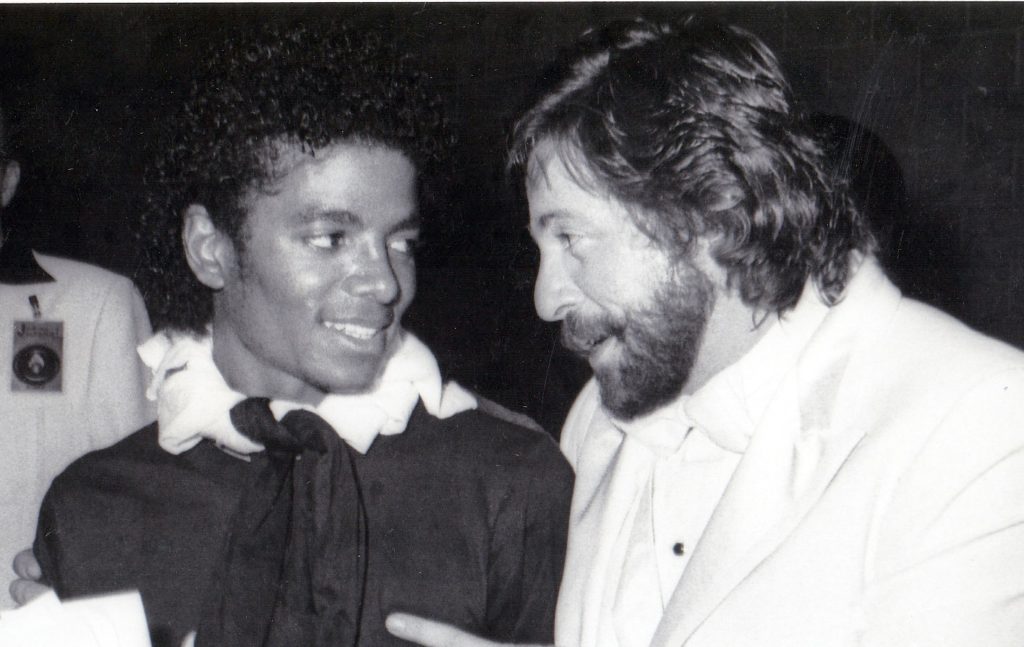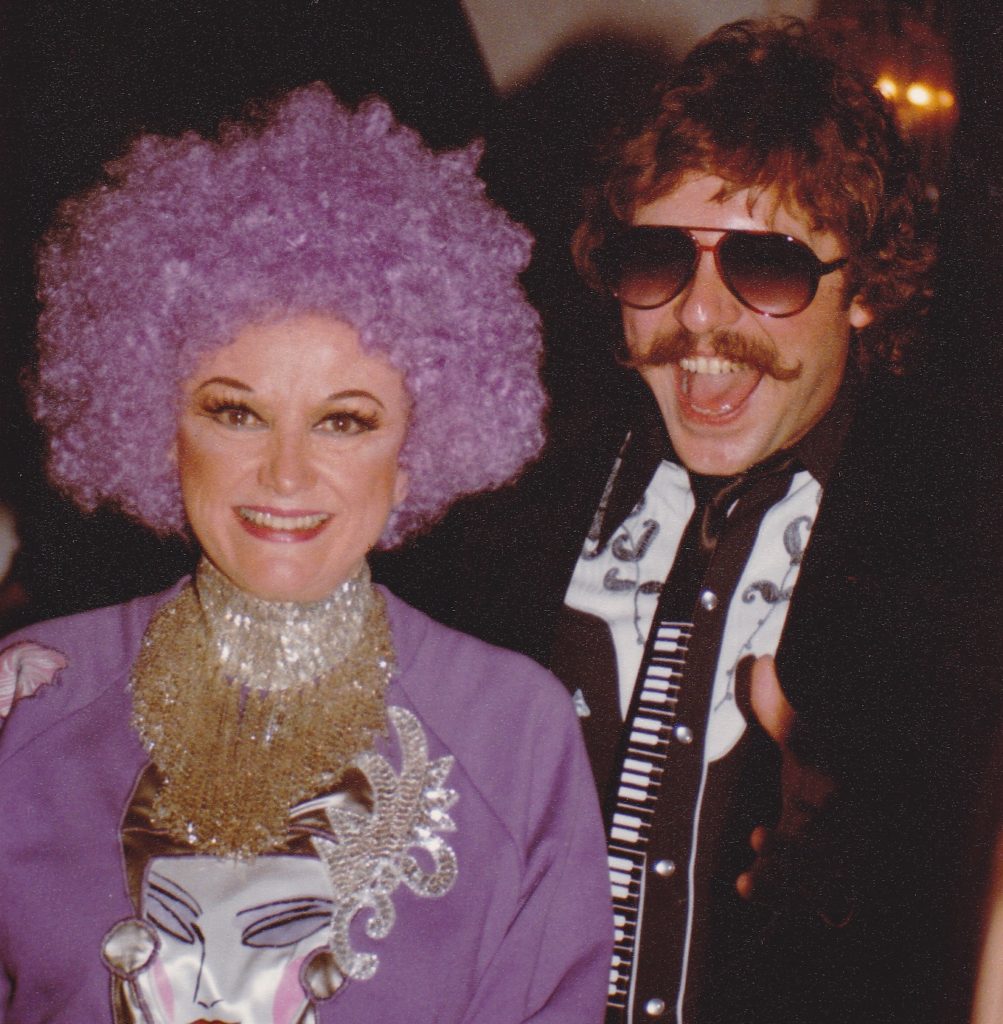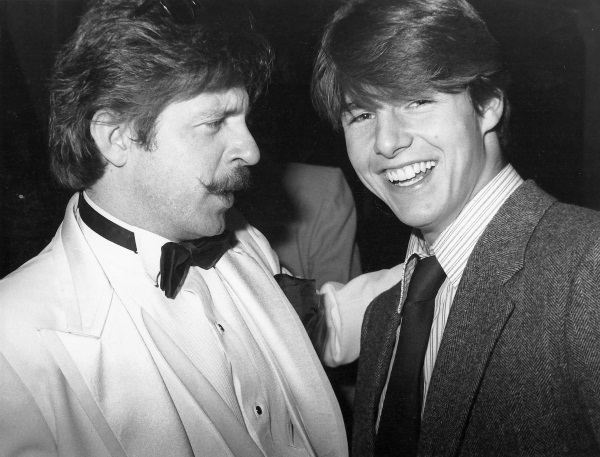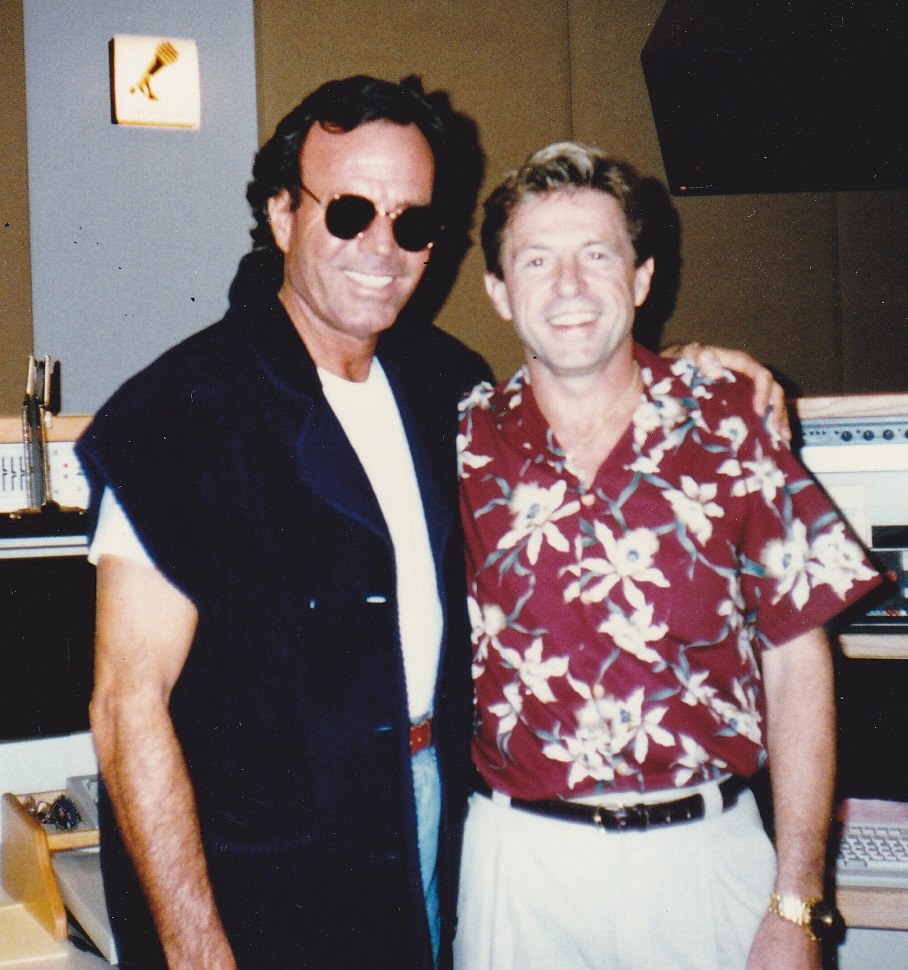 One of the things I used to enjoy the most was introducing people at their concerts, which is one of the perks of being a top rated radio personality. I knew Ike and Tina long before they spit, but was quite honored to introduce Tina Turner in her very first solo concert on the Private Dancer tour in Dallas Texas. Some of the other headliners I've had the pleasure of introducing on stage were Michael Jackson, ZZ Top, Junior Walker and The Allstars, BB King, Led Zeppelin, Eddie Floyd, James Taylor, Roberta Flack, The Beach Boys, Martha Reeves and The Vandellas, Linda Hopkins, Ertha Kitt, Billy Joel, Etta James, J. Giles Band, Sly and The Family Stone, Billy Preston, Prince, Rick James, Carol King, The Temptations, Tommy James and the Shondells, The Four Seasons, The Four Tops and a lot more, but one that I must include, was introducing the Sex Pistols at their first ever US appearance. We spent a long and interesting night together. Actually, most of those nights were long and interesting.
One night, I was invited by Earth Wind and Fire's manager, Steven Fargnoli to see a new act he had. It was the first time they had played in public and there was a table for me that I shared with Tim Curry from Rocky Horror. The act was Prince. Tim and I were blown away. I could tell you a lot more great stories, and I may eventually write a book about all the sex, drugs and rock and roll…the working title I have in mind is, "If Balls Could Talk". Like that?
Below, top, it's me with Sid Vicious at their US debut in January of 78. Next picture down, me and the Godfather of Soul, James Brown who I first met at age 18. He was one of the nicest guys you ever wanted to meet…really a very kindhearted man. Next, Jackson Brown and me around 1977.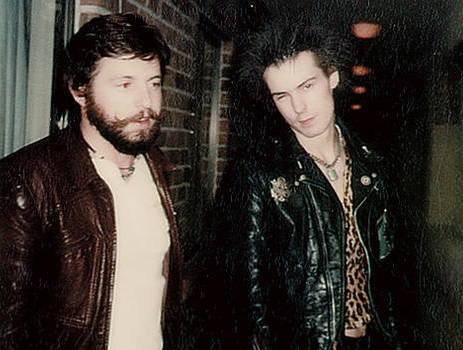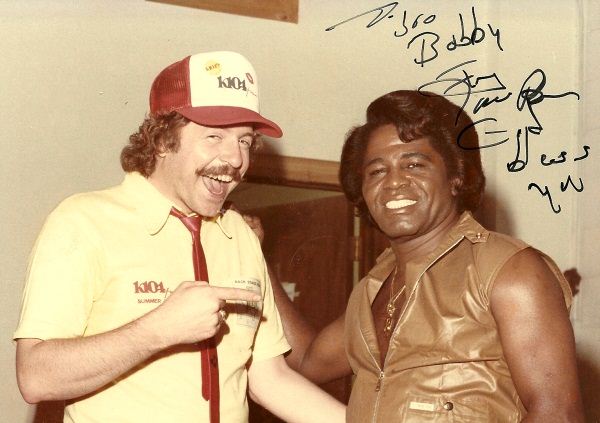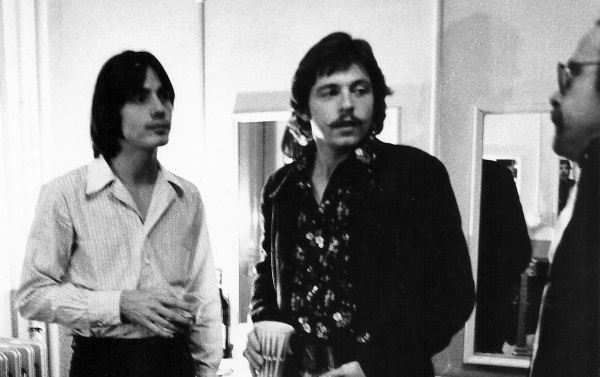 Below, one of the greatest voices ever, The Beach Boys' Carl Wilson and me. Carl sings the lead on 'God Only Knows', and got it right on the first take…a classic song, and we miss Carl and Dennis Wilson. Below that, The great Smokey Robinson, then (L) James Ingram and (R) Peabo Bryson., and then me with my buddy Luther Vandros and The O'Jays.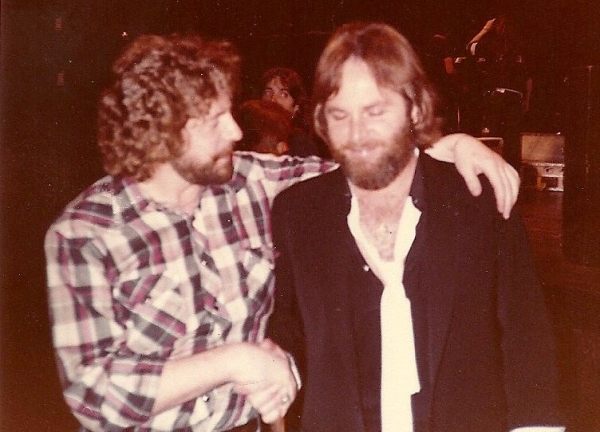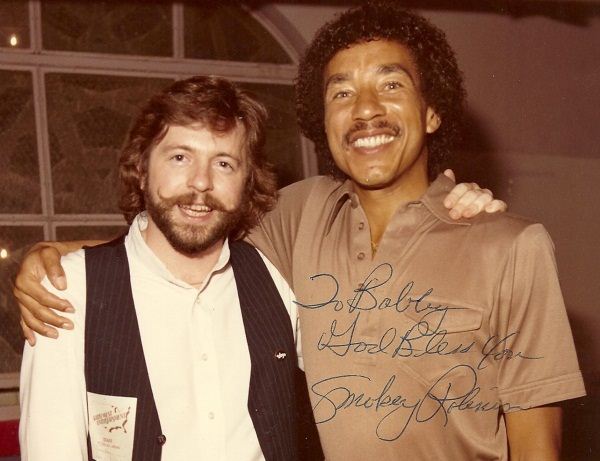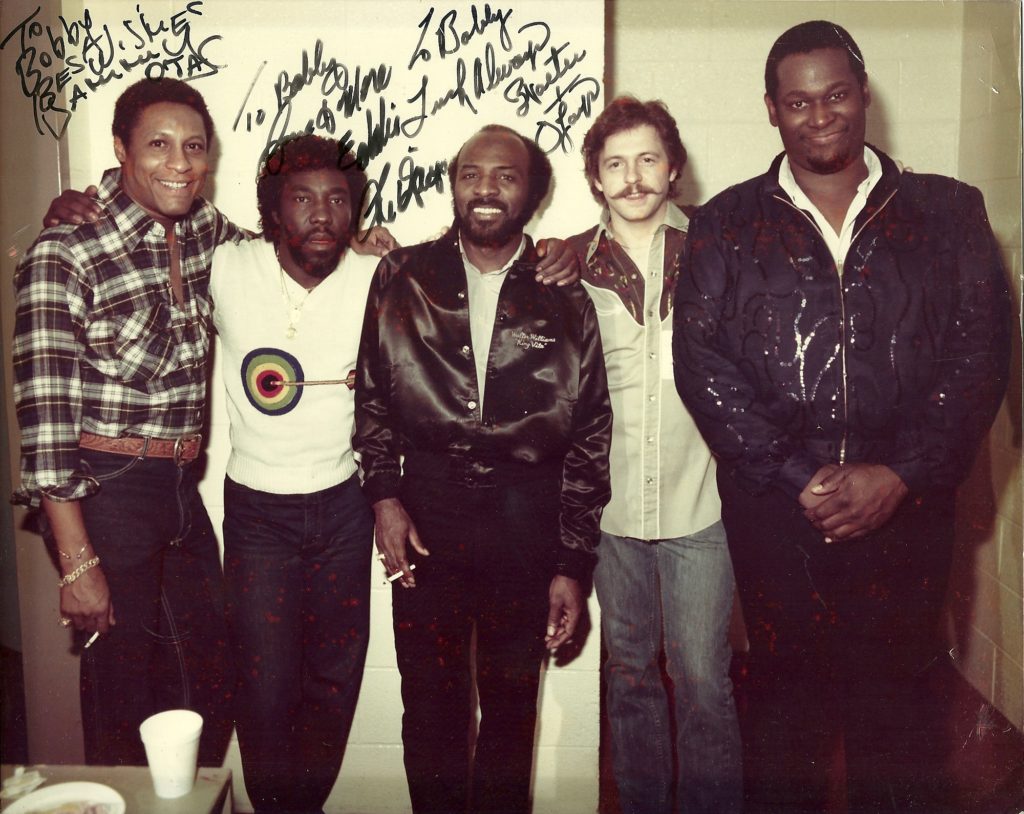 Below, disco down with Randy from the Village People, Alicia Bridges who sang 'I Love The Nightlife' (and we did), me and funnyman Rip Taylor. Robert Nix and I used to call Alicia Bridges 'Loose-ya Britches'. Below that, the night I introduced Boz Skaggs to The Neville Brothers, then The Pointer Sisters in San Francisco, me and Willie Nelson, and my friend Issac Hayes, who called me Bobby Lee. Then, rollin' over with Chuck Berry and almost ready to dance in the street with Martha Reeves.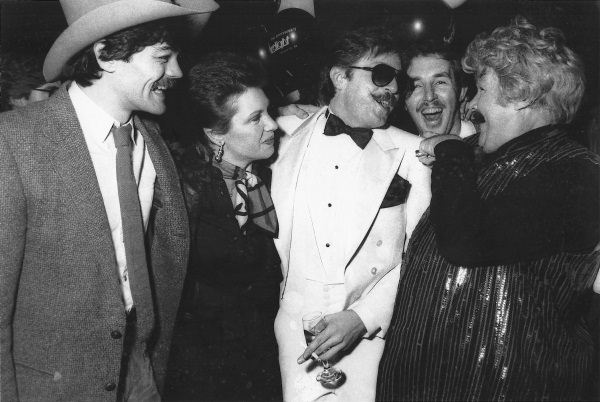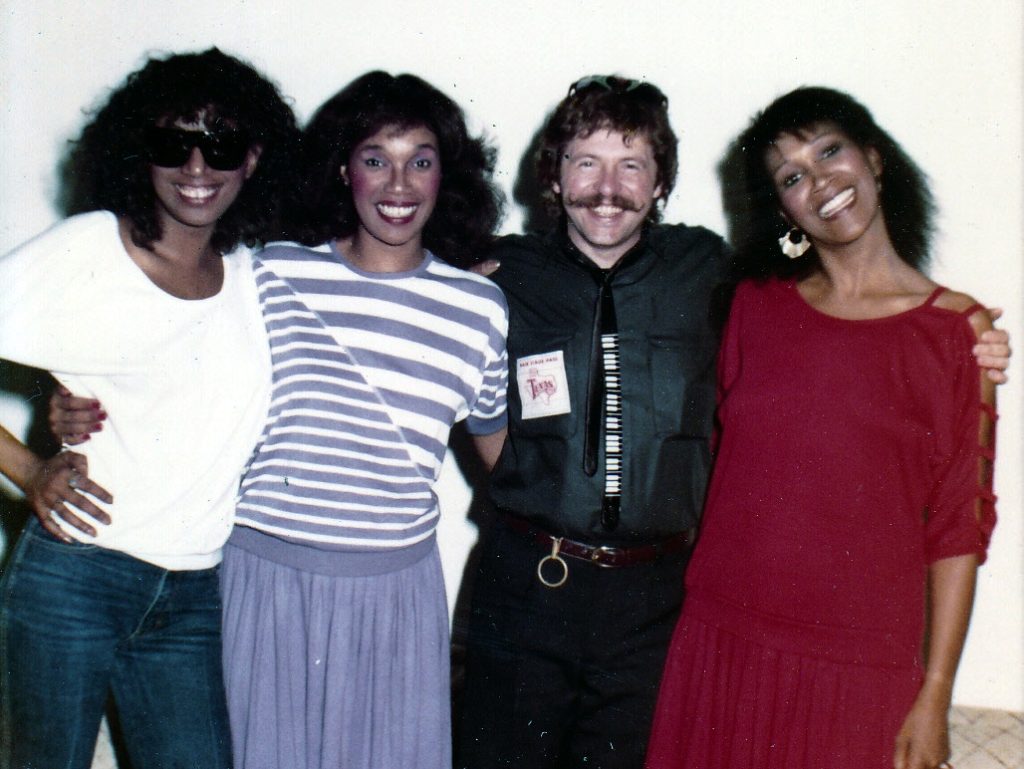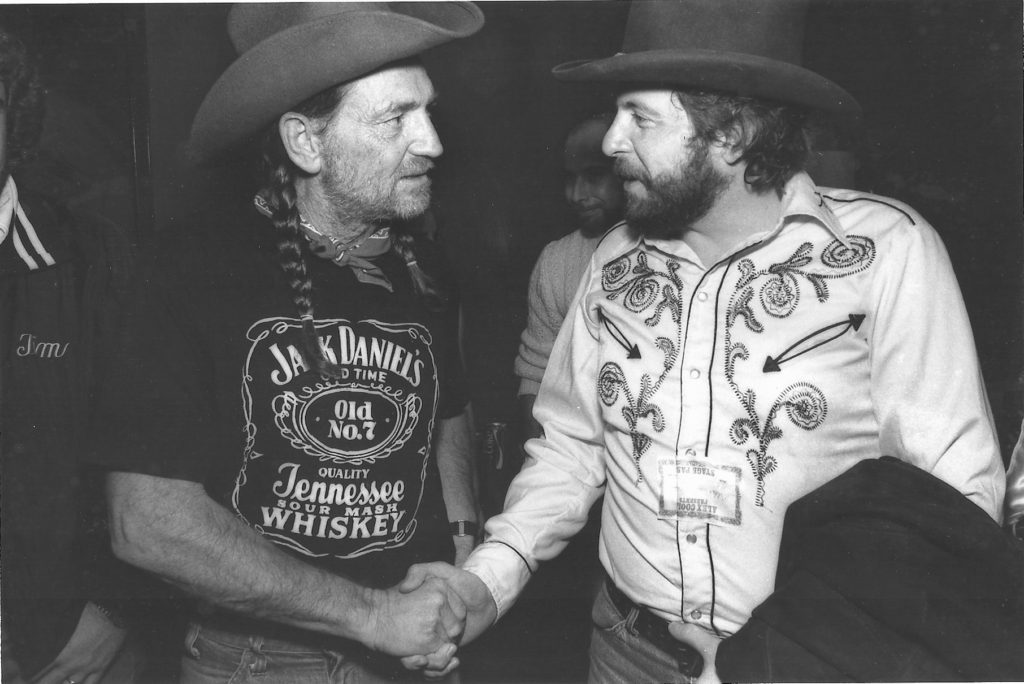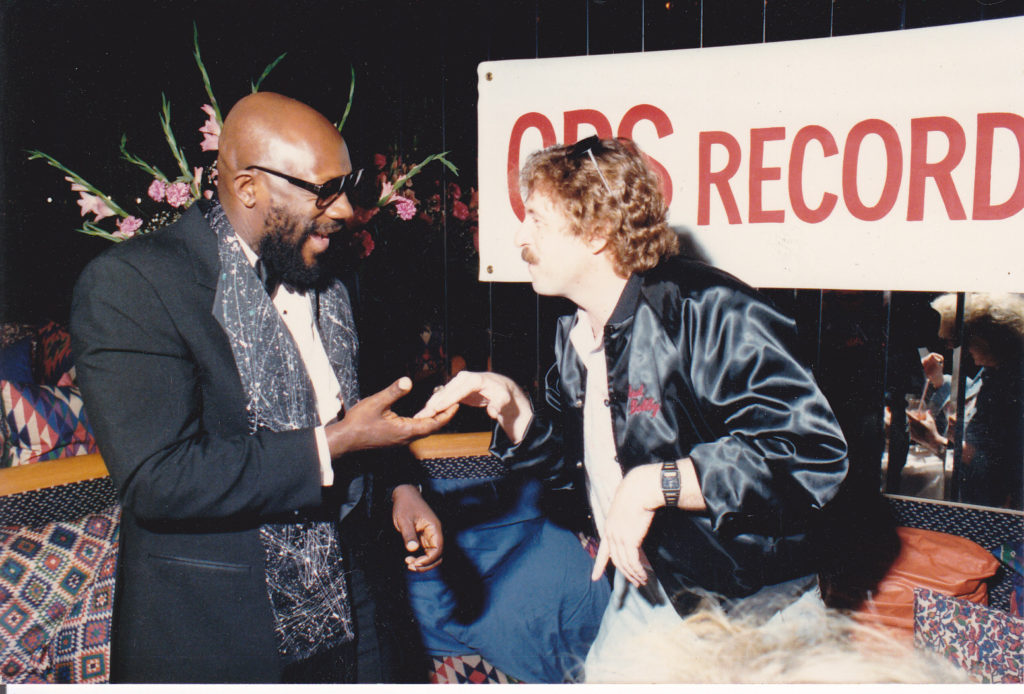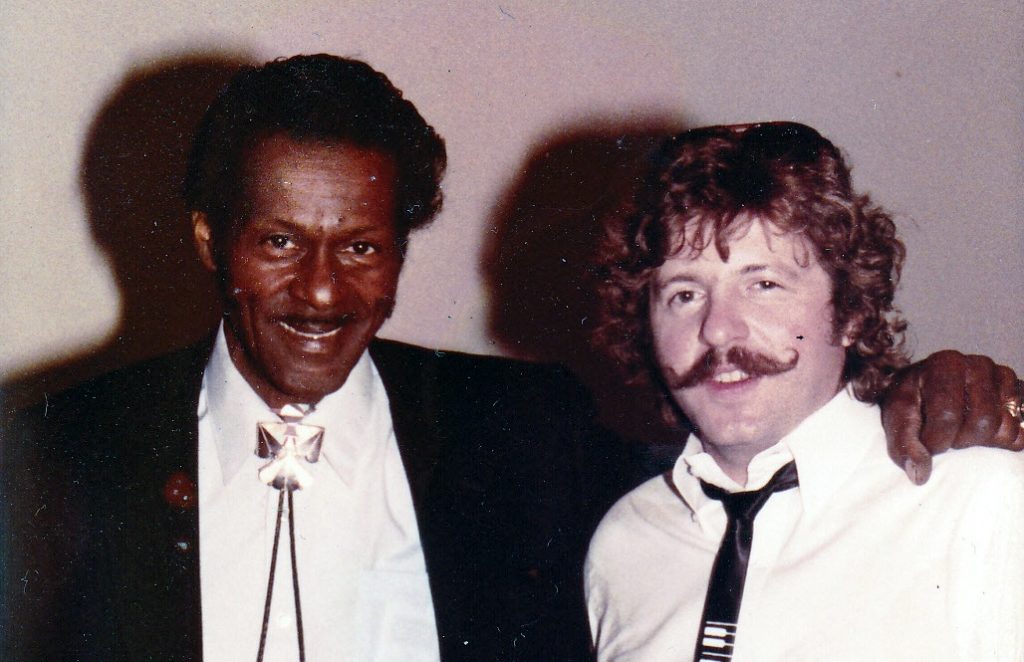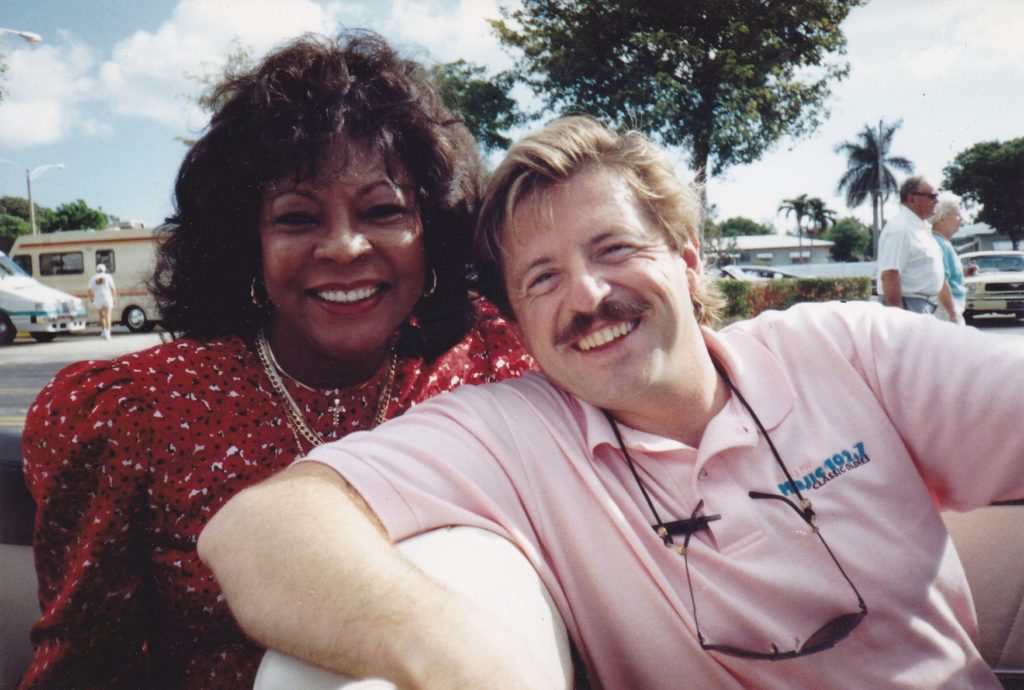 Finally, a treasured memento from Marvin Gaye. I met Marvin with Otis Redding in early 1967, at which time Otis game me and Marvin his card. Later that year, Otis was gone, but I saw Marvin many times after that and we became friends. My favorite song of all time is his "Ain't No Mountain High Enough", with Tammy Terrell. The first time I ever heard "What's Going On", Otis Redding's brother Rogers and his wife, Zelma were in my car in Macon…we were all so excited, we pulled off the road to listen.
I introduced Marvin at Reunion Arena in Dallas in April of '83, and told him the story about Rogers and Zelma. He loved it and before I could say another word, he reached into his bag and took out Otis's card, that he had carried with him since we all met. He flipped it over and wrote this note to me on the back of it. That gesture was so stunning to me, I was was without words…but…shortly, so was he!
He did not know I had brought the card Otis gave me that night. I was going to show it to him as a reminder of where we met, but as usual, Marvin had outdone himself in his graciousness. When I pulled out my Otis card, he laughed and hugged me. I gave it to him to replace the one he had given me. We both almost cried.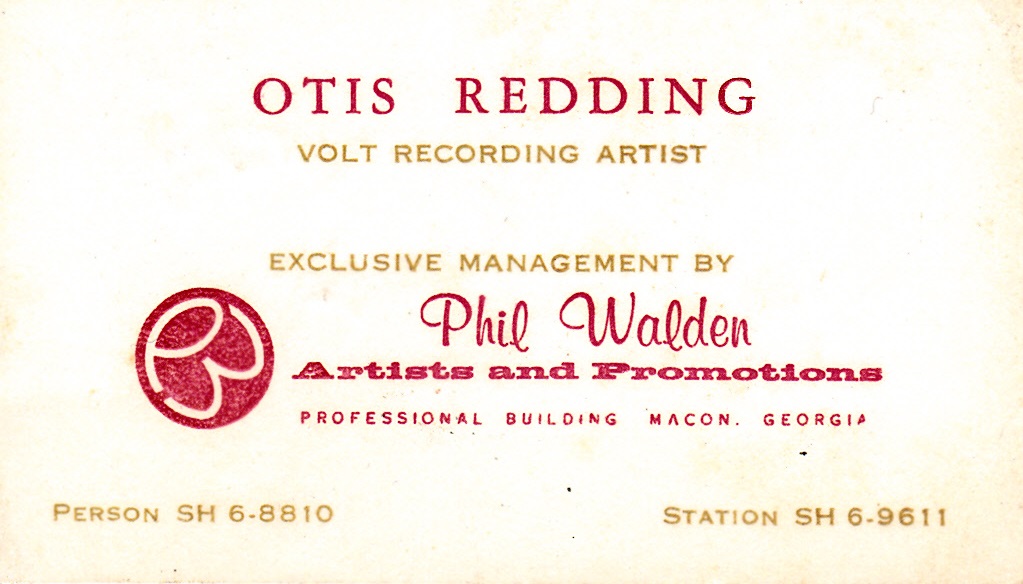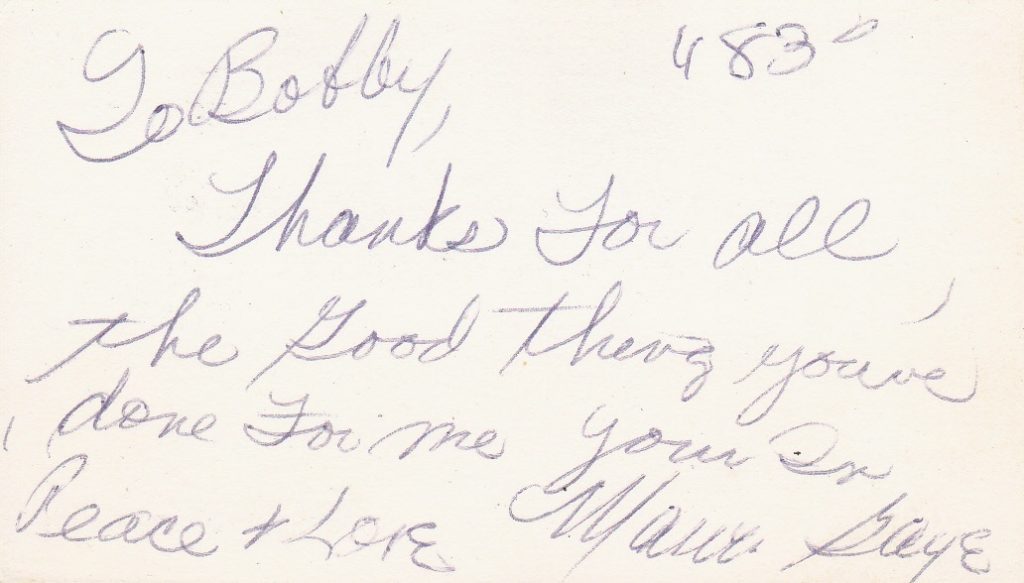 Have I 'dropped' a lot of names here? Well, yes and no. This was my life though. These are the things I did and the people I did them with. Most of us in radio and television could reel off a lot of impressive names we've worked with over the years, but what I hope those names above do is remind you of the great music they made, and the times it reminds you of.
When I think of the TK41 period for instance, I think of Andy Williams and "Moon River". Perry Como and "Catch A Falling Star" and "Impossible". I think of the great Broadway songs from Learner and Lowe, Rogers and Hammerstein, Gershwin, Berlin and Johnny Mercer and plays like The King and I, Oklahoma, The Music Man and movies like Breakfast at Tiffany's, Butterfield Eight and The Longest Day.
I think that's one of the reasons I love these cameras so much. It's not just the cameras…it's the periods. I think the 1950s, '60s and '70s were some of the best times we have ever seen in this country. Innovation was everywhere, everything and everyone was alive and thriving, and deep down, I think most people were pretty happy. People were different then.
The cameras take me back there. I had a great childhood and the cameras remind me of it, and here is the big because…because I loved television and the shows it brought me, as much as I loved the radio and the music it brought me!
I loved watching Red Skelton and Jackie Gleason with my mother and dad, and later, my little brother. I loved Howdy Doody and cried when Clarabelle finally spoke on the last show and said "Goodbye kids". I loved the Popeye Club, The Three Stooges, Pete Smith Presents, Yogi Bear, Quickdraw McGraw, Huckleberry Hound, Sky King, Roy Rogers, Leave It To Beaver, Ozzy and Harriet, Art Linkletter's House Party, Queen For A Day, I've Got A Secret and just so much more.
I loved Bill Cullen, Gary Moore, Bud Collyer, Walter Cronkite, Chet and David, Bullwinkle. Mitch Miller was a little to square for me, but I loved The Dean Martin Show, Bob Hope, Bonanza on Saturday night and Walt Disney on Sunday nights, Gunsmoke, Have Gun Will Travel, Maverick (I can still sing the theme song), Get Smart, Man From Uncle, Car 54, Arthur Godfrey and of course, Ed Sullivan.
When I think of the Norelco cameras, I think of Carol Burnett, Smothers Brothers, Glenn Campbell and Television City. Good memories.
As I said on the Welcome page, it was only recently that I realized I loved the pictures of the cameras working on these shows almost as much as I love the cameras. The cameras are the special vortex…the special time and place machines that bring the world to me and all of us. Without them, there is no TV. There are tens of millions of television receiver sets, but never more than a few hundred cameras across the nation to originate the images and the stars could not be stars without them.
In the black and white days, there were never more than 50 cameras in New York or Los Angeles, and in the early color days, there were even fewer…maybe three dozen on each coast.
In closing, all I can say is that I've tried very hard to put together the very best pictures I can find. I've had a lot of help from a lot of people and thank you all for sharing and visiting Eyes Of A Generation…to me, this is the world's virtual museum of Television, and it's cameras, from the Golden age and beyond.
My grateful thanks to you for visiting. God Bless you.
Bobby Ellerbee