April 14, 1956…Videotape Recording Debuts; Ampex VR-1000 Unveiled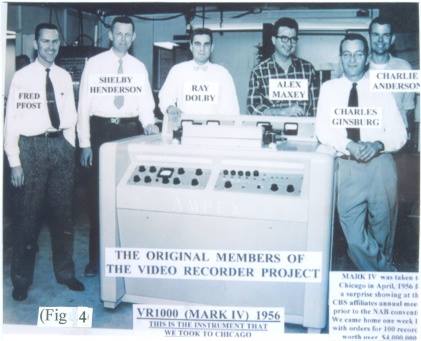 61 years ago today, this prototype Ampex VTR called "Mark IV" started a whole new era in television. In the photo, you see the Ampex Videotape Team…the men who created the VR-1000 and revolutionized broadcasting. Pictured with this six man team is the unit Ampex took to Chicago for the legendary demonstration at the 1956 NAB Convention, to the amazement of all who attended.
In the team photo, Fred Pfost is on the far left. Here is Fred's description of the events of the week of the demonstration in which Ampex took almost 100 orders for the $50,000 VR-1000.
"On the Saturday, April 14, two days before the convention started, we demonstrated the recorder for about 300 CBS affiliates meeting at the Conrad Hilton Hotel. I recorded (from behind a curtain) the opening speech of Bill Lodge, V.P. of CBS, who described all the activities that CBS had been involved in during the past year, and his announcement of a big surprise, that was about to happen. After I rewound the tape and pushed the play button for this group of executives, they saw the instantaneous replay of the speech."
"There were about ten seconds of total silence, until they suddenly realized just what they were seeing on the twenty video monitors located around the room. Pandemonium broke out with wild clapping and cheering for five full minutes. This was the first time in history that a large group (outside of Ampex) had ever seen a high quality, instantaneous replay of any event. The experience still brings tears to my eyes when I recall this event."
"During the week of the convention, the Ampex display area was packed, all day, every day. Orders came so fast and furious, that the Ampex sales staff was writing orders on cocktail napkins."
It took Ampex a year to fill just the orders taken at the convention. If memory serves me right, CBS got the first 5, NBC got the second 5 and ABC, the third 5, with more on order for all 3 networks. I think CBS put 3 at TVC, and had 2 in NYC. NBC put 3 at Burbank, 1 in NYC and 1 went to RCA Labs in Princeton, with RCA and Ampex starting to share RCA's color tape ability. I think ABC put 3 at Prospect and 2 in NYC. -Bobby Ellerbee