April 9, 1950…First Bob Hope TV Special, NBC New Amsterdam Theater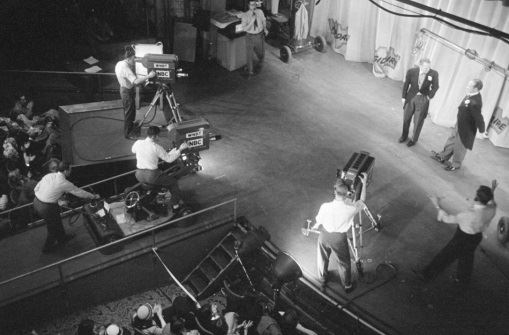 On this day in 1950, NBC Radio star Bob Hope was lured to television by Frigidaire as he hosted his first ever special. The 90 minute show was done live from The New Amsterdam Theater on 42nd Street, just weeks after WOR TV had left the facility to move into their new multimillion dollar building at West 67th Street.
On pages 70 and 71 of this rare article on WOR's new studios, we get to see the stage and control room under it they left for NBC to lease. http://www.americanradiohistory.com/Archive-RCA-Broadcast-News/RCA-61.pdf
Unbelievably, this show almost did not go on! For two reasons! First we'll look at the more urgent problem.
This was a live NBC remote from The New Amsterdam Theater, scheduled to air from 5:30-7:00 Eastern. Tensions in the air between the unions were so thick you could cut it with a knife. Renowned NBC Technical Director Heino Ripp was there and the man that made it happen.
With only three days of rehearsal in the theater, things were boiling between the electrical and stagecraft people and NBC's television people, and it all got started over lighting gels. The lighting people were from Broadway and wanted to wash everything with color, but technically television needed more white light and the NBC people were taking the gels out so the cameras could get better tonal balance. One thing led to another and up till about an hour from show time, it looked like there would be a walkout.
Heino Ripp finally jumped in the middle with the heads of all the unions, explained the problems and after about 10 minutes, calm was restored.
In the months before this though, the problem was with Bob Hope. He was avoiding television as much as possible in early 1950 as he considered radio and motion pictures an "easier racket". Hope had also declared that "NOBODY could pay him enough money to do a TV show!" Then, the ad agency representing Frigidaire contacted Hope's agent about doing this special, asking how much did Bob want? Hope snapped, $50,000, figuring that would end it, as no one had ever asked for that much money to appear on one TV show back then.
Instead of saying no, Frigidaire countered with an offer for five specials…$40,000 for the first one, and $37,500 each for the rest. Even Hope couldn't pass that up, and finally agreed. Once he did the special, he embraced television wholeheartedly, appearing in monthly or semi-monthly specials for NBC in the early years, but continued his weekly radio show until it ended in 1955. Hope paved the way for other radio stars to follow him in the new medium.
The full 90 minute Hope special is included below. Produced by Max Liebman, the show was called "The Star Spangled Revue" and Bob's guest stars were Dinah Shore, Douglas Fairbanks and Bea Lillie. The first season was April '50 till April '51 on a monthly basis and all the shows were done from here.
But…this was not the first time NBC had broadcast from this address! RCA's first experimental television transmissions were mechanical and began in 1928 on station W2XBS at 7 Van Courtlandt Park. After a move to the RCA Phonovision office at 411 Fifth Avenue, nightly two hour broadcasts from 7 – 9 began March 22, 1929. In 1930, testing was moved to The Roof Garden Theater on the top floor of The New Amsterdam Theater building, transmitting 60 line pictures in the new 2-3 mHz band allocated to television. From 1932-35, this was also the NBC Times Square Radio Theater where the famous "Texaco Fire Chief Show" with Ed Wynn came from. Enjoy and share! -Bobby Ellerbee