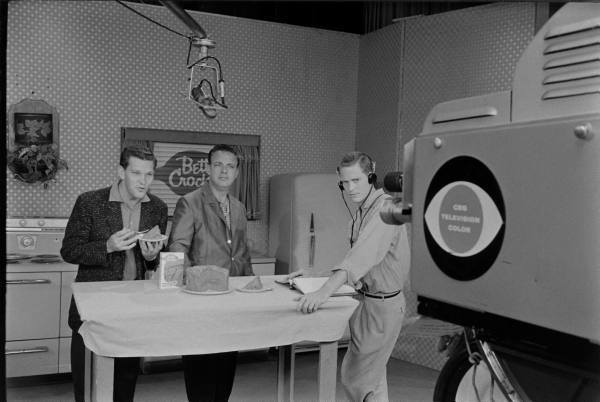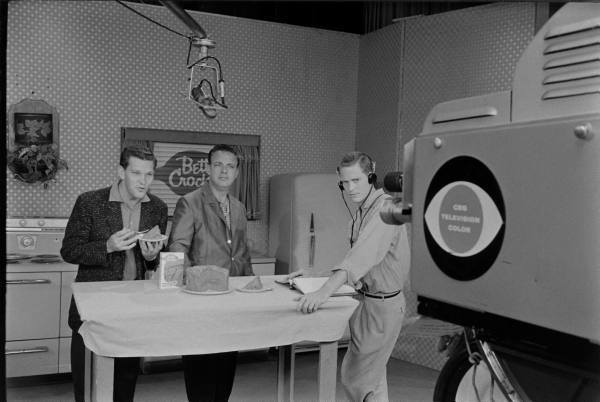 Backtracking…With The Help Of Tom Kennedy!
Backtracking…With The Help Of Tom Kennedy!
Earlier in the week, I posted this photo with video of 'The Bob Crosby Show'. Since then, I have heard from one of the people in this photo…legendary game show host, Tom Kennedy, and he had three surprise comments on this picture that I'll share.
The first surprise is that the floor director (with headphones) is none other than Dave Powers who went on to direct 'The Carol Burnett Show'.
The second surprise is that this is not Tom Kennedy…yet. The man with the cake on his plate is Jim Narz who is doing a one week fill in for his brother Jack Narz. Early in their careers, the two brothers were in demand in Hollywood, but being brothers with similar names caused some confusion. Out of respect to his older brother, Jim Narz took his now famous stage name…Tom Kennedy. He is also the brother-in-law to Bill Cullen.
The third surprise came seconds after this rehearsal photo was taken. In order to help "sell" the commercial for Betty Crocker cake mix, Jim took a bite. Turns out, the cake was made of putty! Bob Crosby and everyone on the set almost died laughing!
Many thanks to Tom, and to our friend David Schwartz at the Game Show Network for putting us in touch. Enjoy and share.