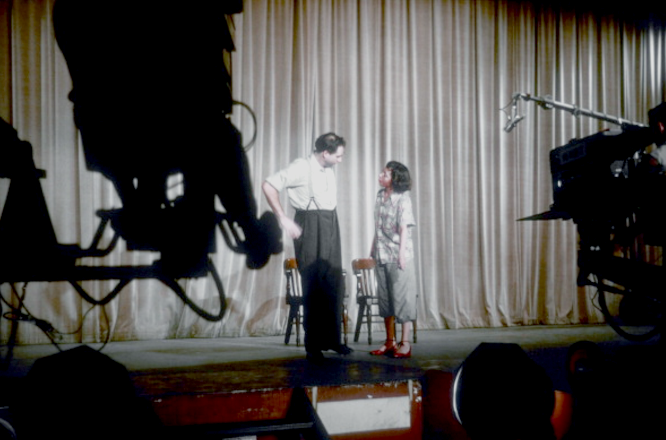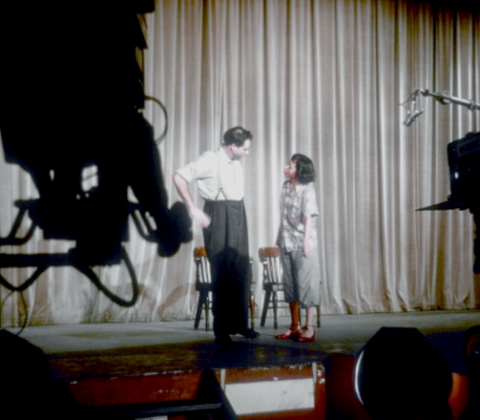 February 25, 1950…"Your Show Of Shows" Debuts On NBC!
February 25, 1950…"Your Show Of Shows" Debuts On NBC!
To really appreciate the historical importance of "Your Show Of Shows" in television history, just remember…this is the format that "Saturday Night Live" is built on, it was the first "participating sponsor" show, and a program that lead launched several of the industry's top comedy creators, like Mel Brooks, Carl Reiner, Woody Allan and more.
To get the whole story, there is no one more qualified than the show's star, Sid Caesar to tell it, and here he is. By the way, in the eight minutes just before my starting point on the Emmy TV Legends video, he talks about the "Admiral Broadway Revue", Pat Weaver, and having to wait for the cameras to arrive from a baseball game. Really. https://youtu.be/JtSpZ8iD80I?t=8m57s
"YSOS" debuted as part of a two and a half hour live block that was called "Saturday Night Review." The first hour, was "The Jack Carter Show," done at NBC's WMAQ studios in Chicago and was a comedy and variety affair airing at 8 Eastern. Included here is a photo from Carter's show with a very young Jerry Lewis and Dean Martin on each side of Carter.
At 9, ninety minutes of fun on YSOS hit the air live and was followed at 10:30 by "Your Hit Parade". Jack Carter's show was replaced the next year by "The All Star Review." This two and a half hour block was the first time Pat Weaver's "participating sponsor" plan was used, which gave us the now famous phrase; "Brought to you in part by _____,"
The show debuted from NBC's first television converted theater, The International at 5 Columbus Circle. When NBC first began to use the theater with the "Admiral Broadway Revue" show, it was a three camera show done with a mobile unit feeding the show back to 30 Rock on an AT&T line. By the time YSOS debuted, NBC had installed a control room and four permanent RCA TK30 camera chains.
Speaking of the 1949 Admiral show, did you know it was so popular, it was canceled!?!? What? It's true!
"The Admiral Broadway Revue" was the start of one of television's greatest early comedy teams…Sid Caesar and Imogene Coca, with the great Max Liebman producing. The show had great ratings but unbelievably, Admiral (who "owned" the show) ended it in June of '49 after only five months on the air. It seems that the show generated sales of Admiral TV sets that were so far beyond their capacity to manufacture them, Admiral had to either end the show or build a new plant.
Since they owned the show, it could not continue with another sponsor and they would not sell it. Such were the sponsorship problems of the early days of television. Soon after this, NBC Vice President Pat Weaver would solve this problem by having the network own the shows and sell spots to sponsors. He is the man that brought magazine style ad sales to radio and television, which spread the cost of production among several advertisers, and gave the networks ownership.
On February 25, 1950, four of The International's brightest years started with the debut of "Your Show Of Shows," Caesar and Coca were back with a cast of writers that have become the "who's who" of comedy including Mel Brooks, Neil Simon, Danny Simon, Mel Tolkin, Lucille Kallen, Selma Diamond, Joseph Stein, Michael Stewart, Tony Webster, Woody Allan and Carl Reiner.
Below are a few classics clips from "Your Show Of Shows" with Carl Reiner and Howard Morris in with Sid and Imogene. The first is The Haircuts song parody sketch, followed by their parody of "From Here To Eternity" called, "From Here To Obscurity" in two parts. As the story goes, when Sid is doused with buckets of water in the Obscurity sketch, the crew and writers lined up off camera for their turn to throw water in the bosses face!
http://www.youtube.com/watch?v=He4S5UdQ76Y "So Rare"
http://youtu.be/5RQRhtKpbsE "Obscurity Part 1"
http://youtu.be/Yk0-Y1rCwZU "Obscurity Part 2"
Also induced here are exclusive photos inside The International Theater showing the YSOS stage, layout and equipment in 1951. There were four cameras in use with one on a Houston Fearless Panoram dolly and one on the newly developed Saner crane that you see here. Add two two sound booms and two pedestal cameras and you have a stage full of equipment to set scenes around.
With commercial sets only :70 seconds long, full set changes had to be made quickly and at times, there was no commercial break between sketches, which is why on the left side of the stage you see a "limbo set", which is a back drop on the wings that can be used for live commercials or short sketches that give the crew time to make a scene change on the main stage. The 25 piece orchastra was on the other side, stage left, as was the customary location of bands in television.
Finally, we have the New York Times ad for the show's debut and an ultra rare copy of the debut shows Saturday schedule, that shows the final rehearsals for each sketch on that nights show.
Enjoy, and please share this! -Bobby Ellerbee