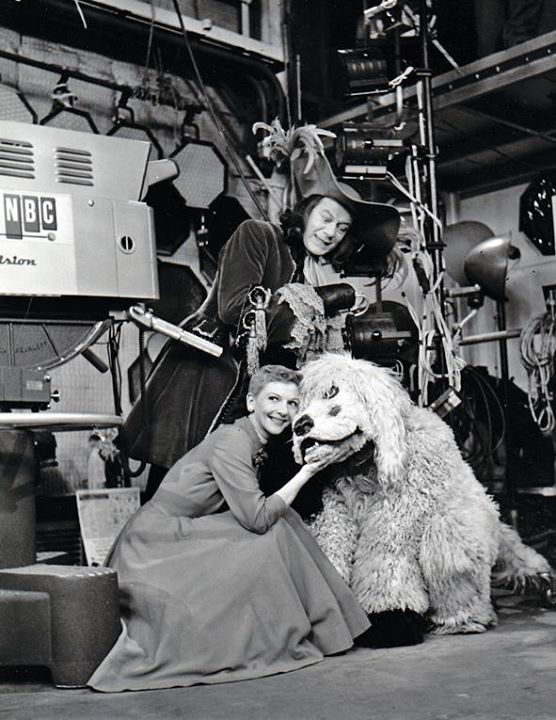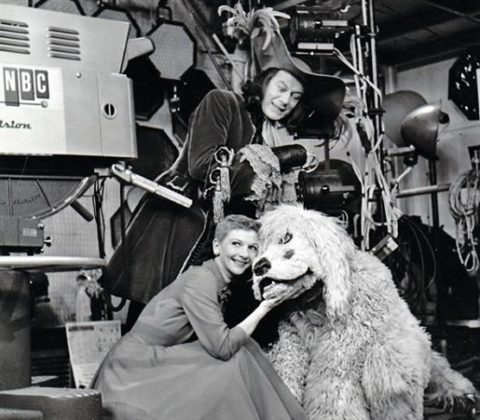 March 7, 1955…Behind The Scenes Of NBC's "Peter Pan" Debut …
March 7, 1955…Behind The Scenes Of NBC's "Peter Pan" Debut
A full course on "flying", audio tricks and NBC Brooklyn Studio 1
NBC's "Producer's Showcase" was a series of 90 minute color "spectaculars" that aired every fourth week, beginning October 18, 1954 under the supervision of producer/director Fred Coe.
"Peter Pan" was the seventh episode, but the most memorable of all. Broadcast live, from NBC's Brooklyn 1 color studio, 1954's Tony Award winning Broadway musical entered a generation's heart forever on this day in 1955.
The show was produced directed by the man who directed the Broadway show, Jerome Robbins, seen here "flying" with the star, Mary Martin.
Presenting the show for television brought many technical challenges, and chief among them was how to hear Martin sing as she performed the flying sequences. To overcome the problem, NBC modified a few of the new Shur Vagabond wireless mics with a stronger transmitter. Martin's mic was hidden under her blouse, and the transmitter was attached to her bra under her left arm. The antenna was made into her belt, and receiving antennas were built into the floor of the set.
Less than an year later, NBC repeated the performance in January, 1956 and again…it was done live as videotape was not even introduced until April of that year. There are some remnants of the original b/w kinescope recordings around, but to illustrate both, how this would have looked in color, and, transition into our lesson on how the cast was "flown", here is color clip from the third and final 1960 videotaped presentation of the show. https://www.youtube.com/watch?v=AilIsO6EG4c
Peter Foy was the man responsible for the "flying" effect that all of us, of a certain age, remember with great fondness. Flying one person gracefully is an art…flying four at a time is magic!
Below is a rare four page interview with Foy that discusses the finer points of how it is done.
The color photo here is an interior shot of what was NBC Brooklyn 1, taken in 2015. Inside Studio 1, looking toward 14th Street, we see this grand old lady being re-purposed into a civic center.
The elephant door leads to Brooklyn 2, and at one time the two metal bars above it, helped support Mary Martin's "Peter Pan" flying rig.
So much great history from here…gone, but not forgotten. By the way, the famous Esther William swimming pool is buried under the floor in this studio, but would be behind us, against the back wall on 13th Street.
The first few seasons of "The Cosby Show" were done here and moved when NBC sold it in the mid 80s. The property was eventually sold to JCS Studios who operated the facility until they went out of business around 2013. Below is a set of diagrams of the property and to help your perspective, 13th Street is at the top and 14th Street at the bottom. Avenue M is on the left (NBC's former front entrance) and Locust Ave. is on the right. I've also added an annotated aerial photo to help your placement.
http://eyesofageneration.com/nbcs-former-brooklyn-studios/
Brooklyn 1 was NBC's second color studio, with The Colonial Theater being their first. The facility debuted September 12, 1954 with NBC's first color spectacular, "Satin & Spurs" starring Betty Hutton. At the end of that show, Steve Allan did a four minute piece on the studio facility that you can see at this link.
https://www.youtube.com/watch?v=XEa3LzIam5E
Enjoy and please share! -Bobby Ellerbee