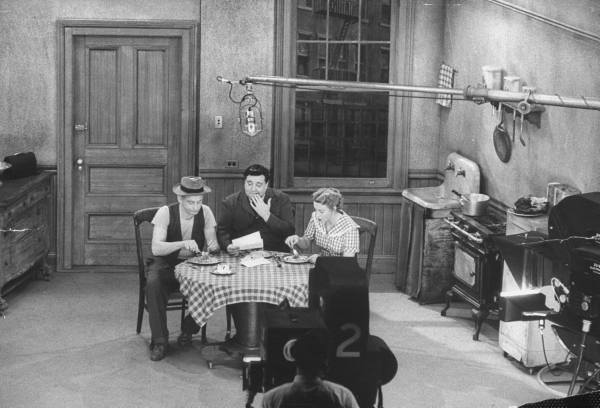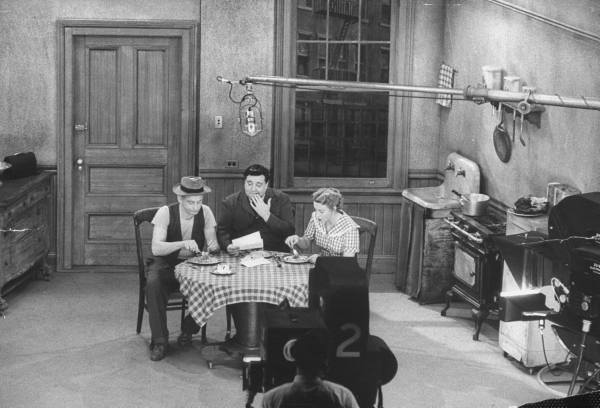 'The Honeymooners'…The Classic 39
'The Honeymooners'…The Classic 39
The first Honeymooners sketch was done live, October 5, 1951 as part of Dumont's 'Cavalcade Of Stars' show which Jackie Gleason had become the host of in June 1950. It was only six minutes long, but started something that lasts till this day.
Gleason's Dumont show did quite well and CBS noticed! They brought Jackie and company to Studio 50 in July of 1952 and the rating soared on the Saturday night, hour long, live broadcast. As Honeymooners sketches became more popular, they got longer and could run up to 30 or 45 minutes.
In 1955, Gleason told CBS he wanted take a break from the live show, but wanted to continue a half hour version of the Honeymooners. Gleason still had friends at Dumont and they had told him about the new Dumont Labs Electronicam that shot live video and 35 millimeter film simultaneously.
Gleason had been impressed by the way 'I Love Lucy' was produced and wanted to do film, but keep the live aspect of the show. The Electronicam was perfect for this. A kinescope recording was made of the live presentation, which was switched like a regular live show, but in editing, if a camera had a better angle on a scene, they were able to use that instead of the original shot.
All 39 episodes of The Honeymooners were filmed at the DuMont Television Network's Adelphi Theater at 152 West 54th Street in Manhattan, in front of an audience of 1,000. Episodes were never fully rehearsed, as Gleason felt that rehearsals would rob the show of its spontaneity. The shows were shot on Saturday nights at 8 and by 9, Jackie was headed to Toots Shores or 21.
Gleason and company went back to live television in 1956 because Jackie felt the quality of the longer Honeymooners scripts was petering out. The 39th and last original episode aired on September 22, 1956. In explaining his decision to end the show, Gleason said, "the excellence of the material could not be maintained, and I had too much fondness for the show to cheapen it". One week after The Honeymooners ended, 'The Jackie Gleason Show' returned live to Studio 50 on September 29. Soon after, so did The Honeymooners sketches. Enjoy and share.