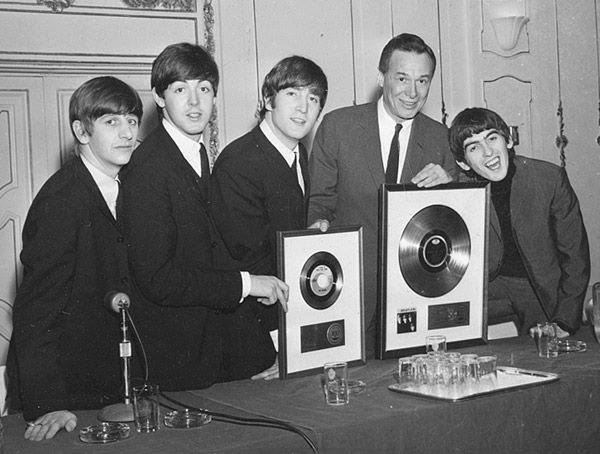 What Do "Bonanza", The Beatles And Bozo Have In Common?…
What Do "Bonanza", The Beatles And Bozo Have In Common?
Aside from the letter "B", the amazing Alan Livingston…that's what!
If you don't know who he is, you are not alone, but he – alone – touched the lives of literally all of America's children, teens and adults in some very important and, above all, entertaining ways.
At Capitol Records, Alan Livingston created the character of Bozo The Clown, revived the carrier of Frank Sinatra, signed The Beatles and The Beach Boys, and…as an NBC Programming executive, hired David Dortort to write the pilot episode of "Bonanza".
While growing up, Alan took saxophone and clarinet lessons, and his brother, Jay Livingston studied piano. Jay's writing credits include "Buttons and Bows," "Mona Lisa", "Silver Bells", "Tammy" and "Que Sera, Sera" and more. These, and a surprise that will come below, were co written with his wring partner Ray Evans.
While at the University of Pennsylvania, Livingston and his brother paid expenses by forming an orchestra that played at fraternity dances and school events.
After serving in the Army as a second lieutenant during World War II, Livingston made his way to the west coast where he finally convinced Capitol Records to give him a job. In 1946 Alan was hired to launch a series of storytelling records with illustrated read-along books for children. He called the new concept a "record-reader."
After writing "Bozo at the Circus," Livingston worked with an artist to create the clown narrator – a composite design of Livingston's based on various clown pictures – and he hired former circus clown and cartoon voice-over artist Pinto Colvig to supply Bozo's voice.
https://www.youtube.com/watch?v=qlPhoqRxmEE
The book and recording of "Bozo at the Circus," is linked above. The music was produced by Billy May and Bozo was a big hit, with the series reportedly selling more than 8 million copies over the next several years and spawning Bozo merchandise and Bozo-hosted TV shows. The first of which starred Colvig on KTTV in Los Angeles. By the way, Capitol later sold the Bozo rights to Larry Harmon, who once claimed to have created Bozo, but he eventually set the record straight by crediting Livingston.
Other Livingston-written and produced children's recordings that allowed Capitol to dominate the children's record market followed, featuring Woody Woodpecker and various Disney and Warner Bros. cartoon characters. One of their hits was this 1951 release with Mel Blanc was the voice of Twettie Bird.
https://www.youtube.com/watch?v=i2Y-XlLcRMU
The next major phase of Alan Livingston's success came with his
a promotion to vice-president of Capitol. He went from overseeing children's records to working with adult artists such as Nat King Cole, which yields yet another surprise! "Mona Lisa".
His songwriting brother Jay had written a song Alan felt was a hit, and very will suited for Cole, but Nat did not care for it. Alan was careful not to make a big deal over it, but kept suggesting and eventually Cole agreed to cut is as a B side of a song Nat thought would be a hit. DJ's liked the B side better, and before you knew it, the song was Number One, and held there for eight weeks.
Not long after that, Livingston got call from Sammy Weisbourg, who was president of the William Morris Agency. They had taken on a star who's career was at an all-time low, and were looking for a "fellow gambler" that thought there could be a grand revival.
Weisbourg asked whether Livingston would consider signing Frank Sinatra to a new recording deal and Livingston said yes!
Livingston believed Sinatra was a great singer and, if given the proper material and appropriate instrumental backing, he could be on top again, which lead to a sort of "shotgun marriage".
Sinatra reluctantly agreed to try a session with Riddle on April 30, 1953. That session produced the classic "I've Got The World On A String." Another session yielded "Young-At-Heart," which put Frank Sinatra's comeback in high gear in the spring of 1954. Here's Frank doing these two numbers as only he can.
https://www.youtube.com/watch?v=kxOtOsLSczY "String"
https://www.youtube.com/watch?v=61HW8uxzEZs "Young At Heart"
Livingston left Capitol after a great 10 year run there to become the head of programming for NBC's west coast Programming Department. That was 1956 and aside from working with Milton Berle, the newly "single" Dean Martin, Dinah Shore and Jimmy Durante, he Tom Sarnoff gave the go ahead to David Dortort's idea that became NBC's biggest hit of the '50s and '60s…"Bonanza".
At this link, in an Archive Of Amercian Television interview, Jay Livingston and writing partner Ray Evans talk about Alan and how they came to write the historic theme song for "Bonanza". https://youtu.be/KiUBFXi81jI?t=19m38s
In 1961, Capitol asked Livingston to come back, and boy did he ever…and brought Capitol with him!
The Beatles' records were being released in the United Kingdom by EMI, which was Capitol's major stockholder, which in turn gave Capitol the right of first refusal on all EMI acts for distribution in America. Capitol's Dave Dexter who reviewed all these artists kept rejecting them, even the Beatles' early hits, as unsuitable for the American market.
In 1963, Livingston received a call from the Beatles' manager, Brian Epstein, from London wanting to know why there was no interest in the group. When Livingston said he hadn't even heard the Beatles sing, Epstein told him to listen to one of their records and call him back.
Livingston did, and the Beatles signed with Capitol, which agreed on a $40,000 budget to promote their first single. In February 1964, the Beatles made their first appearance on "The Ed Sullivan Show," and Beatlemania in America was in full swing.
He also played roll in signing The Beach Boys, The Steve Miller Band and more.
Livingston, who was married for several years to actress Betty Hutton, left Capitol again in 1968 and formed his own company, Mediarts, which was involved in movies, records and music publishing. Lightning struck agian after Alan signed Don McLean and released the smash hit, "American Pie".
He sold Mediarts to United Artists and joined 20th Century Fox as president of the corporation's Entertainment Group.
Now THAT is a brilliant carrier! Gone but not forgotten…Alan W. Livingston left us March 13, 2009. Enjoy and share! -Bobby Ellerbee
In the photo, we see Livingston presenting The Beatles with their first, of many, gold records from Capitol.