RCA TK10 / The "Pat Weaver" TK30 / RCA TK11/31 / RCA TK41C
RCA TK60 / Marconi Mark IV / Norelco PC60 / RCA TK42 / RCA TK44 / Marconi Mark VII
RCA TK47 / Ikegami HK312 / Sony BVP360 / My NBC Chimes
The Ellerbee Collection is a unique thirteen-camera, museum-quality collection and home of the historic NBC/Pat Weaver TK30. This is one of only three collections in the world to contain a representative of all of the major RCA studio-size cameras, and the only collection known to also exhibit the two major Marconi cameras, the Mark IV and the Mark VII.
-Bobby Ellerbee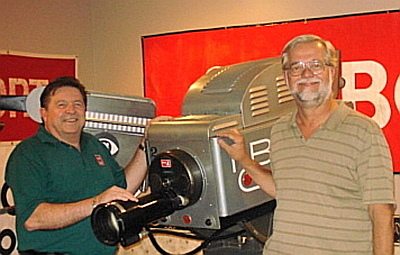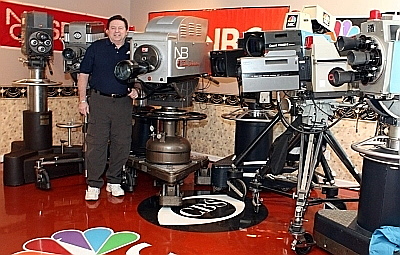 At the top, Bobby Ellerbee, "Rosie" and Chuck Pharis. Below, Bobby with part of his 13-camera collection.
---
Foreword by Chuck Pharis
I first met Bobby on line back in 2006 and he had a thousand questions about my collection of vintage TV cameras and support equipment and my web site chuck@pharis-video.com.
He was quite new at this, but Bobby told me he had always been interested in having a collection of television cameras and this desire and interest in cameras started when was very young.
I told him I have been collecting vintage TV and radio equipment most of my life. He was very interested in finally getting some vintage TV cameras of his own and asked me about how to find them and how to restore them. I told him to start calling local TV stations in his area and he did.
After the very FIRST phone call, he ended up with 5 RCA TK-44s and 3 RCA TKP-45s! He called me back and was hyperventilating! He told me what he found and after I heard he had 3 TKP-45s, I asked if I could have one for my collection. I ended up with one TKP-45 and a TKP-46 (a very nice surprise). I did not have those cameras, so, from the beginning, Bobby and I have helped each other out. We have since become very good friends.
For the next few years, my phone rang off the hook as Bobby had a million questions. He was hooked, hook, line and sinker! The camera collecting bug bit him BIG TIME!
Bobby continued to call what seemed like every TV station in the USA looking for cameras and when he found vintage video tape recorders, he would alert two friends I had introduced him to, Tom Sprague and Paul Beck at the Museum of Broadcast Technology. He found them about half a dozen 2″ machines for their collection and helped them acquire a historic TK-40. After the RCA TK-44 he acquired a RCA TK-41 and then a RCA TK-11/31 that I found for him. He kept telling me "okay, I am done; I do not want any more cameras. I knew he could not stop, and later he found a Norelco PC-60, then a RCA TK-47, a TK-60.
In February of 2007, I was able to help Bobby acquire a TK-30 from the estate of my good friend Skip Jennings, a well known and respected ABC News cameraman. This turned out to be the now famous 'Pat Weaver' camera that NBC had given him as a memento of appreciation for all his innovations as the first president of NBC Television. You can read more on Bobby's TK-30 page.
The difference between my collection and the Ellerbee collection is that Bobby likes to restore his cameras to "new condition" so they are cosmetically perfect. He repaints them when necessary, and puts network television logos on them. They look exactly like they just came out of a brand-new TV studio. He also gives each camera a name. The names relate to the camera's history.
In my collection, I like my cameras "un-restored." I take them just as they come, in used condition, with the dents, peeling paint and masking tape all over them. Each of us loves our collection in "our own special way."
Many of my cameras are restored to working condition, but I'm an engineer. Bobby's from the talent side of broadcasting, so early on he made the decision that his cameras would be for display only, and what a display he has. His is the largest "museum quality" collection of cameras I know of, and I am quite impressed with what he has done, but both of us love the historical value of our cameras.
Speaking of "historical value", Bobby has spent the past five years researching the history of all of the broadcast quality cameras that were made from the '40s to the '70s. For a guy who had no cameras in 2006, he has come a long way!
I visited his collection last year, and his display is beautiful! Each camera is a piece of broadcasting history.
In only five years, Bobby Ellerbee is becoming one of the best qualified, broadcast television camera historians in the country.
Although I have been collecting vintage television equipment for 45 years, soon I will be going to Bobby Ellerbee for historical information that I do not know.
His website "Eyes of a Generation" is filled with historical photos and rare information about television cameras. I even go there myself to "learn a few things," and love to browse the many rare and unique photos he has collected for the site.
Congratulations, Bobby! You have come a long way in five years! I asked him last year what is the next camera he wants. He said a "Marconi MK IV."  I just got an email from him and he found one! I knew he would! So what does he say now? "I think it is a fitting place to stop!" Yeah, RIGHT!
I would like to say I taught Bobby Ellerbee everything he knows about TV cameras, but that would be incorrect. Soon he will be teaching ME!
Chuck Pharis
---
Foreword by Paul Beck
Bobby Ellerbee has been collecting vintage television broadcast cameras for only five years now, but has put together a beautiful fifteen-camera collection, and he is fast becoming one of the leading experts on vintage TV cameras, and their history, in North America.
As of 2011, Bobby has the only collection of cameras known to contain both, all the major RCA studio size broadcast cameras and the two major Marconi broadcast cameras, the Mark IV monochrome and the Mark VII color cameras. His collection of RCA cameras is one of only three in the world that contains all the major studio cameras from the TK30 to the TK47. Only the Chuck Pharis Collection, and our collection here at the MBT, hold the same distinction.
Bobby has done extensive research on the history surrounding each of his cameras and it is in that activity and those whom he has contacted that has led him to create the "Ellerbee Classic Camera Census."
It is a first-ever, comprehensive tally and listing which he has created that makes a valiant effort to count up how many of these valuable and often-times historic vintage cameras have actually survived, and where they are. The latest update even endeavors to attain a worldwide count.
His efforts have spanned to searching collections from The Smithsonian Institution, university archives, most of the major broadcast museums and numerous private individuals. His scholarship provides a one-of-a-kind list of many the rare vintage cameras.
His diligent efforts are sincerely appreciated by all of us who have a passion for television and its contributions to our society.
Displaying his a truly generous spirit, Bobby has played a major role in locating many important artifacts of video history for The Museum of Broadcast Technology near Boston, Massachusetts. Bobby has used his talents as both a detective who could rival Sherlock Holmes, as well as his powers of articulate persuasion, to build collegial relationships between potential donors or providers of historic items and the folks at The Museum of Broadcast Technology.
Bobby has been a key player in successful acquisitions of rare RCA TRT-1A/B 2″ Quad machines, as well as RCA TR-22 and TR-600 quad video tape equipment. The MBT's talented Tom Sprague has brought one of those TR-22s back to life! The TR-600s are next!
Most recently, thanks to Bobby's recent leadership direction and assistance, in the MBT's acquisition of an historic RCA TK-40A Image Orthicon color camera. This camera is one of a pair delivered in 1954 to what was then WKY-TV in Oklahoma City, OK. These were the first two color TV cameras ever delivered to a local independent commercial TV station in the world. Fortunately, the other TK-40A is at the Oklahoma Historical Center.
The Museum of Broadcast Technology is eternally grateful to Bobby for his passion, dedication and to the preservation of vintage cameras and related broadcasting artifacts. Way to go, Bobby!
Most sincerely,
Paul R. Beck, President,
Thomas R. Sprague, CFO,
Dr. Henry Berman,
Museum of Broadcast Technology, Inc.
---
How My Collection Got Started
Around age 10 (1960), I was totally hooked on drawing television cameras and I drew them all day long for many years. My favorite was the TK41 (with my second favorite the TK11, then Norelco). A lady named Kathryn S. Cole at NBC's 30 Rockefeller Plaza kept me loaded with thick stacks of 8×10 glossy backstage photos for many years. One of them is on our home page and others are scattered around, but all are on the RCA TK40/41 picture pages.
The RCA TK44B was my first camera, and is the start of a very interesting story. Wanting my own TV camera, I called Chuck Pharis in California on August 8, 2006 to ask the best way to go about this. Later that day, after a good talk with Chuck, I decided to just call around here in my area (Athens/Atlanta) and just ask if anyone had any old cameras they would like to donate to a collector. On my first call, I left a message, which I usually never do, and then got busy with other things and made no more calls.
Later that night, Gary Coffman, an engineer at WXIA-TV in Atlanta, returned my message. He asked if I would like to have 7 cameras, a TD8 HF pedestal and 3 miles of cable.
HONEST! I SWEAR!
There were 5 RCA TK44Bs, 3 RCA TKP-45 portable cameras, and 8 CCUs. I kept 3 TK44s. I gave Chuck 2 of the 45Ps and gave Paul Beck and Tom Sprague two TK44s, the cable, the CCUs and the other TKP-45 for their Museum of Broadcast Technology.
Tom and Paul gave me a CBS Norelco PC60, a Vinten head from WGBH (Boston), and a tripod that was used by WPIX only on the outfield camera at Yankee Stadium. The TK-44Bs came from Dixie Sports Net, an Atlanta production company that went out of business, but all these cameras originally started service at NBC's Burbank Studios.
How do we know? The NBC Burbank cameras have had an extra exhaust fan added to the top of the camera. This was a modification made by necessity because the viewfinders kept overheating and they would actually black out. This was not so much a problem at local stations because their cameras did not work as many hours as the NBC Burbank cameras.
If you go through the TK44 "At Work" picture pages on this site or the Old Radio RCA Equipment website, and look at all the TK44s…aside from the NBC network TK44s, there is only one other TK44 picture that has the extra fan mod on top and that was from Oral Roberts University.
Roberts did a lot of taping at the NBC Burbank facility and when NBC sold some TK44s and TK45Ps (and they were known to have bought and sold a lot of TK44s), I believe that all these cameras went to Oral Roberts University. There are ORU property tags on the lenses.
As for the TK45Ps, I think these were originally used on Saturday Night Live. These NBC New York cameras went to Burbank, then to ORU, then Dixie Sports Net, then Gary Coffman, then to me, Chuck and the Museum of Broadcast Technology.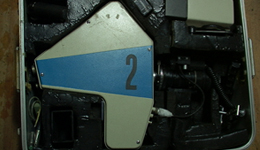 One of three TK45Ps picked up with the TK44s. Two TK45Ps went to Chuck Pharis.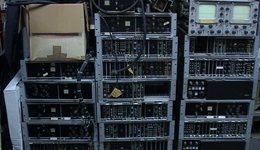 Two TK44s and one TK45P went to the Museum of Broadcast Technology (0027), along with all of these camera control units for the TK44s and 45Ps.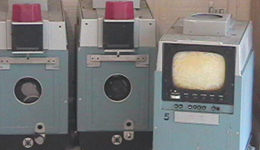 The 'honeycombing' in the viewfinder is a typical problem with 44s that have sat for a long time. The resin RCA used between the viewfinder tube and the glass plate on the back of the camera deteriorates and 'oozes.' It's a mess, but it's not to hard to clean up.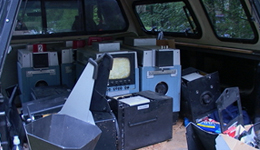 TK44Bs fill the back of a pickup truck. They were heavy and hard to get to with winding stairs and a 50 yard walk to the truck.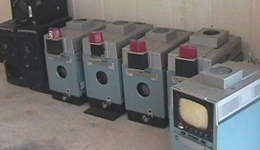 Here they are with the Varatol lenses in my garage after unloading.