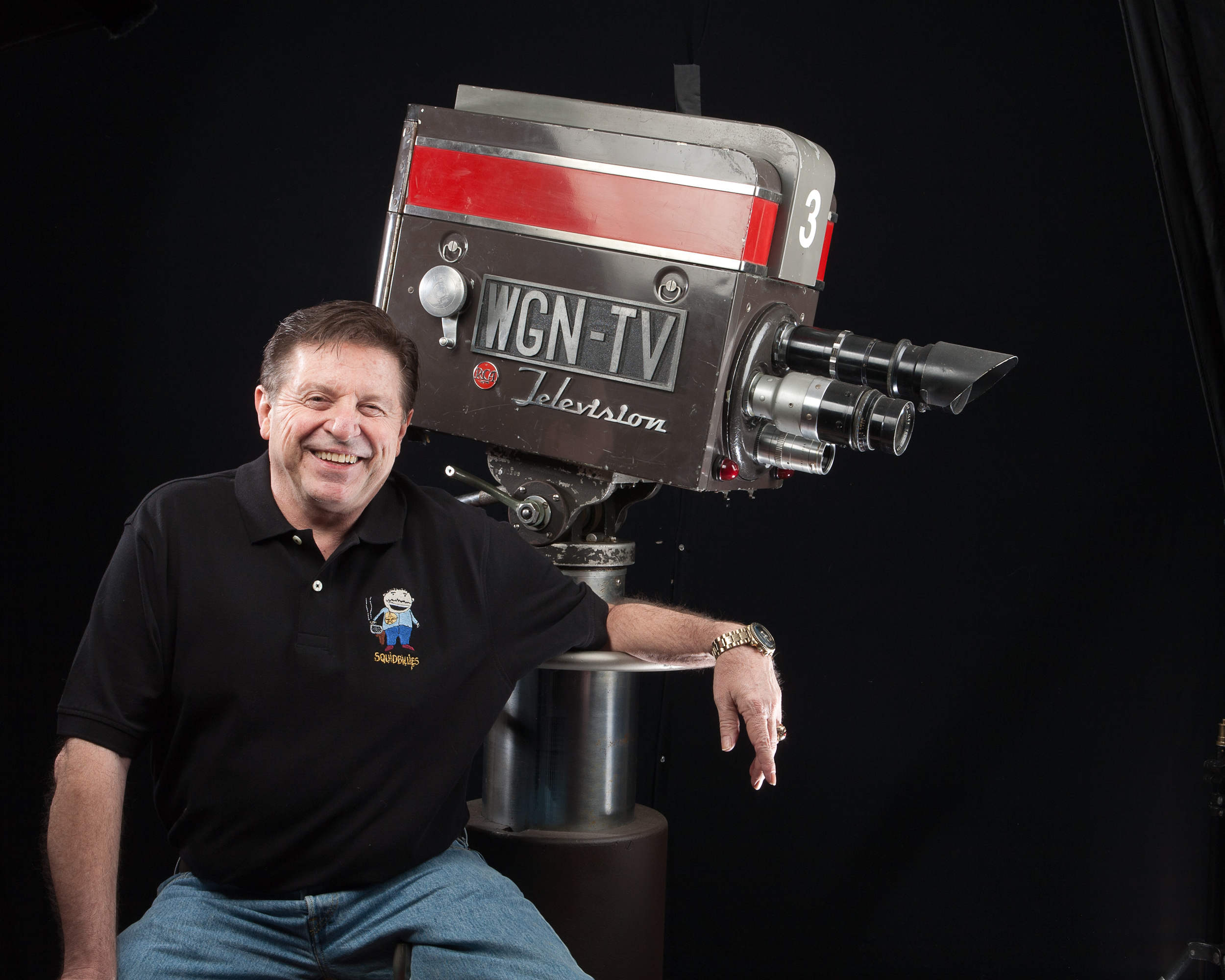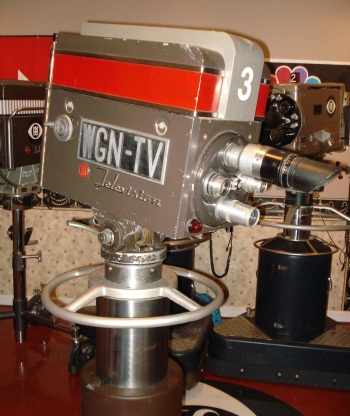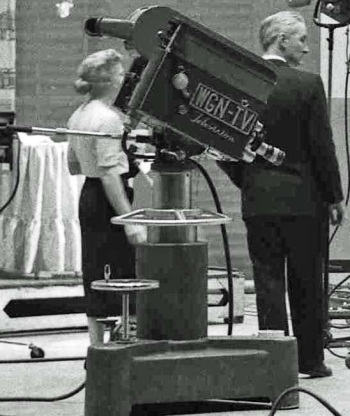 The Camera
In the top left photo, you see the RCA TK10 from WGN in its new home here in Georgia. It is mounted on the historic Houston Fearless TD 1 pedestal, and there is more on the pedestal history below. Top right is a shot of this, or one of the other seven, TK10s at WGN on the set of Down You Go. Bottom left is a dream shot for a lot of us that shows a possible future director doing some early "apprentice" work on the Garfield Goose set. Bottom right: a shot of Down You Go on the air, with Bergen Evans as host.
Below are three more shots of the WGN Down You Go set in Studio 6A, taken in March 1954. They are using three pedestal cameras on the show. As I mentioned above, WGN had eight TK10s. Half of them were on Houston Fearless TD 1 pedestals and half were on Houston Fearless Panoram dollies. There were also 6 HF tripods for use on remotes.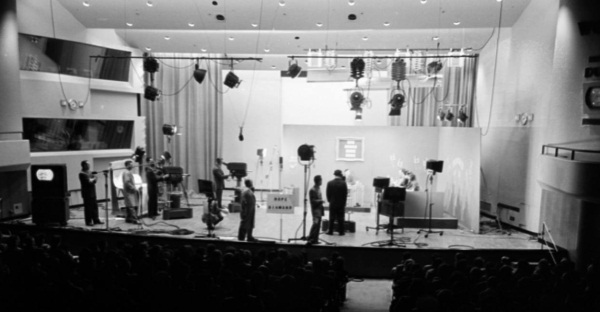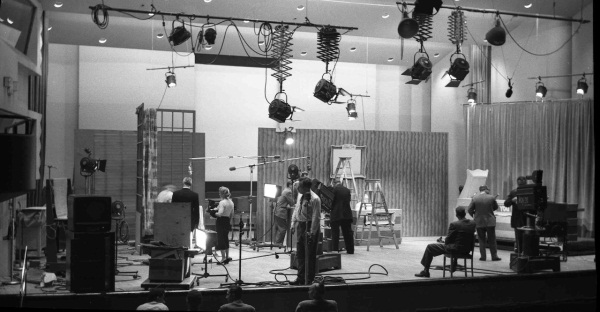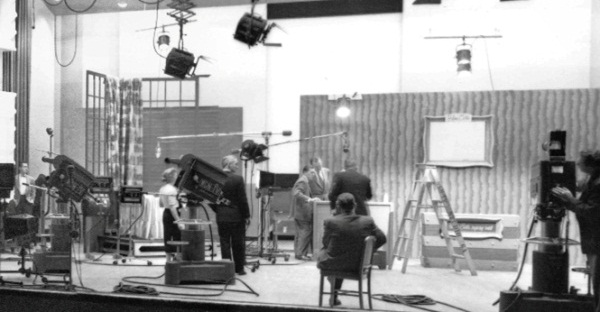 Interestingly, some of the collectors I know had never seen a color photo of a TK10, and had always wondered if the red band on the viewfinder was the way RCA made them or if someone decided to decorate it somewhere along the line. I can tell you without a doubt that the red stripe is standard issue from RCA. Below are two images that prove the point. The top photo is the cover of the January 1953 Radio and Television News, with a photo taken on the set of The Camel News Caravan. Pictured with John Cameron Swayze are NBC cameramen George Jacobs (left) and Harry Katzman (right). Thanks to Harry Katzman for the image. In the bottom picture from WGN, we see Tommy Bartlett in Studio 5A on the set of Hi, Ladies with a red-striped TK10.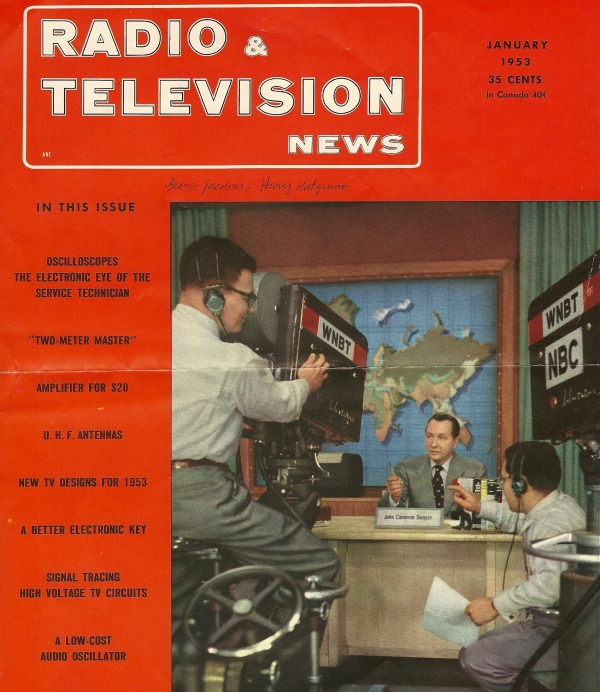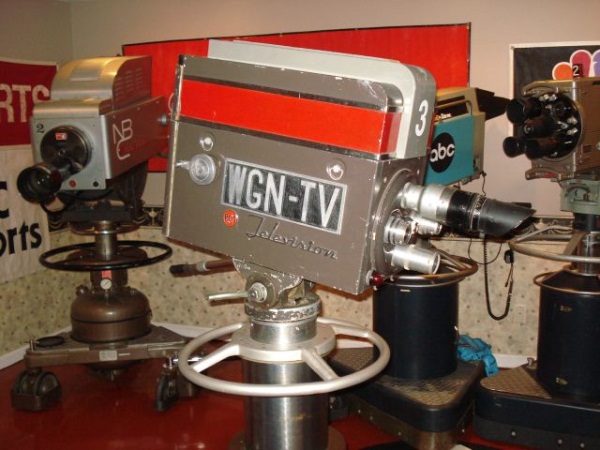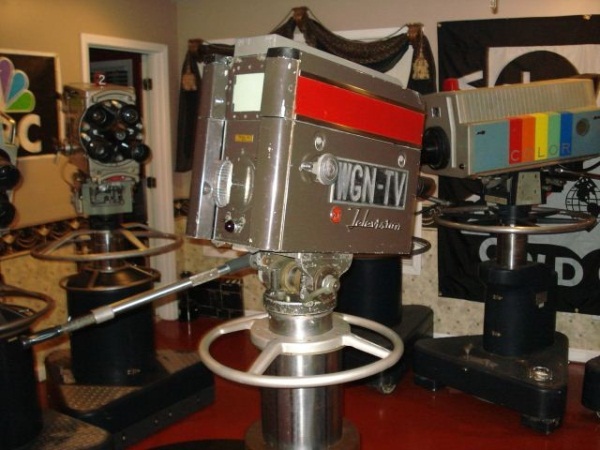 As I tell you the story of how the camera happened to come to me, I'll sprinkle in a few more shots of her. She began service in Chicago at WGN in April 1948 when they signed on, but later went to Denver. An engineering note still inside her is dated 1966, the year Tribune Broadcasting acquired KWGN in Denver. This TK10 was probably sent there for her parts and tubes. By the way, at the bottom of this page, in pdf form, is a 1948 Broadcasting magazine article on WGN's first days on the air.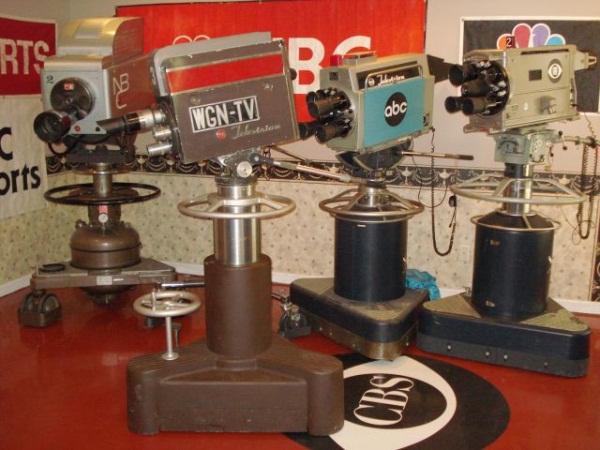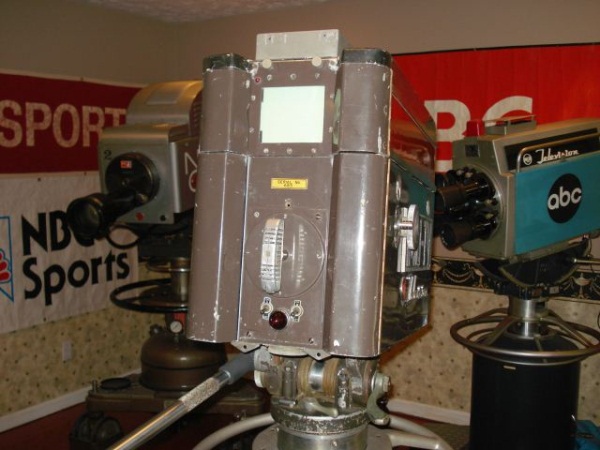 Somehow, the camera wound up in the hands of Nick Cimyotte, a local theatre director, and it sat in his garage for ages until a recent production of Hairspray at the Arvada Center for the Performing Arts. They used the TK10 as a model for their prop cameras for the production. Except for a little artistic license on the colors, they did a pretty good job: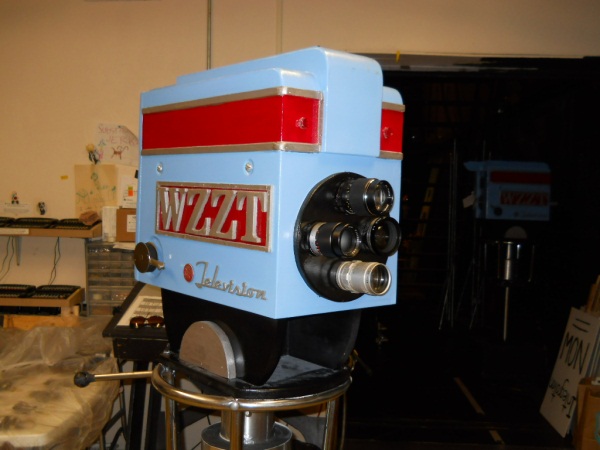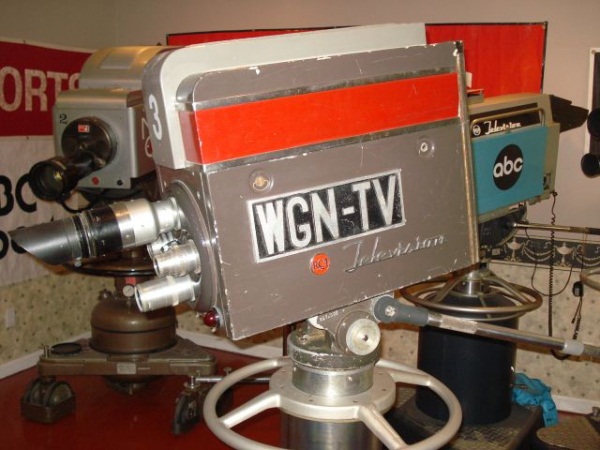 Now, this is the good part! Fortunately, it's occurred to people that these iconic creations of the past are a valuable part of history and should be saved, and that's what occurred to Melissa Shrank and the prop department at the Arvada. She contacted our friend Lytle Hoover to ask if there was a collector or preservationist that would be interested in this old television camera. As soon as I got the note, that also went to two others, I got busy. Within a day, I had become the proud new owner of this historic camera. It was missing its turret and lenses, but with the help of veteran ABC cameraman Dale Walsh, we overcame that problem. In the search for a turret, some very serendipitous events  brought in the great WGN pictures you see here. Some are from Dale, who grew up with WGN, and his mom even worked there.
On the very day I got Lytle's email, Val Ginter in New York started sending me WGN photos too. As it turns out, Val was raised in Chicago and is a real expert on all things WGN. All the great historic WGN photos on this page came from Dale and Val. Believe it or not, Val has a TK10 made from wood! He bought it in New York City in the mid '70s for $25, but it has a real turret, lenses and turret rack. Below is Val with the camera shortly after the purchase. He still has it, and it's really a very good copy. I think it was a prop used on the Spike Jones show. I saw a video of a Jones gag where he sprayed seltzer water all over a TK10, and remember a note or comment that the camera was a mock up. It would have drowned a real one!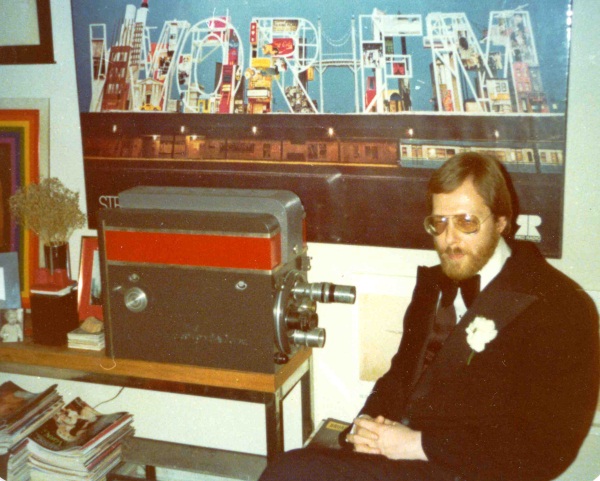 Below are a few more WGN pictures from Val and Dale. At the top of the stack is a shot from the show Four To Go. Just under that is a great shot of Ernie Simon, known as "The Curbside Cut Up," with a TK10. Third one down shows a TK10 with the new RCA "Zoomatic" lens doing a man on the street type show hosted by Ernie Simon, who's getting a queue from his crew. At the bottom, two more from 1953 at WGN.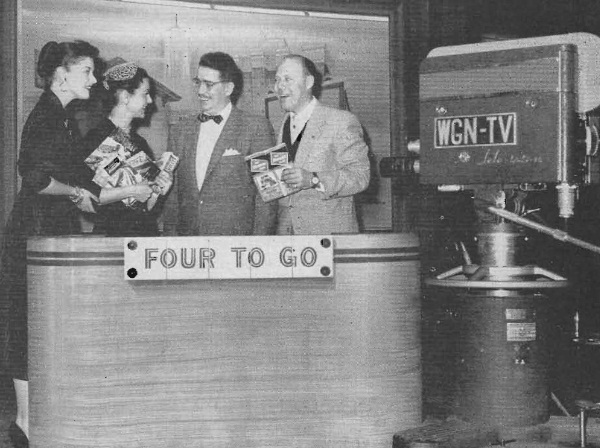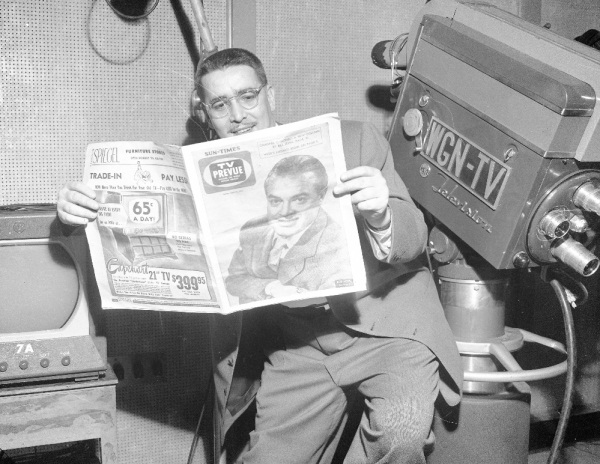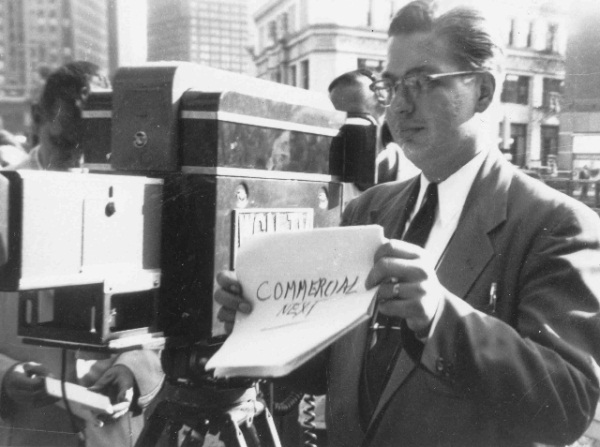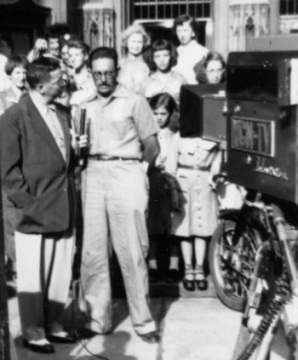 That's about it for the camera, but before I tell you about the pedestal's great history, let me thank Lytle Hoover, Melissa Schrank, Nick Cimyotte, Val Gitner and Dale Walsh for the camera, the pictures, the turret and lenses and all their help.
The Pedestal
In January 2009, Tom Sprague and Paul Beck at the Museum of Broadcast Technology donated this early Houston Fearless TD-1 pedestal to put under the Pat Weaver TK30. I later moved the TK30 to a Houston Fearless Panoram dolly. I've always wanted to have a TD-1 and this was the camera I wanted it under. As fate would have it, now there is a double historical significance to this camera and its new mount.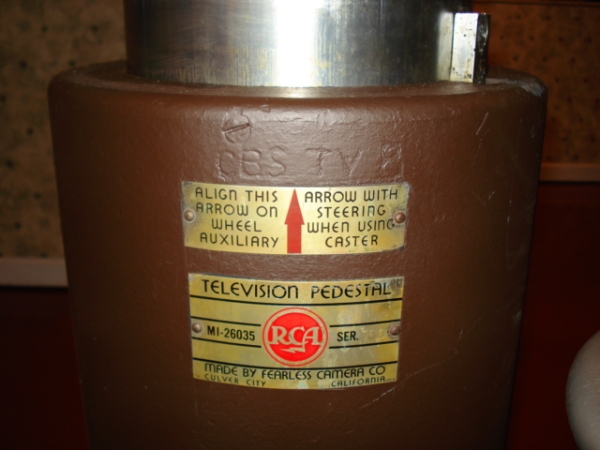 If you look closely – actually, where the red arrow is pointing – you can see "CBS TV 8" cut into the ped. The pedestal's last home was at the Catholic TV service in Brooklyn, New York. Typically, a lot of old CBS network gear was donated to churches and schools in the New York area, and this pedestal was a gift from CBS in the distant past.
I found the inscription when I was repainting the ped. Intrigued, I began to investigate. Working with some of the great veteran broadcasters at the CBS Retirees site, I was finally able to track down someone who knew the story. As it turns out, this is the 8th pedestal out of a shipment of 12 that came to CBS for use in the network's first studios at Grand Central Terminal. The property men were instructed to mark and number each one and have it done quickly, because they were going be moved to their assigned studios the next morning. They found an engraving tool and went to work. I think at the time, there were two 3-camera studios and three 2-camera studios.
The pedestal probably dates to 1947 or '48. CBS network programs began in 1948, so this pedestal could have used on CBS News with Douglas Edwards, the Arthur Godfrey programs, The Guiding Light, See It Now and Person To Person with Edward R. Murrow, The Garry Moore Show, Studio One and, of course, The Ed Sullivan Show. Between what the historic WGN camera mounted on it has seen, and what this TD-1 pedestal have seen, well…there is not even a way to imagine what television history these two artifacts have been witness to. But it's fun trying to.