The RCA TK40 was the first commercially-available color television camera. Broadcasting color images for the first time in late 1952, it was followed by the TK40A, which in 1954 became the first color camera to go into mass production. In 1955 RCA discontinued the TK40 in favor of the TK41. The TK41 was followed by the A, B and C models, and RCA manufactured them until 1964. RCA made 24 more on a special order in 1966; 12 of them were for ABC's remote trucks, and 12 more were sold to stations. (The TK41C in my collection, bought by KTLA in 1966, came from this last batch.)
Before we move forward with the TK40/TK41 story, let's take a quick look at their experimental predecessors. As early as 1940, RCA and CBS were both working on color, but both companies were relying on mechanical means until after World War II was over. By July 1947, RCA had moved on to all-electronic means, while CBS embraced the field sequential concept that still required mechanical systems. As seen below, this camera, generally referred to as the Wardman Park model, is the first RCA color camera configuration. These were in use from about 1947 to around 1950. The "coffin cameras" came next and were used through around the fall of 1953, when the first few TK40s arrived for testing.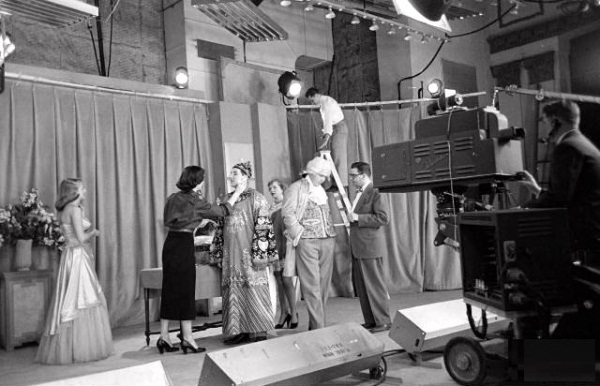 Above is a photo that shows the first fully electronic RCA color camera at RCA's Wardman Park color studio in 1949. Below is a shot of the monitor image from this experimental session. Below the monitor image we see two of these color cameras at the Wardman Park color studio in Washington D.C., where the demonstrations of the RCA systems would be held for the FCC a few years later. Only two of these cameras were made, and both were in Washington. When color testing with the coffin cameras began in Studio 3H in New York, these were sent home to Camden for bench testing.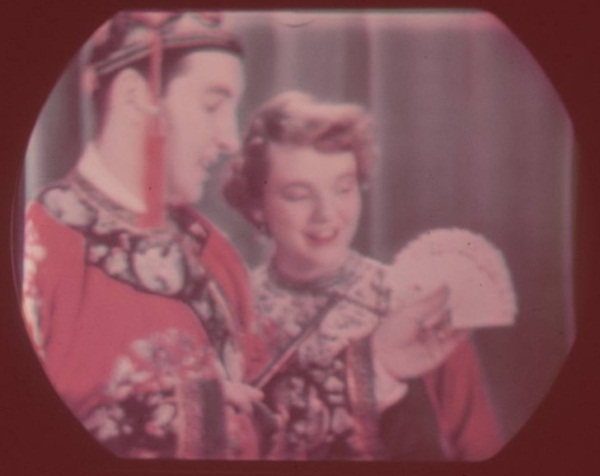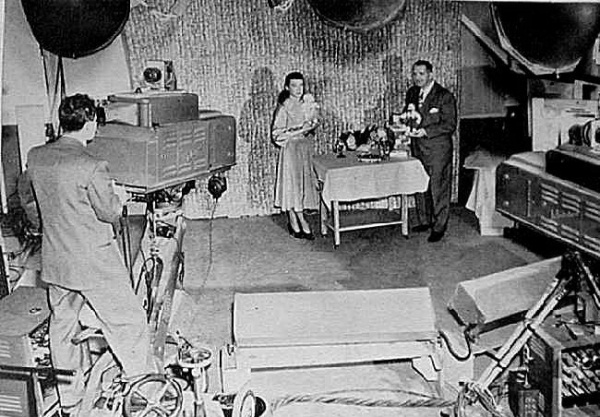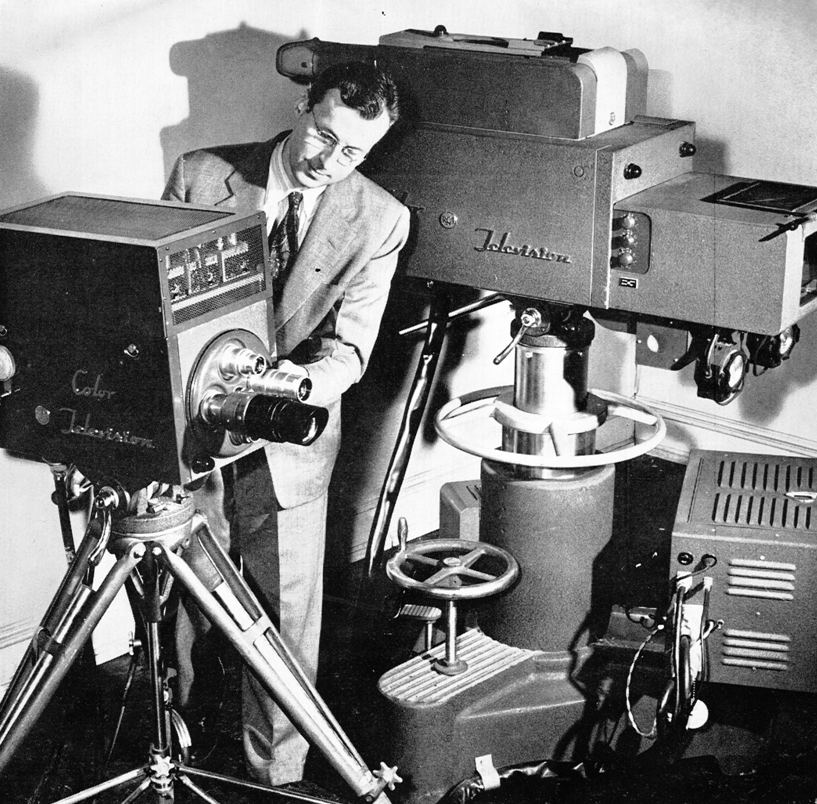 Above, a very rare photo of one of the Wardman Park cameras that have been upgraded back at the RCA Labs in Princeton. Notice the new TK30 style viewfinder on top. solid sides with no vents and some new alignment knobs on the camera's lens. The square camera is the Tri Color experimental model that tried to use the same type of three beam splitting system that the color picture tube used.
Below are the famous "coffin cameras", so named because the joke was, they were big enough to bury a man in. They were in experimental use in NBC's Studio 3H at 30 Rockefeller Plaza from around 1950 until December of 1952, when the TK40s prototype cameras arrived at The Colonial Theater.
Below left, Nanette Fabray sings for the cameras and engineers in New York and Princeton, New Jersey (via closed-circuit feeds), as she did for almost two years. She quit because she could no longer stand the monotony of doing the same show over and over for the daily closed-circuit camera tests, which were seen daily at the RCA Exhibition Hall across from 30 Rock. To the right, NBC's Miss Color Television, Marie McNamara, the red-haired model used for the continuing color tests. There were three coffin cameras built and all were in Studio 3H and occasionally tested in a mobile unit.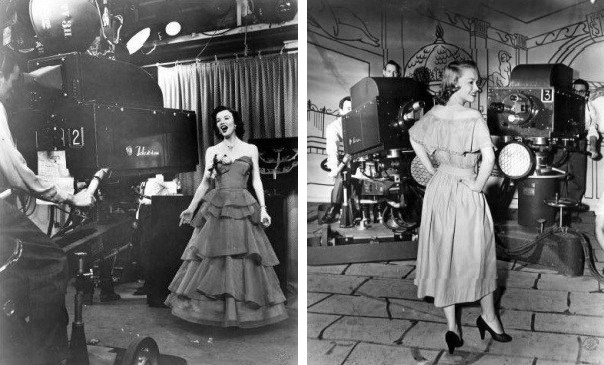 Below, Marie McNamara with the four RCA TK40 prototypes at The Colonial Theater. Notice that the lens turrets from the coffin cameras have been saved to use on the TK40s.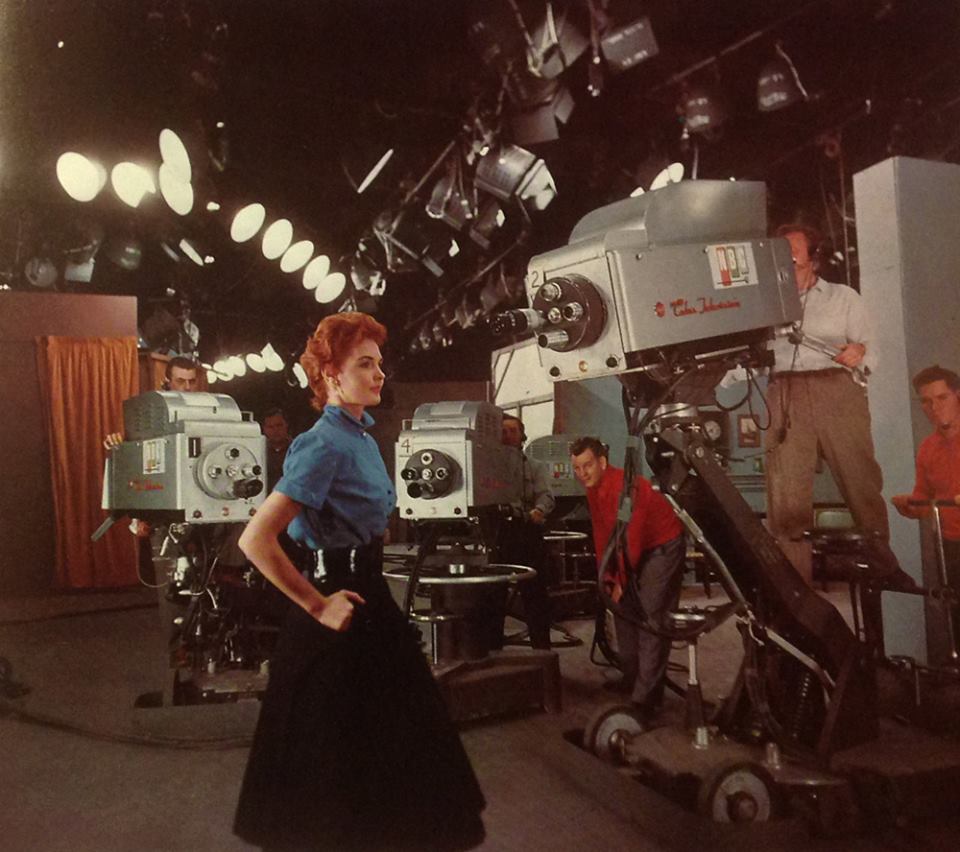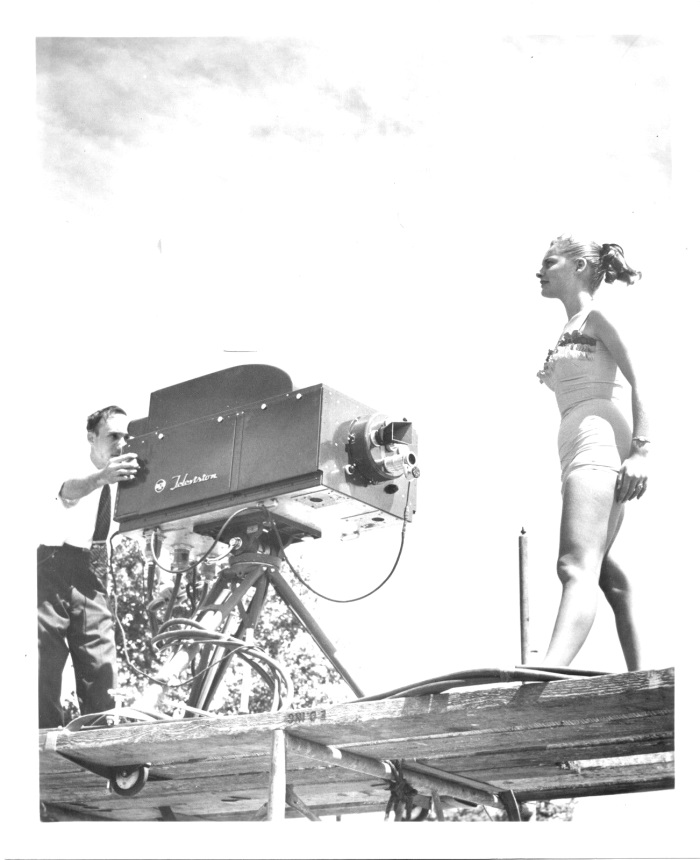 The final step before moving to the now-famous TK40-41 profile would be to paint the cameras silver to reflect the sun and studio lights that made the umber grey "coffin cameras" even hotter. That all started with the picture just above. After the mobile unit did its first remote with the coffin cameras on a sunny summer day at Palisades Park, New Jersey in 1953, the crew spray-painted the cameras silver to reflect the heat as the cameras were so hot, they nearly overheated. RCA got the message and when the TK40s arrived a few months later, they were silver. Thanks to Ed Reitan for his great timelines on these early color cameras.
Below is NBC's first color mobile unit. This was an experimental color tool, the same one used at the Palisades Park remote, but this was taken after the unit began field testing the new TK40 prototypes from the Colonial Theater. The color remote test were "occasional", so when an occasion arose, they borrowed two of the four cameras from the Colonial. Notice that this is one of the two, original 1930s NBC remote units, which has been totally redone inside.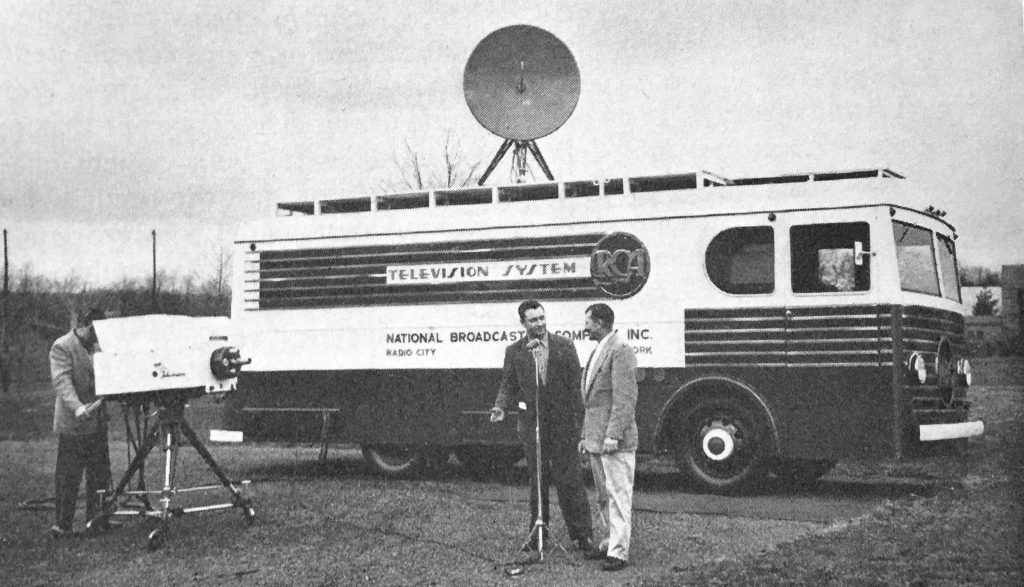 The TK40/TK41 series was a huge triumph for RCA and was designed to showcase RCA's all-electronic color television system, which was adopted as the standard for US broadcasters. These cameras used an image splitter, which directed the incoming light into three image orthicon tubes, recording moving images in their red, green and blue component colors. These early color cameras required tremendous amounts of light to operate correctly, making television studios of the day hot and uncomfortable. They were among the heaviest cameras ever manufactured, with the camera heads alone weighing close to 300 pounds and the removable viewfinder another 75 pounds.
The TK40 was used for the first colorcasts, which included the opera Carmen, carried in a closed-circuit test on October 31, 1953. The first commercial color broadcast was The Colgate Comedy Hour on November 22, 1953. However, prior to both, in August 1953, the first publicly-announced experimental broadcast in compatible color TV of a network program was NBC's St. George And The Dragon with Kukla, Fran and Ollie. All of these came from the Colonial Theatre. Many historical shots of these and other early color productions at the Colonial are just below.
The TK41s were in use by affiliates and networks well into the 1970s. Although the TK44 was introduced in 1968, NBC kept its New York, Los Angeles and O&O-station TK41s in service for years. Johnny Carson's Tonight Show used TK41s until about 1970. ABC had backup sports trucks with TK41s as late at 1978 or so.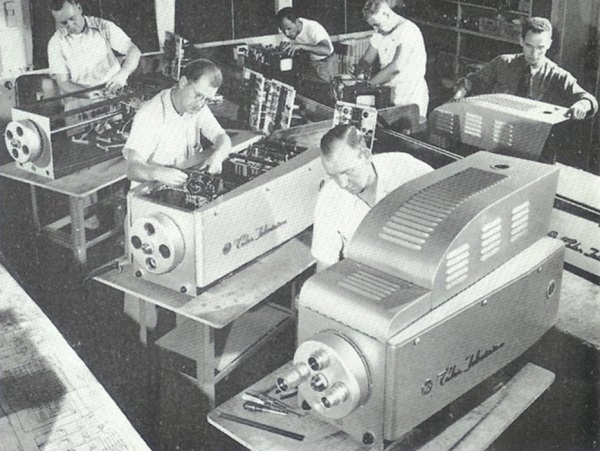 RCA produced the TK40/TK41 series from 1954 to 1964. In 1966, one more special run of 24 brought total production to 239.
Truth be told, these cameras made some of the best color pictures ever seen. One of the big secrets of the 41's success though was the late Fred Himelfarb. Fred was an engineer that came from RCA to NBC with the first TK40s and was the direct link between NBC and RCA. He was the genius that made dozens of modifications and changes that made these cameras so great. Many thanks to his onetime associate, Jay Ballard, for telling me about Fred.
One of the best stories I know about these cameras was told to me by Fred himself in one of only three phone conversations I was able to have with him before he passed suddenly in August 2009. Due to NBC's lack of interest in the TK42s and 43s (which is another Fred story discussed in the RCA Archives section of this site), and with the long lag in the TK44's development, NBC was actually considering buying 35 Norelcos for its remote trucks. Fred had already begun to modify the specifications of Norelco's camera to suit his high standards in the image it made. Fred even wanted a smaller plumbicon tube size, and got it. Phillips built six of them to his specs.
When these six Norelcos arrived, it so happened that NBC was about to televise the World Series, so…Fred deployed them all to the stadium and invited the Philips and NBC brass to watch from a special hospitality truck that showed only the broadcast feed. After the game, they all commented on how great it looked on TV, and every single Phillips executive said that they were especially impressed by the shot from the outfield. That's when Fred told them that actually there were seven cameras there, and that the outfield shot had come from an RCA TK41C. More improvements were made.
Below are more 50 images of these incredible electronic hulks, starting with a few special, never-before-seen images that were taken at the place where color television broadcasts were born: the Colonial Theater in New York City. The Colonial was home of the first experimental and broadcast programs for RCA and NBC.
The Colonial Theater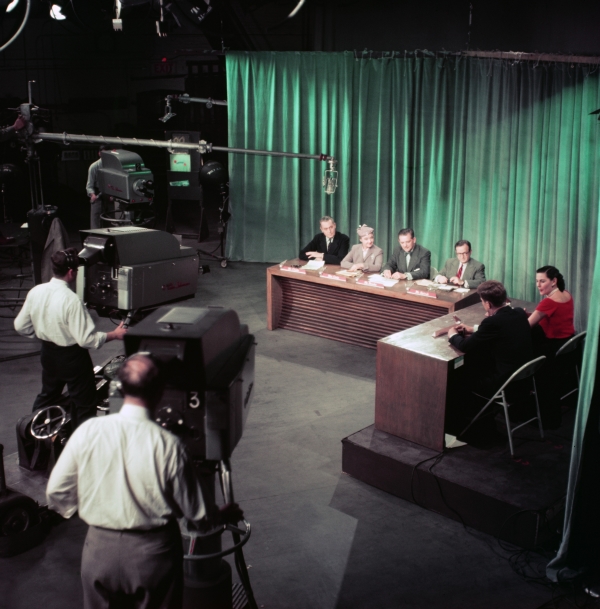 Above and below are two very rare images of the first colorcast of Meet The Press. The date is February 14, 1954 and the guest is Senator John F. Kennedy…but this is not from Washington. The location is the Colonial Theatre in New York, home of the first TK40 color cameras. Notice that there are no side vents on the viewfinder. This lack of ventilation made for some very hot cameras, but at least they have been painted silver and are not the original umber grey. Photos courtesy NBCU Photobank.com. All Rights Reserved. This image cannot be archived, sold, leased or shared.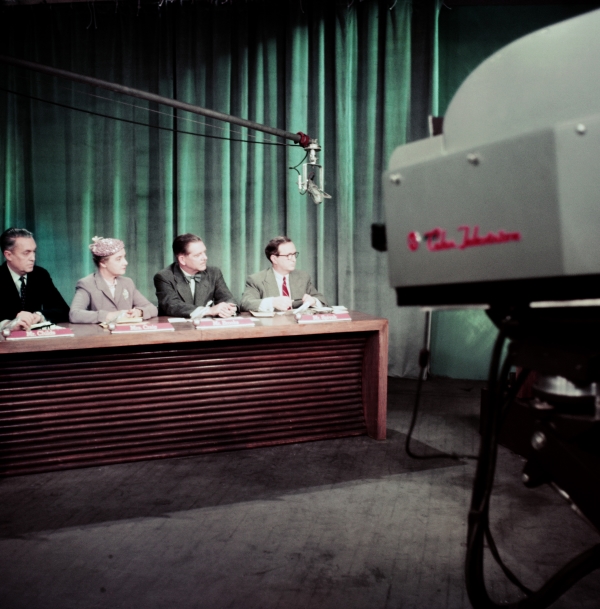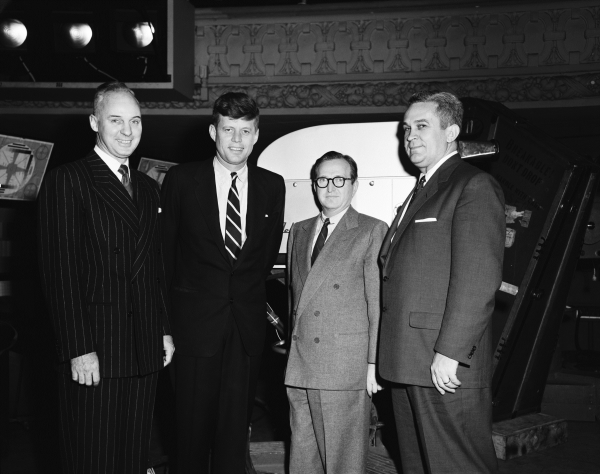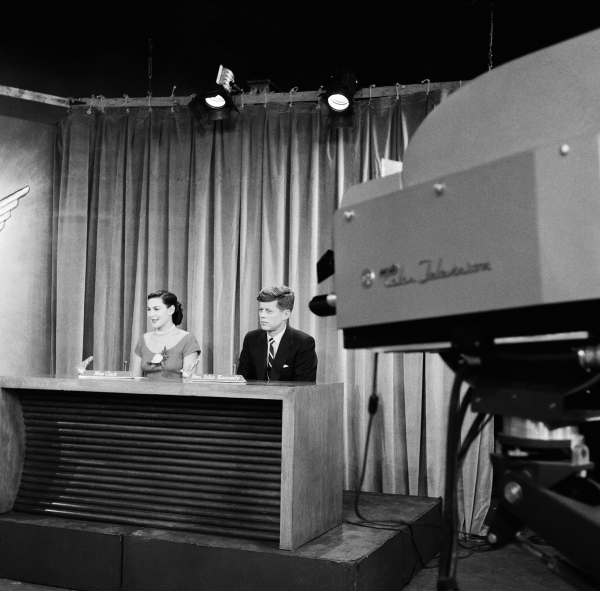 Above is another image from the first Meet The Press colorcast from the Colonial. Below is the same Colonial Theater camera taken on a different day. The cameraman in the photo below adjusting the dolly mounted TK40 is NBC's Ben Franklin, one of Frank Merklein's fellow cameramen there at the Colonial. Above photo courtesy NBCU Photobank.com. All Rights Reserved. This image cannot be archived, sold, leased or shared. Below photo courtesy Life Magazine.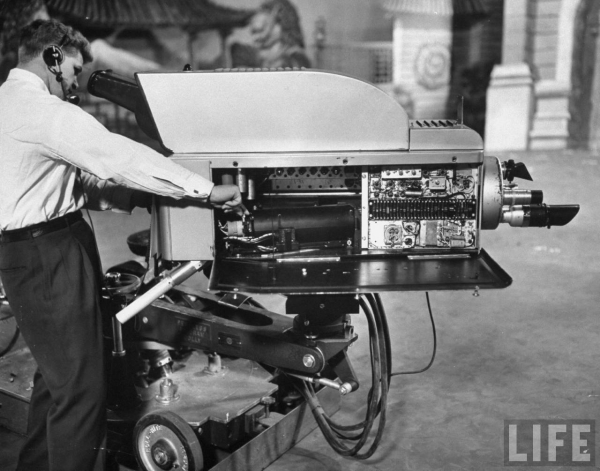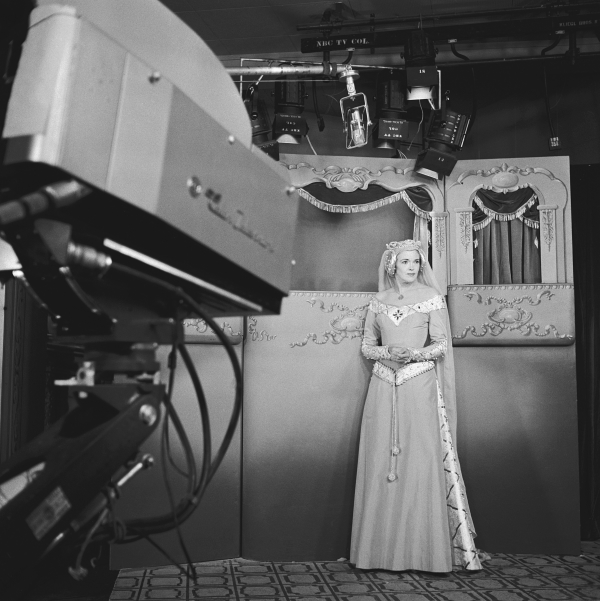 On August 30, 1953, NBC brought Kukla, Fran and Ollie from their studios in Chicago to the Colonial Theater for St. George And The Dragon. It was another first in color broadcasts as this was the first publicly-announced experimental broadcast in compatible color TV of a network program. Above is hostess Fran Allison with the same dolly-mounted TK40 as seen above. Above photo courtesy NBCU Photobank.com. All Rights Reserved. This image cannot be archived, sold, leased or shared.
TK40/TK41s at NBC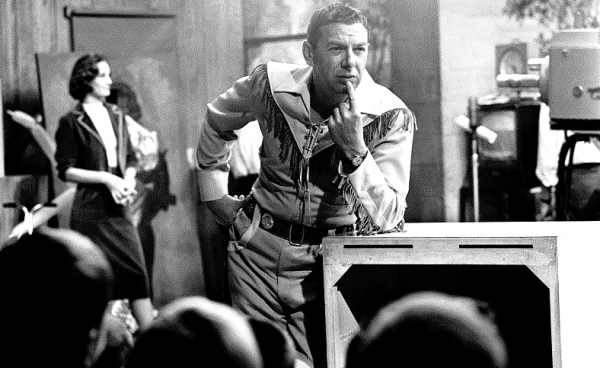 Above and below are yet two more rare photos. The Howdy Doody Show, was not only the first daily network television show, it also became the first ever daily color network show on Labor Day of 1955, when NBC dedicated Studio 3K, the first color studio inside 30 Rock. The new studio came with a cost of history though, as it was made by combining television's first ever studio…3H with an adjoining radio studio to make 3K.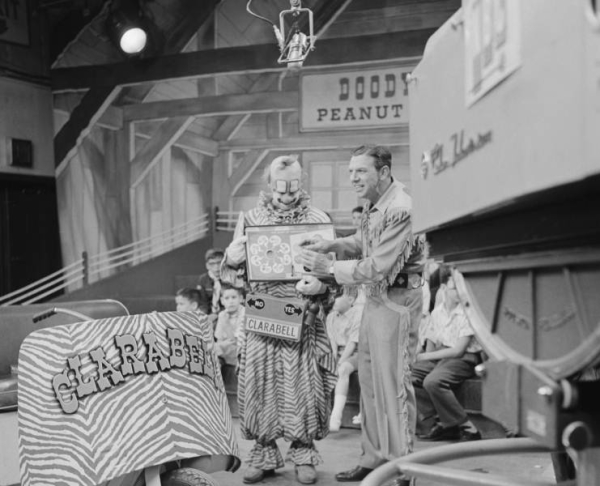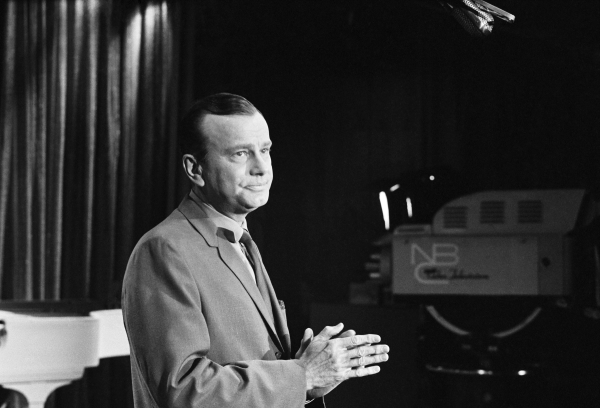 Above is the great Tonight host Jack Paar with a TK41A or B…it's impossible to tell an A from a B from the outside. From its beginning, the Tonight show had been done live, but in January 1959 they began taping the show, and in September of 1960, the show went all color. Below is Jackie Mason on an early Johnny Carson show from the same studio. Above and below photos courtesy NBCU Photobank.com. All Rights Reserved. This image cannot be archived, sold, leased or shared.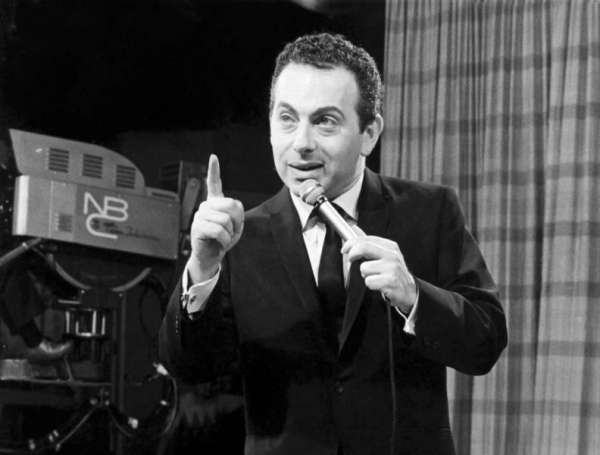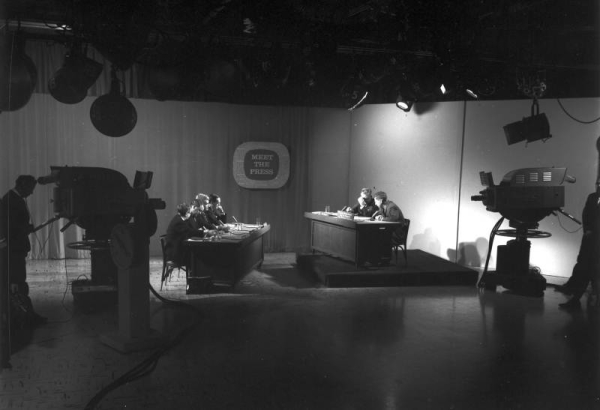 Working on this page, I've learned a lot of Meet The Press history, and here is another piece of it. The image above was taken in 1962 at WGAL in Lancaster, PA. The show would occasionally originate from various well-equipped affiliates and WGAL was all that and more. This is a sneak peek at more than 100 photos covering 60 years of WGAL's history, included in a special album in the new Gallery.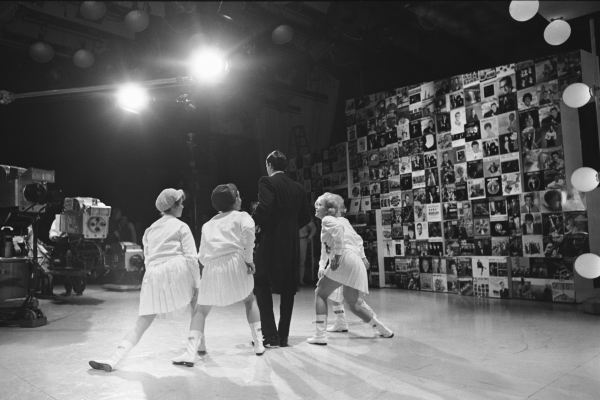 Remember Hullaballoo? Above is a shot from December 13, 1965 with The Man From UNCLE, Robert Vaughn, as a guest host. Notice there are three TK41s in this picture and the lowest one actually has the cradle head mounted to a rolling board for floor level shots. Below are the Beau Brummels in 1965. Above and below photo courtesy NBCU Photobank.com. All Rights Reserved. This image cannot be archived, sold, leased or shared.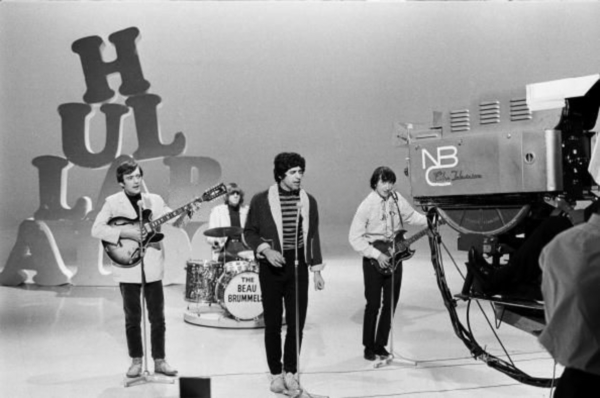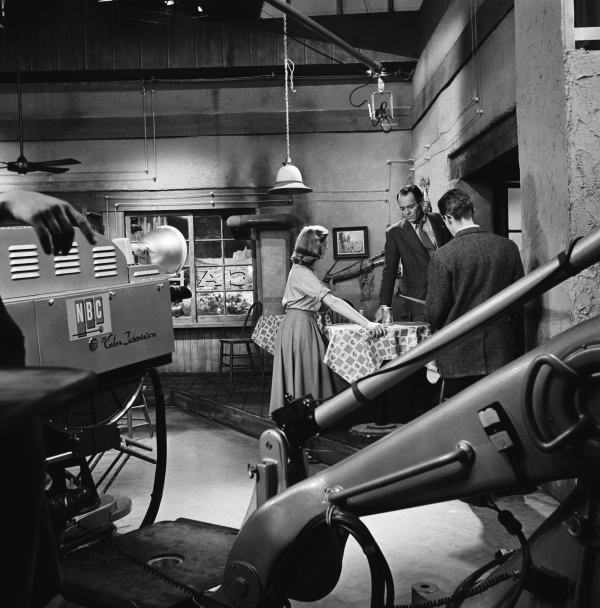 Above, Henry Fonda and Lauren Bacall in a May 1955 Producers' Showcase production of The Petrified Forest. The camera is mounted on a Houston Fearless type 30B studio crane. Above photo courtesy NBCU Photobank.com. All Rights Reserved. This image cannot be archived, sold, leased or shared.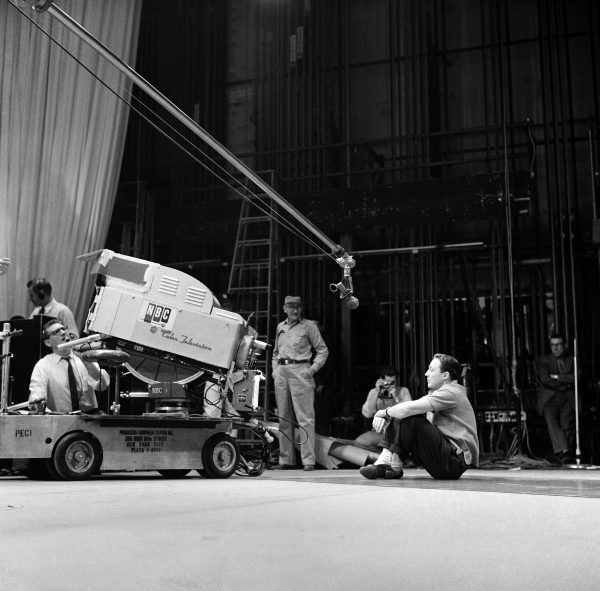 I remember watching Omnibus. It was a great show that appeared on ABC and CBS before finding a home at NBC. Above, Gene Kelly stars in the Omnibus presentation Dancing: A Man's Game in December 1958. Alistair Cooke was the host. Cameraman Walter Vitter's TK41 is mounted on a McAllister crab dolly at the Brooklyn studios.
Above photo courtesy NBCU Photobank.com. All Rights Reserved. This image cannot be archived, sold, leased or shared.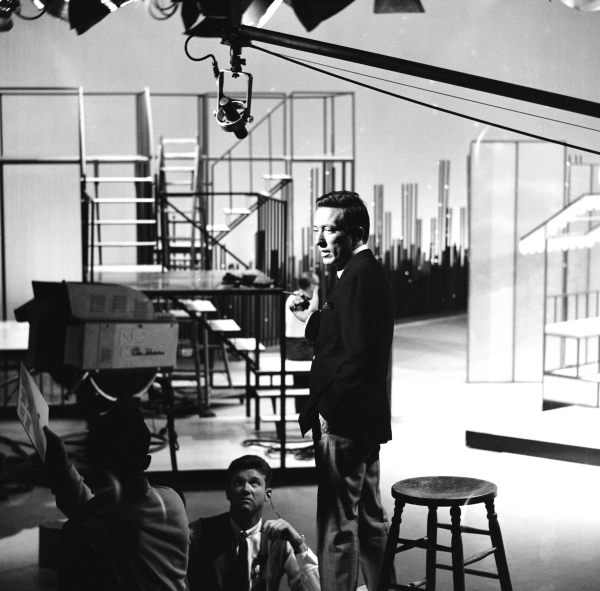 Above is a classic in the making…an Andy Williams special that aired in May 1962. If you want to really know how great the pictures that came from the TK41 are, just check out an Williams special. I always watch for them on PBS around Christmas, and they are spectacular. The color is as good as it gets…and the audio is superb, too! Remember, they did this with booms and big heavy cameras. Our friend Jon Olson, a 30-year Burbank veteran cameraman, worked on the Williams shows from start to finish. Above photo courtesy NBCU Photobank.com. All Rights Reserved. This image cannot be archived, sold, leased or shared.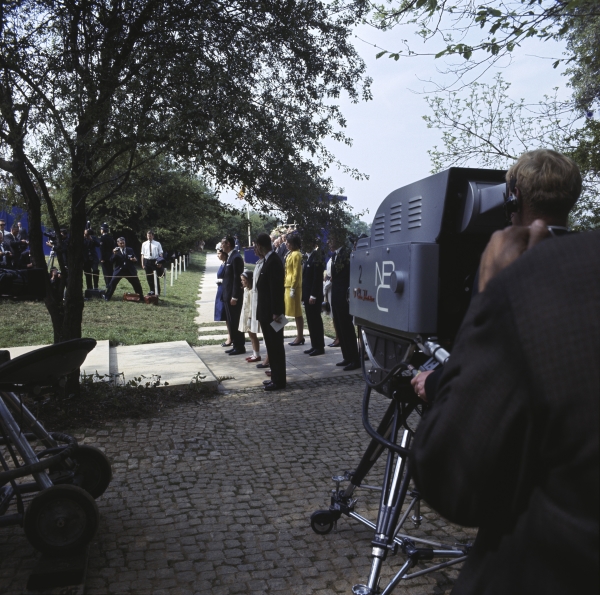 Here is a TK41C at the grave of our late president John F. Kennedy, as Queen Elizabeth II pays her respects in May 1965. Jacqueline Kennedy is in yellow and Caroline is on the front row with Robert and Eunice Kennedy. In the left foreground is the dolly of the BBC camera. Although it's not shown, I'm guessing it was a Marconi Mark VII. Above photo courtesy NBCU Photobank.com. All Rights Reserved. This image cannot be archived, sold, leased or shared.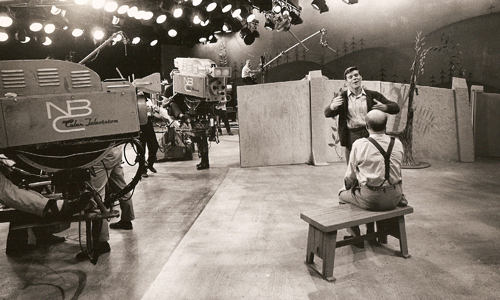 The actors in the scene are John Davidson and Bert Lahr. They are taping The Fantasticks for the Hallmark Hall Of Fame in Brooklyn in 1964.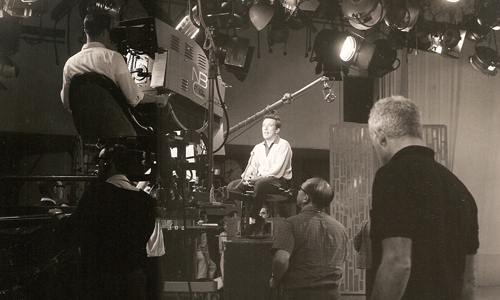 A rehearsal for The Andy Williams Show at NBC Burbank.
Pamela Franklin and Trevor Howard in the Hallmark Hall of Fame presentation of Eagle In A Cage from the Brooklyn studios in 1965.
TK41s at the Ziegfeld Theater in Manhattan for Perry Como's program. The crew pictured here includes (left to right) Jerry Caruso on boom, Don Stewart on cue cards, Al Camoin on crane camera, and Arnie Gold and Carl Marlow on cue cards. Stewart and Marlo were NBC pages before joining the crew and worked as a team, as Como depended on two sets of cue cards to keep the look informal. The above and following four images courtesy of the Bobby Ellerbee collection and NBC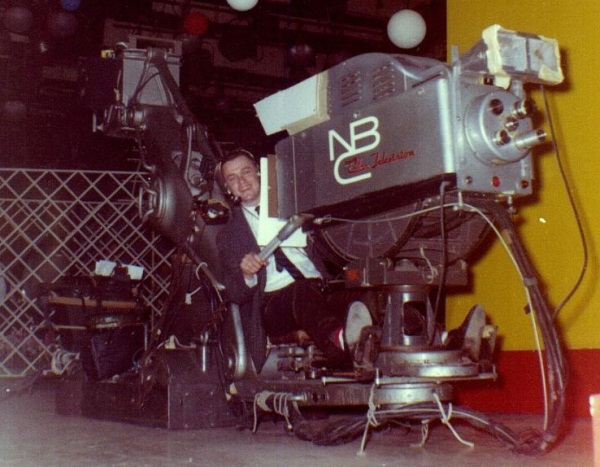 Above is 36-year NBC veteran cameraman Jan Kasoff. His TK-41 is mounted on an HF 30B in use at NBC's Brooklyn studios in a photo from around 1968. Jan started full-time with NBC in 1967 and until 1978 he worked on soap operas, game shows, sports, news and more. Jan did his first Saturday Night Live in 1977 to cover for a cameraman who was out. He was asked to do SNL as a regular in 1978 and continued as a permanent member of the SNL crew until he retired in 2001.
After a six-month hiatus Jan came back to do the show for another year and a half until he became a Florida snowbird. He did his last Saturday Night Live in March 2003. After his second retirement, NBC continued to ask Jan back at busy times and he would return when asked, and work Nightly News and other shows. He did his last assignment for NBC in November 2008 when the Florida winters became just too good to pass up.
Jan got his start by doing what a lot of us used to do: apprenticing. He was around the Perry Como Show set at the Ziegfeld Theater in New York a lot and made himself useful to the staff and crew. He was raised on the TK41s and was one of NBC's top color cameramen. That camera brings back a lot of fond memories for Jan, and he would just love to have one in his den, but don't mention this to his wife. (If she complains, Jan, tell her you want the crane too. That should do the trick.)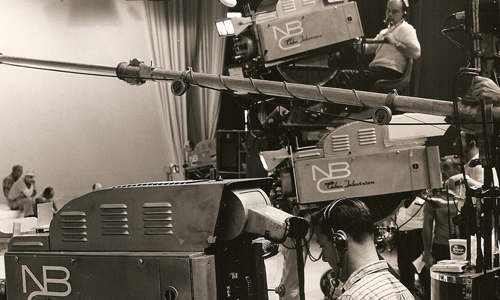 This a bank of 4 RCA TK41 color cameras taken at NBC Brooklyn, circa 1964. I think this on the set of The Mitch Miller Show. They used this big cyclorama backdrop behind their large chorus quite often. The five black and white images just above are courtesy of the Bobby Ellerbee collection and NBC. Color image courtesy Jan Kasoff.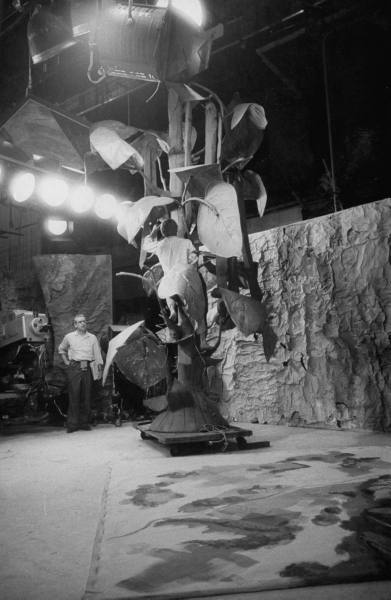 From NBC's 1956 Color Spectacular Jack and the Beanstalk with Joel Grey.
Photo courtesy Life Magazine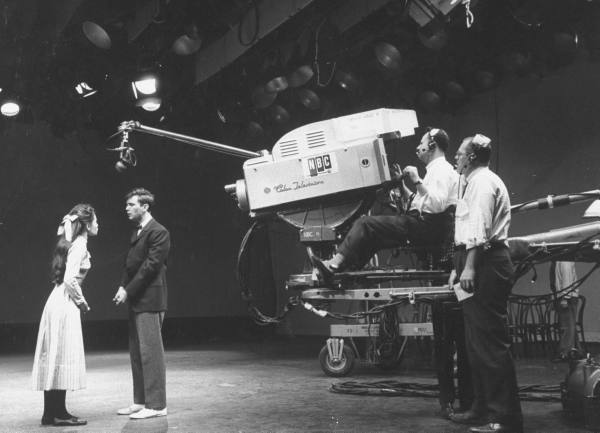 1959 NBC presentation of Our Town, possibly at the Brooklyn 2 studios. Above is a TK41 mounted on a Houston Fearless type 30B studio crane. Above photo courtesy NBCU Photobank.com. All Rights Reserved. This image cannot be archived, sold, leased or shared.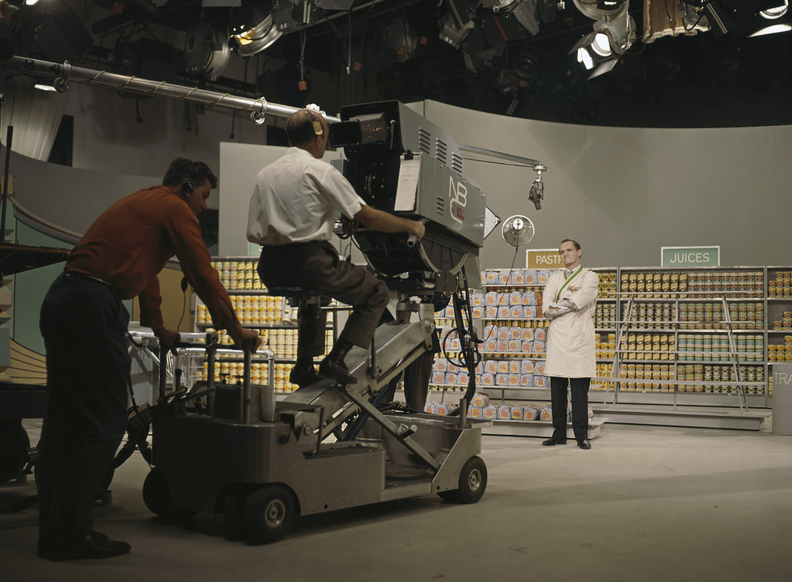 Above and below, you see either a TK41A or B in use at NBC Burbank during the 1962 taping of a Bob Newhart show. The viewfinder hood is interesting as I have only seen it in Burbank photos. These guys were great at making mods to cameras, as you'll see in the Conrac TK41 mod further down. Above and below photos courtesy NBCU Photobank.com. All Rights Reserved. This image cannot be archived, sold, leased or shared.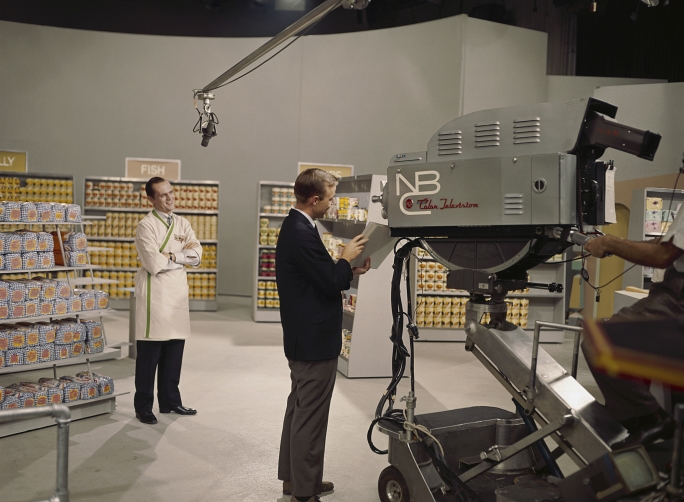 Dick Martin (L) and Dan Rowan of Laugh In with an RCA TK41 in the background at NBC Burbank. Photo courtesy NBCU Photobank.com. All Rights Reserved. This image cannot be archived, sold, leased or shared.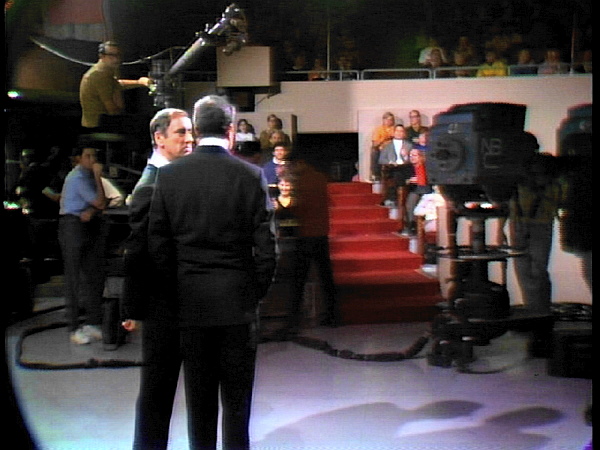 Above and below are the only photo images we know of from Laugh In that give us a look at the Burbank TK41s in action during this great show's run. These two images are a tad fuzzy because they are frame grabs from video of Episode 3 that aired on February 3, 1968. Many thanks to Bill Struth.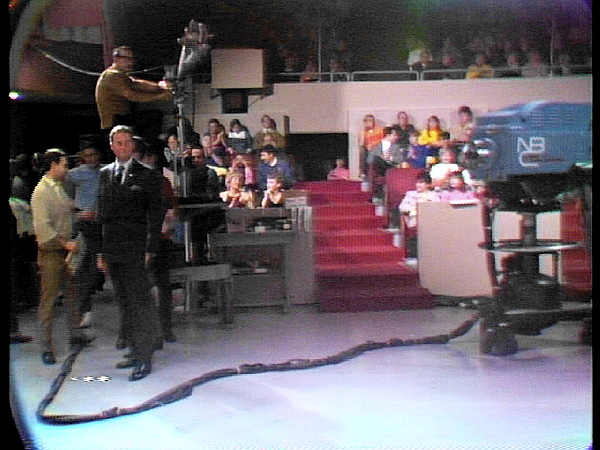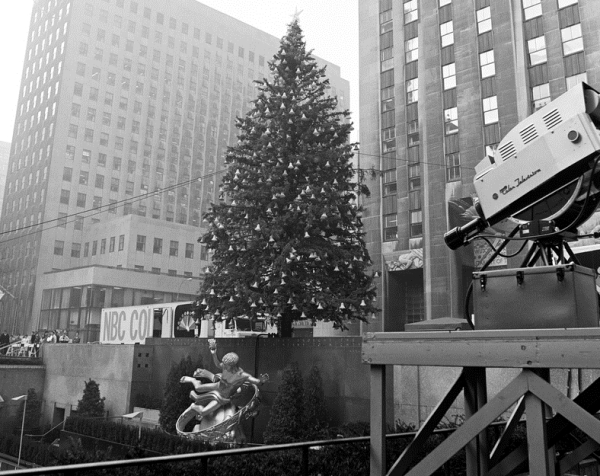 RCA TK41 in December 1966 for Christmas at Rockefeller Center. Photo courtesy NBCU Photobank.com. All Rights Reserved. This image cannot be archived, sold, leased or shared.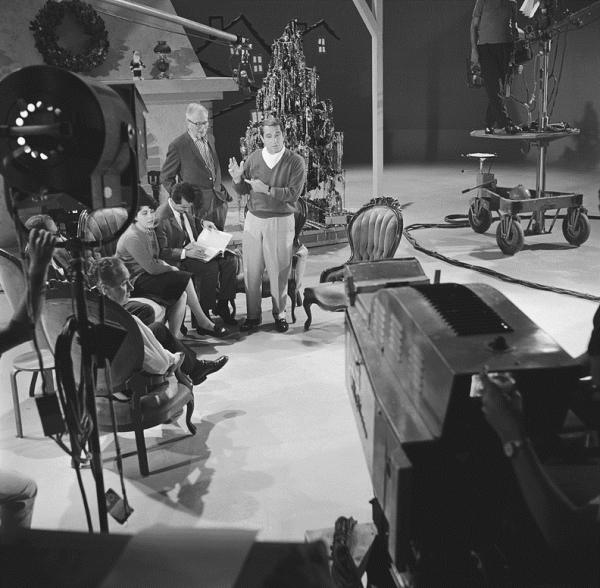 Rehearsing The Perry Como Christmas Show at NBC's Ziegfeld Theater studio.
Photo courtesy NBCU Photobank.com. All Rights Reserved. This image cannot be archived, sold, leased or shared.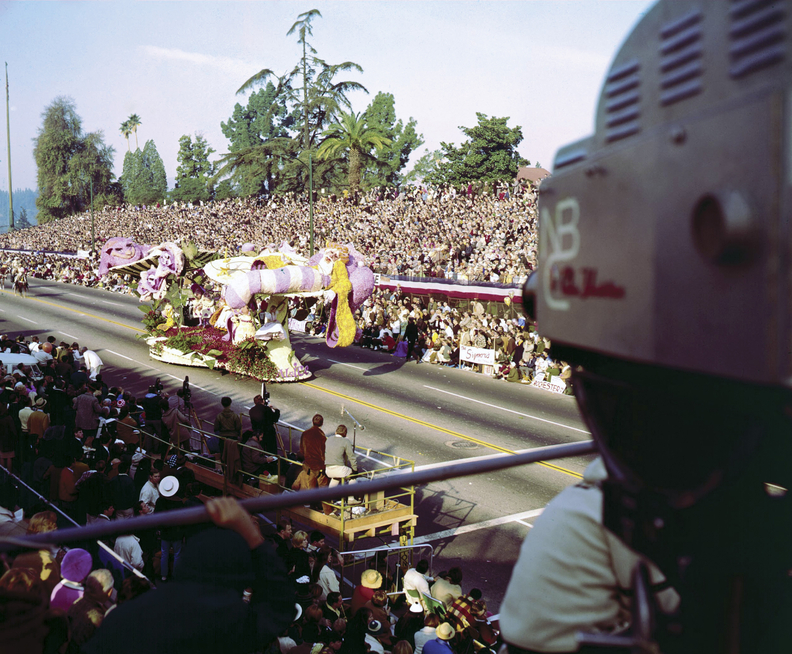 Looks a lot like my Rosie at work. TK41 at the Rose Bowl Parade in Pasadena.
Photo courtesy NBCU Photobank.com. All Rights Reserved. This image cannot be archived, sold, leased or shared.
The CBS TK41s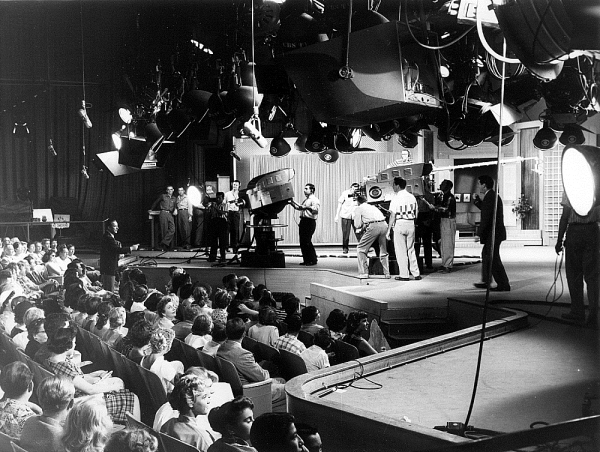 Great shot of Television City's main color studio in 1955 showing two of the three TK41s at work on The Bob Crosby Show. Thanks to Jim Hergenrather at CBS's TVC for sharing this photo with us.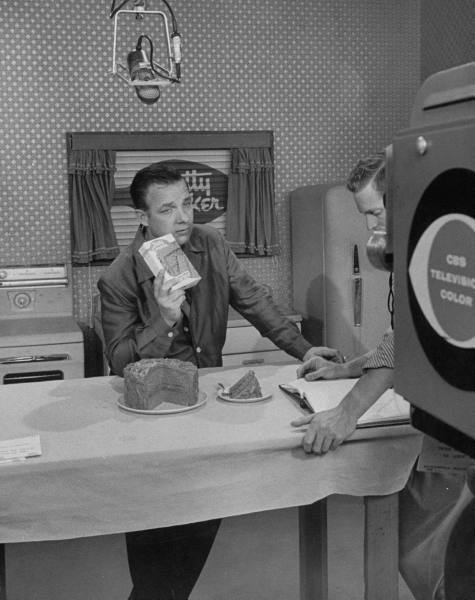 Bing Crosby's brother Bob, in rehearsals at Television City in 1956. Notice the CBS logo and the lack of any RCA markings. CBS hated RCA because the FCC picked RCA's color system over CBS's. Photo courtesy Life Magazine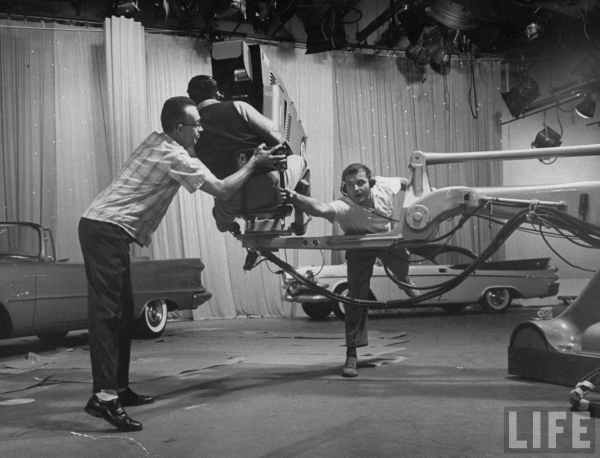 TK41 at work at CBS Television City in Hollywood in 1956. In this and the 3 photos below, note the beautifully elegant Houston Fearless crane that allowed such great shots and fluid motion long before today's jibs came into vogue, even at the local station level. Below is the same camera in 1957 during the rehearsal of Cinderella. Photo courtesy Life Magazine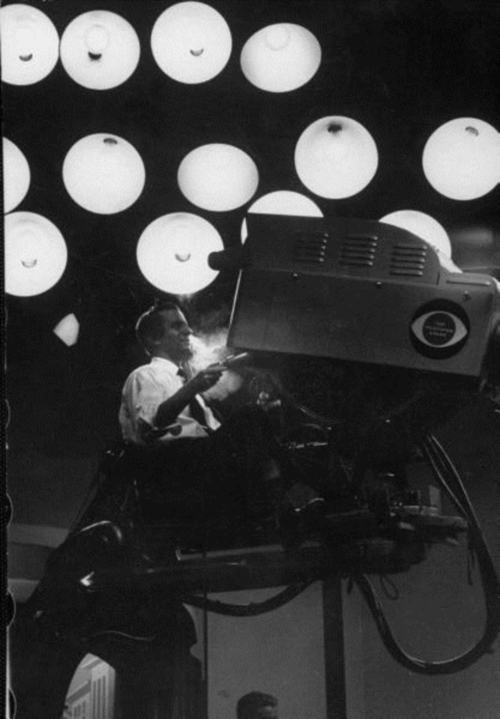 Notice on the photo above, and on the two below that show singer Johnny Ray going over his lines at Television City in 1958, that there were no RCA markings – or even the Color Television badge – on these cameras. After RCA won the color system war, there were hard feelings between CBS and RCA/NBC. Photo courtesy Life Magazine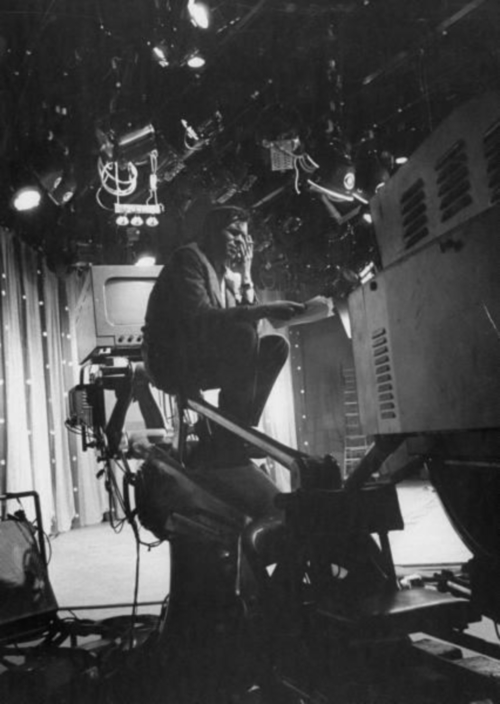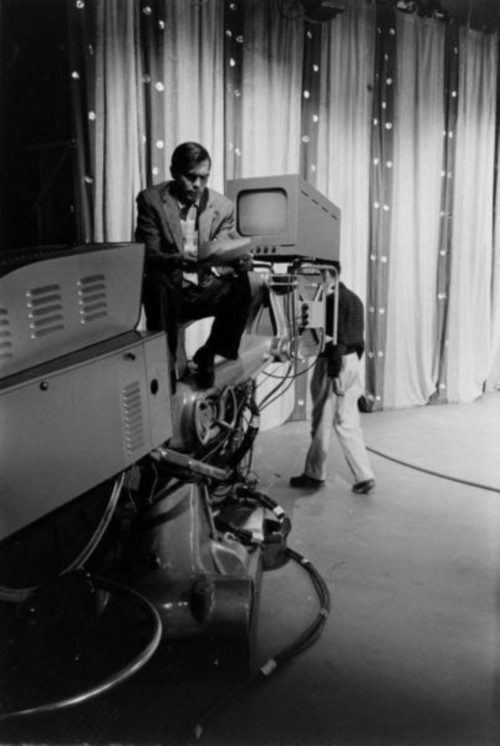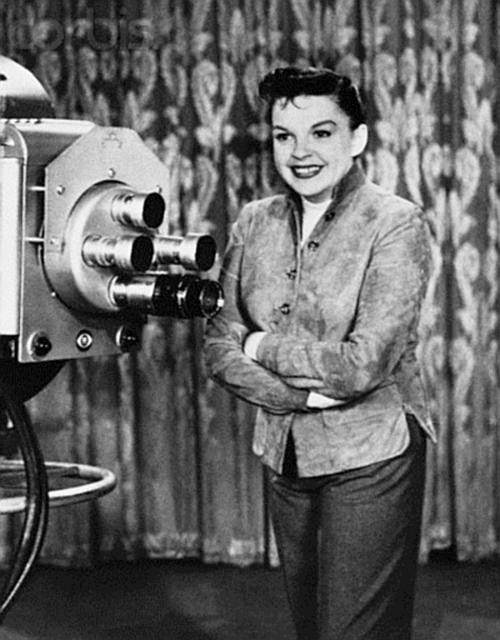 In this September 11, 1955 photo above of Judy Garland at CBS in New York, notice the metal addition to the front of this TK41. In those days, teleprompters were big heavy electro-mechanical devices that featured copy printed on paper rolls and a lot could go wrong. My friend and renowned television historian Paul Beck and I speculate that this ingenious modification that probably allowed for quick removal and replacement of the 20-pound prompters to fit down over the metal plate's crown into a slot on their back. This still allowed the cameraman to rack the lenses. Since the bottom lens on the 40 and 41 was the "taking" lens, it was out of the shot even though the prompter would stick out at least 4 or 5 inches from the plate. In the photo below, ten days later, Judy is back at CBS in Los Angeles. Above and below Courtesy of CBS Photo Archives. All Rights Reserved. This image cannot be archived, sold, leased or shared.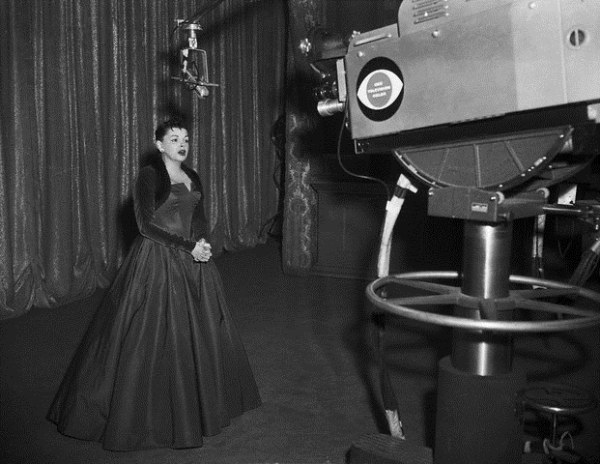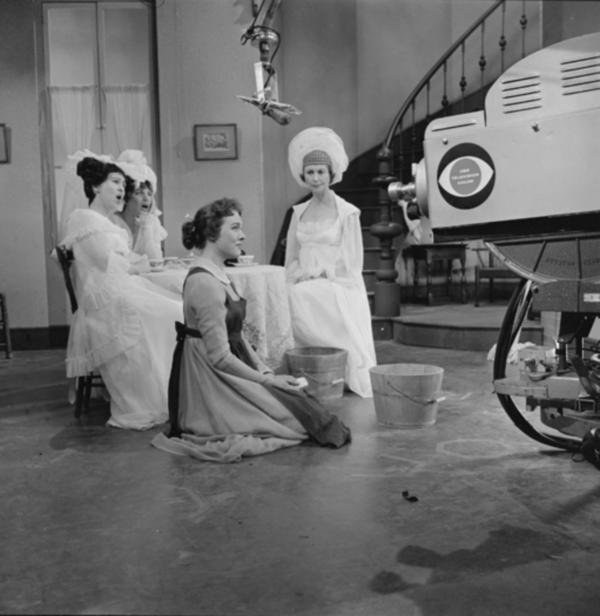 Rehearsal shot from the 1957 presentation of Cinderella, featuring (at left) Alice Ghostley and Kaye Ballard (as the Stepsisters); Julie Andrews (as Cinderella) and (at right) Ilka Chase as the Wicked Stepmother. Image dated March 22, 1957.
Copyright CBS Broadcasting Inc. All Rights Reserved. Credit: CBS Photo Archive. This image cannot be archived, sold, leased or shared.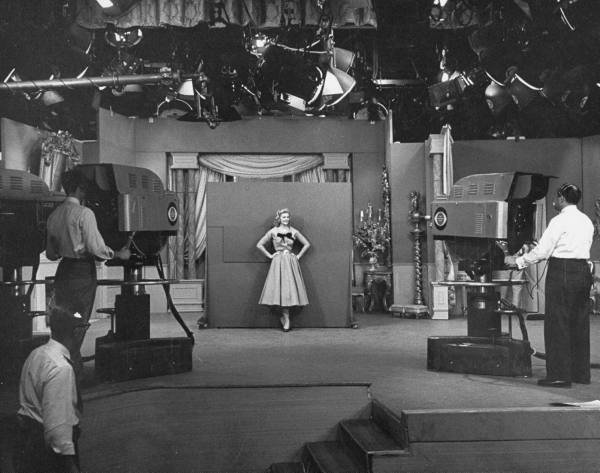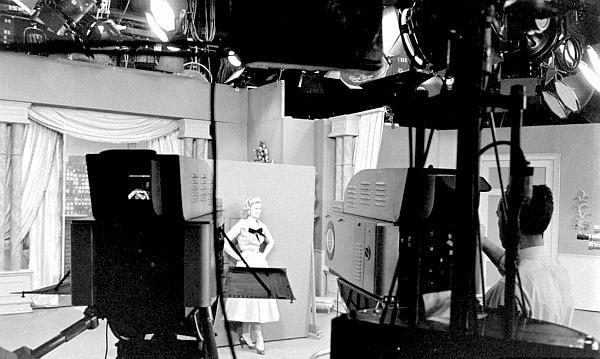 Above and below are photos taken circa 1956-57 at CBS's Television City in Hollywood. Three TK41s line up on Ann Palmer for color adjustments. Ann was the CBS color test model that they used daily to adjust the flesh tones. NBC in New York was the first to use a live model every day, and as you saw above, their Marie McNamara was a red head. Photo above courtesy Life Magazine; below courtesy Retired CBS Employees Site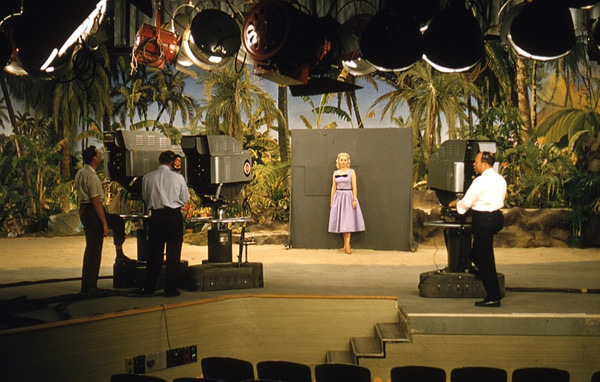 The ABC TK41s
For the record, this is ABC's first ever live color installation…The Hollywood Palace. In the summer of 1965, they bought or leased an RCA color truck that RCA had used at the 1961 World's Fair. The four camera TK41 truck was parked next door for a year, and the first live color show on ABC was The Lawrence Welk Show in the fall of '65. The show was moved here from Studio 55 on the Prospect lot for the year, with a set that had to be cut down by 5 feet in length to get it on the stage.  Shown here is Milton Berle hosting The Hollywood Palace in early '66. During the summer break of '66, the theater was redone with a new control room and equipped with Norelco PC60s. The truck went to ABC Sports.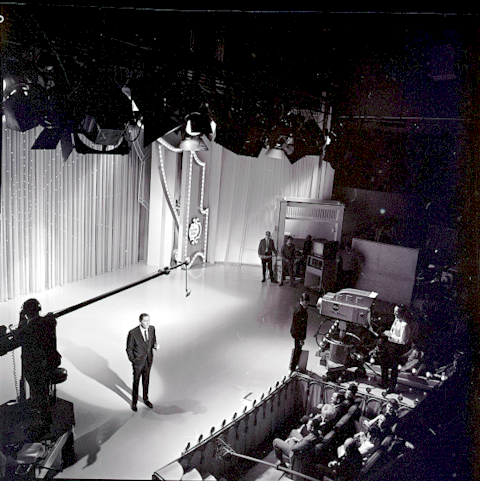 Below, Jim McKay with on a Wide World Of Sports location.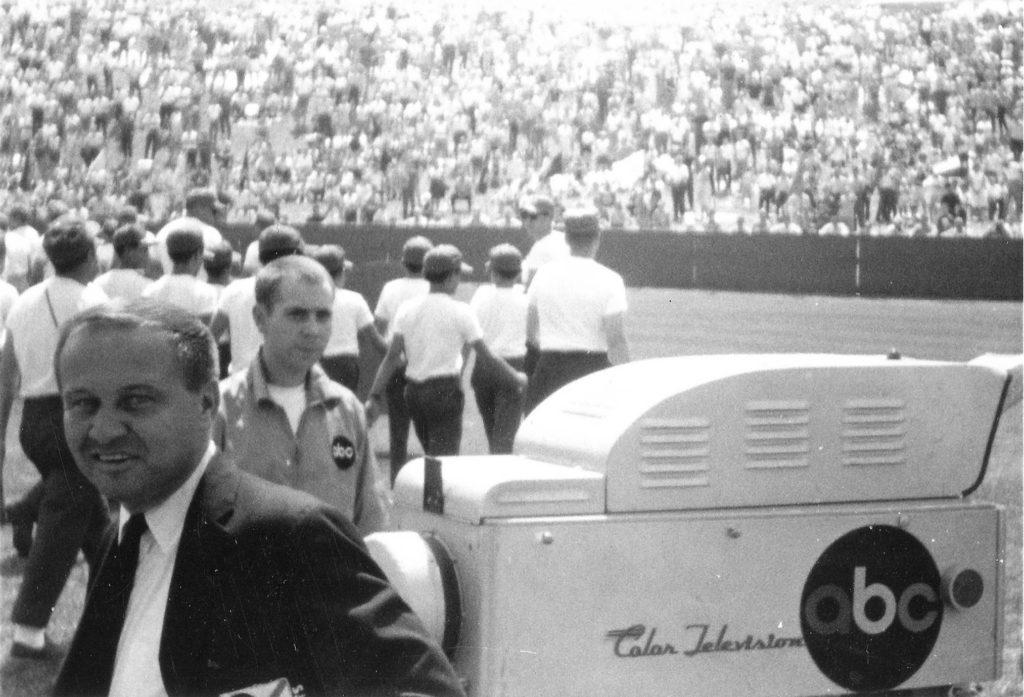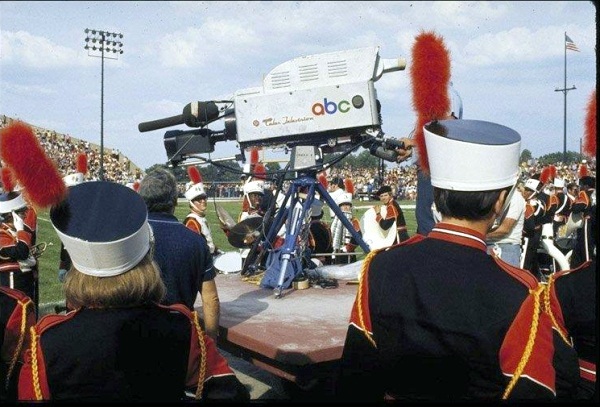 An ABC TK41 at a football game that, I'd say, is in the north or northwest. (There's not enough people attending to make the game in the south or southwest.) Great shot.
 Photo courtesy ABC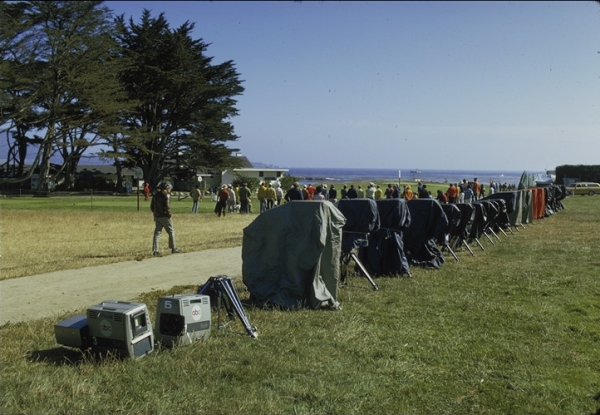 Hmmmmm. Wonder what's under the tarps? Could it be 25 cameras?
Photo courtesy ABC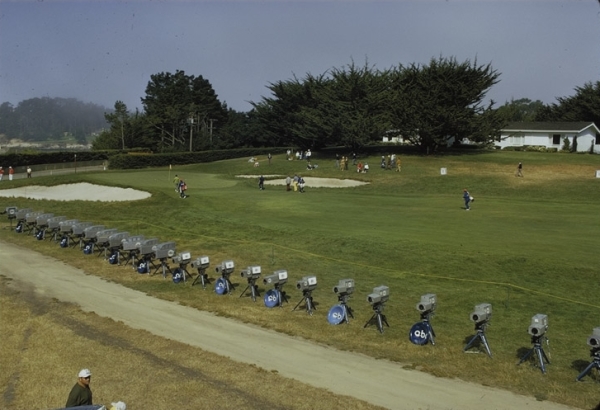 Surprise! It is 25 cameras! Here are 12 of ABC's TK41Cs, 12 Norelco PC 70s and 1 RCA TK60 (used for title cards). They are all lined up for inspection and some great shots. As far as I know, these four pictures are the complete set taken one day in the mid-1960s at Pebble Beach. Photos courtesy ABC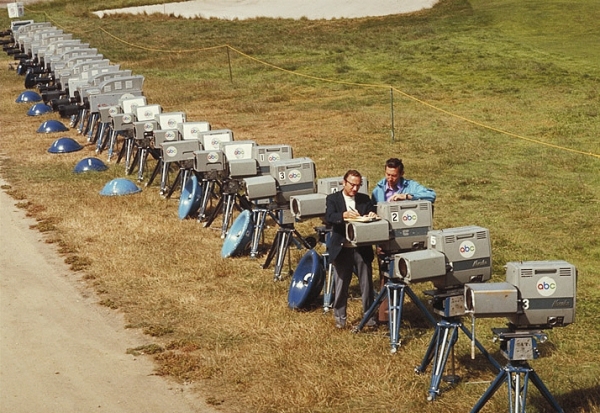 Chuck Pharis has this picture beside his computer to remind him of the day he decided television would be his life's work. This lineup was constructed for use in the Wide World of Sports segment he saw that day about the cameras ABC used in its golf coverage. Photo courtesy ABC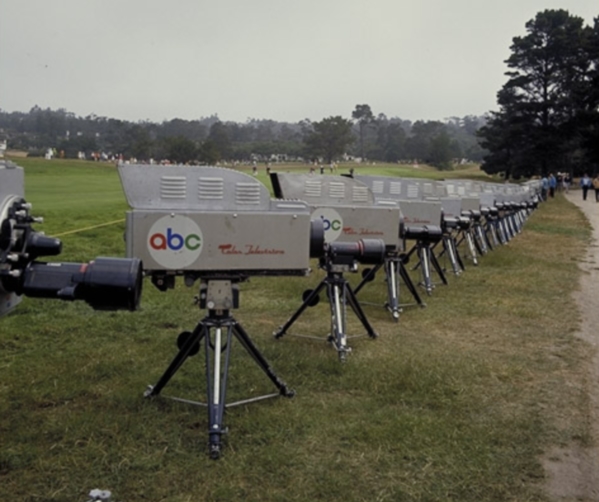 These are the 12 TK41Cs that ABC Sports got in 1966. As discussed above in the text section, RCA did one final run of 24 C models on a special order basis. Notice that all have the Houston Fearless cam-style pan head, and not the usual extra-wide cradle heads that came with earlier TK40-41s. Houston Fearless quit making them in 1964 when RCA stopped making TK41s. The HF cam-style pan head came out around 1965, about the same time as the TK42s.
Other TK41 operators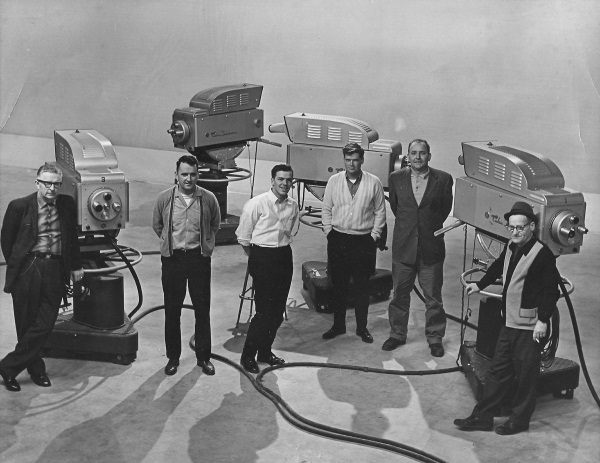 Above is a photo of the Video Tape Center (New York) studio "A" stage department heads, circa 1965. The spiffy looking TK41s came out of a remote truck parked in the loading dock. That was the first time our photo source, Tom Coughlin saw color TV. Thanks Tom. I remember being a teenager who was just getting interested in TV, and seeing pictures of the Marconi Mark IV b/w cameras at VTC shooting Lipton Tea spots featuring Groucho Marx announcer George Fenneman. Below is a photo believed to also have been taken at the Video Tape Center around 1966.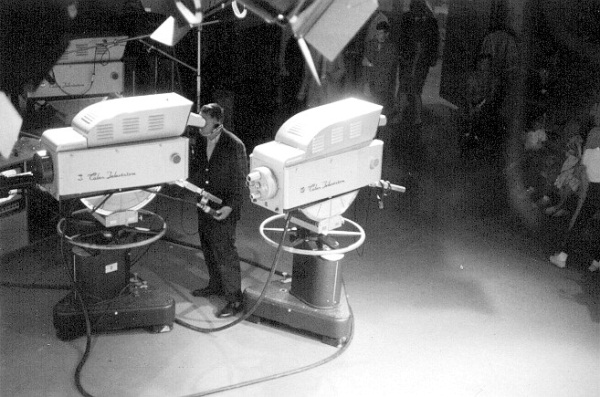 All military photos were taken at Walter Reed Army Hospital and are courtesy of Life Magazine.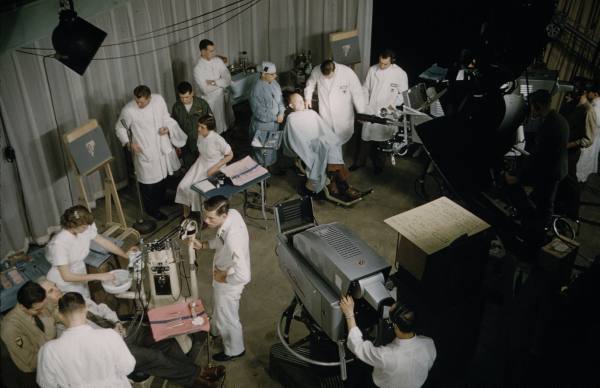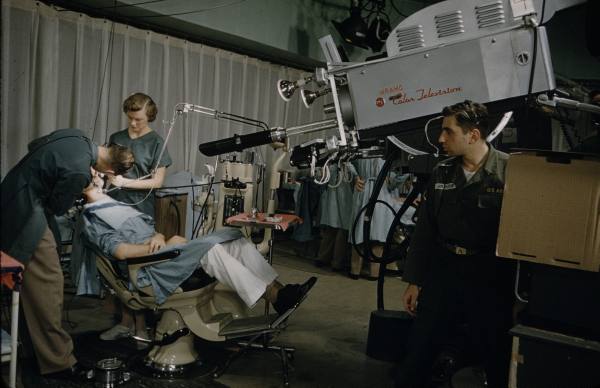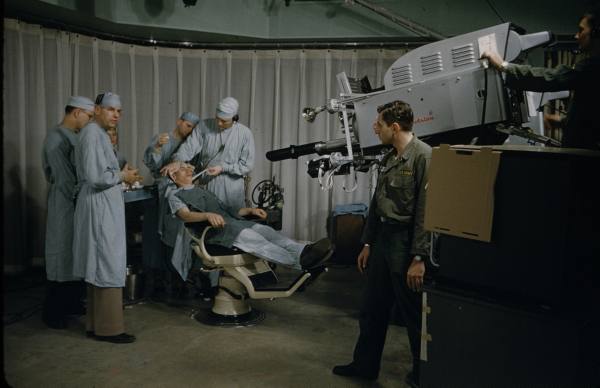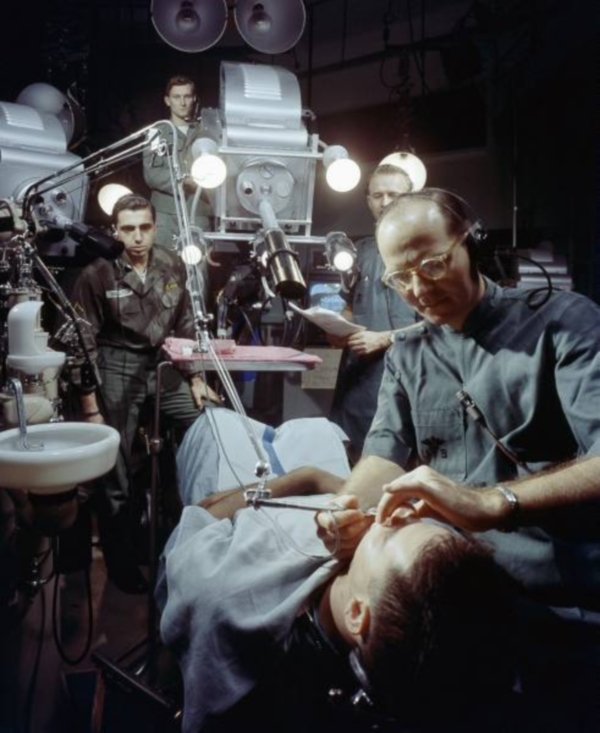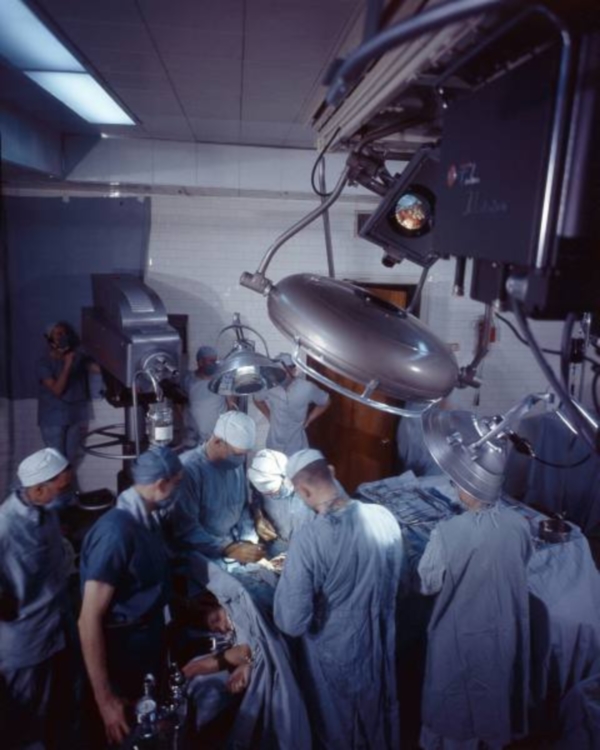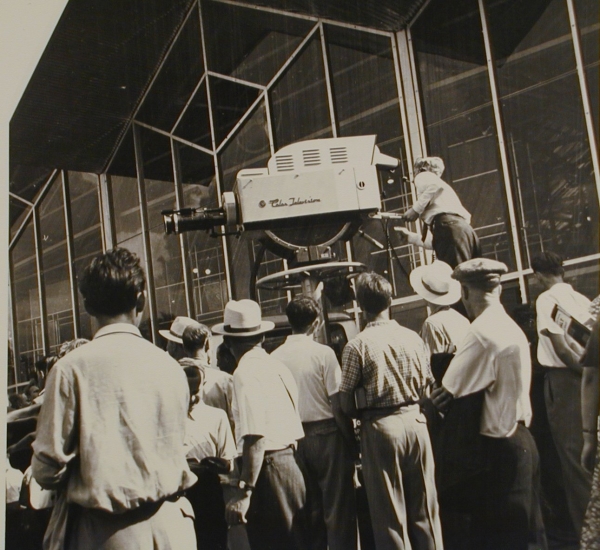 Circa 1958, Moscow, the Soviet Union. RCA displayed this TK41B at an international trade show. Ped mounted in a pickup truck…now, that took some muscles. The cameraman is none other than NBC and Colonial Theater veteran Ben Franklin.