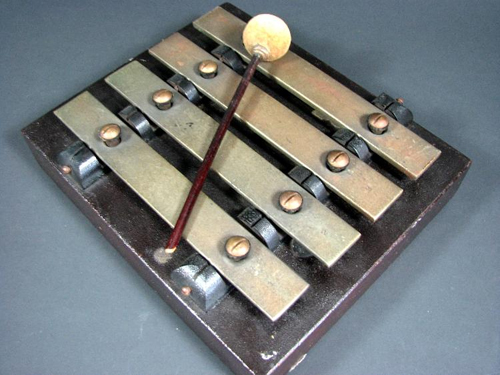 This is a set of real NBC chimes!
I bought these in 2006 from Mr. Harold Chasen, the chimes' original owner, who was at the time, 88 and living in Virginia. Mr. Chasen had worked at NBC Radio (Red and Blue networks) since about 1934 and by then, NBC's radio studios in New York were consolidated into the RCA Building and Radio City.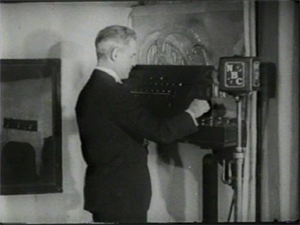 Chasen was drafted, but after World War II, he went back to work at NBC Radio Central at 30 Rockefeller Plaza for 10 years. When he left, the staff gave him this set of chimes from one of several studios he had worked in as a board operator and engineer. He said this chime set had been there since before he started at NBC, so they have heard a LOT of great radio. He was also a studio-quality musician, played drums on many RCA recording sessions, and later owned music stores.
Here is the story of My Chimes…
In January of 2015, I had a long consultation with chime expert Michael Shoshani in Chicago. I have now confirmed that the chimes I own are indeed Deagan Model 20 chimes. They are possibly even the chimes in this video linked below, but even if they are not, I feel most certain they were used at NBC's WEAF studios at both 711 5th Avenue and later, 30 Rockefeller Plaza. http://www.youtube.com/watch?v=96rA-QgXL58
There is no documentation of just exactly what chimes were first used at NBC in 1926, but the earliest recordings of the chimes appear to be the higher pitched Deagan Model 200, which was used until 1931, when the Deagan Model 20s were first heard in recordings. The 200 chimes were an octave above middle C. The 20 chimes were based on middle C. Around 1931, the 20s replaced the 200s for general use there at NBC, because of the more pleasant deeper register when the network switched to the now famous three note ID of G A F. The 20s seem to be used exclusively from 1931 till 1933. I believe my set was one of at least 10 sets bought for use in the studios at 711 5th Avenue.
Although the chimes became electronic in 1934, the special four chime D Day alert was played by hand from Room 404 at 30 Rock in 1944. All of these chime sets had to be saved in case of news alerts and dug out of a file cabinet when the time came. According to Mr. Chasen (the radio engineer who spent 40 years at NBC, and the man I bought these from), that's where these chimes had been until he retired in the 70s…in a file cabinet in his boss's office.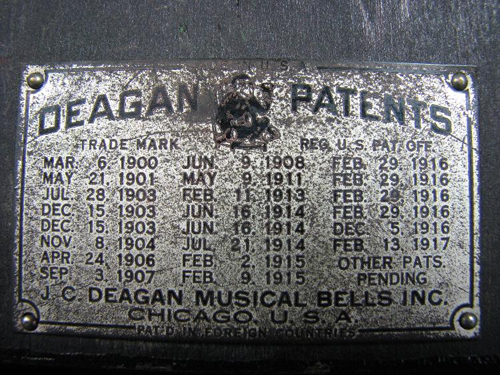 The last patent date shown on these Deagan Chimes is 1917. It's believed NBC bought several sets of Deagan #20 Dinner Chimes from the Lesch Silver Company in December 1926, but it was 1927 before they were used on the network.
There are several variations of the chimes, ranging from custom-made three-note sets made for NBC by Deagan in the late 1930s and other Deagan models, but there is quite a discussion and exceptional historical background on the chimes' origins and use on two excellent websites: Mike Shoshani's NBC Chimes Museum, and The NBC Chimes by Bill Harris.