The Camera / The Dolly / The Man / The Story
The Camera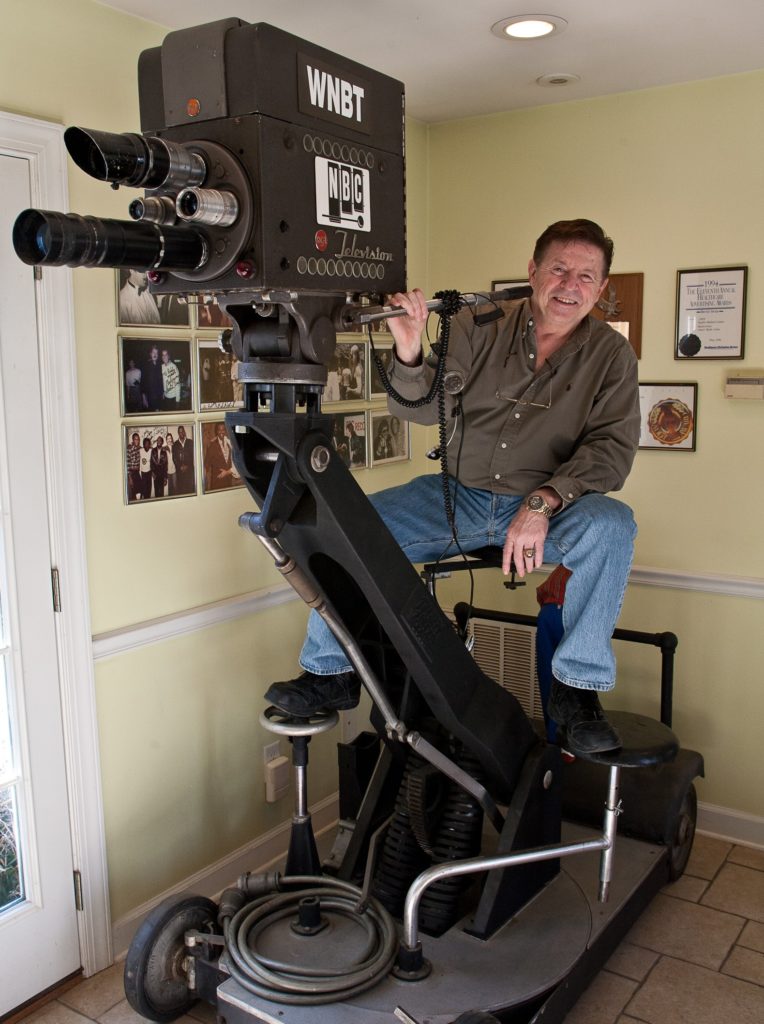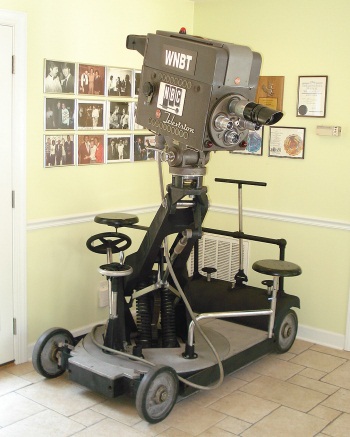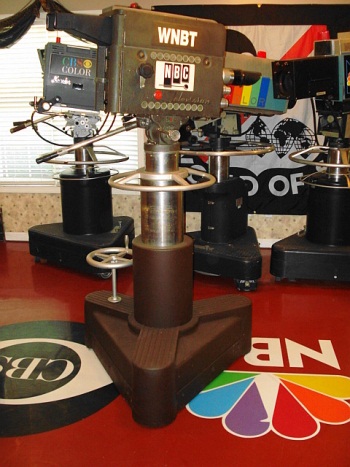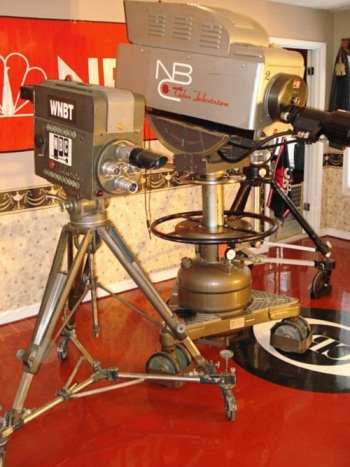 This is the RCA TK30 given to the first President of NBC Television, Sylvester L. "Pat" Weaver. On the left, you see it mounted it on a historic Panoram dolly, in the center, on a TD-1 pedestal, and on the right, the camera is on its original tripod, the way it looked sitting in Mr. Weaver's seventh-floor office at 30 Rockefeller Plaza.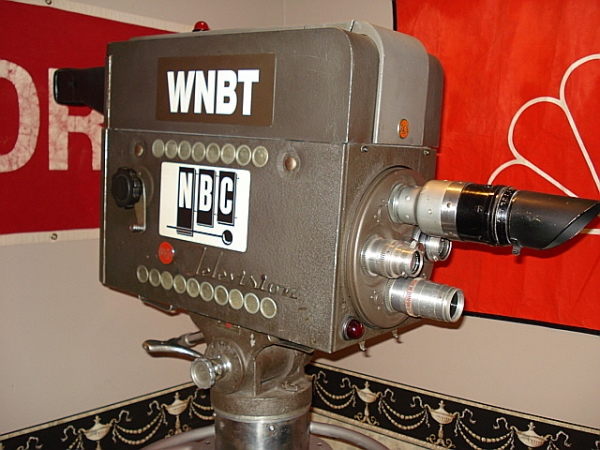 Above and below, this beautiful mint-condition TK30 with all its original NBC and WNBT markings. The viewfinder hood is also original. It's thought that the camera was in service from 1947 until 1955, and was given to Weaver as a token of appreciation from all of NBC's employees in September of 1955. In the summer of 1955 NBC Studio 3H was closed as construction crews took out the wall between 3H and 3F to create the first color studio inside Radio City.
The new studio was to become 3K, and with a double debut, as both Studio 3K and Howdy Doody went to live color the afternoon of September 12, 1955. As you will read below, this camera was one of the three inside Studio 3H, and when it was given to Pat Weaver, it was called "the first black and white camera to be retired by a color camera". It was presented to him that morning as he cut the ribbon on the new color studio.
The range of shows this camera could have worked on would while in Studio 3H would have included Howdy Doody, The Kraft Television Theater, Television Scene Magazine, and who knows what else.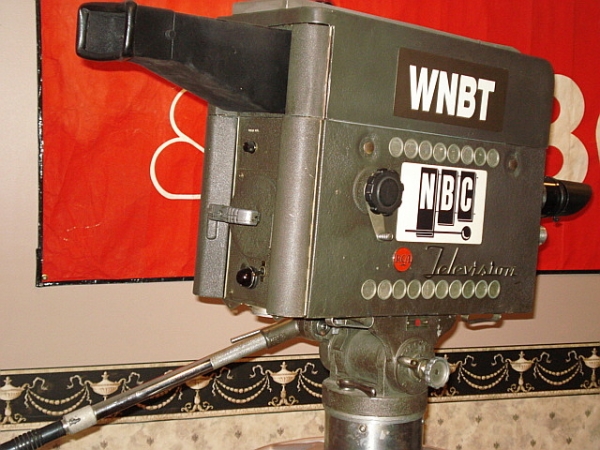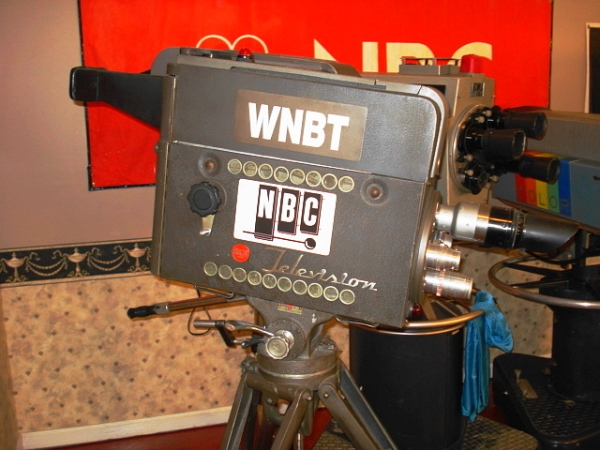 As of 2016, I no longer own this historic camera, but it is in good hands! I sold it to NBC Universal, and in 2017, it will be part of the '"Tonight" show museum at their Orlando theme park, and will be displayed in the Steve Allen section of the exhibit. This camera will join many rare and authentic artifacts from the show, which include a real Johnny Carson desk from the set, Jack Paar suits and hats, and many more interesting pieces.
The Dolly
In June 2011, I was talking with my friend Chuck Pharis, who was working on his new camera room at his home in Tennessee. I happened to mention how much I'd love to find a Houston Fearless Panoram dolly to put under the TK30. Although the HF tripod it came on, and the historic HF PD 1 pedestal I moved it to later, were indeed authentic and correct, I felt a camera with of this kind of history and unique importance needed a more iconic look. To me, the ultimate mount for cameras from the late 1940s to the mid-'50s period was the Panoram dolly.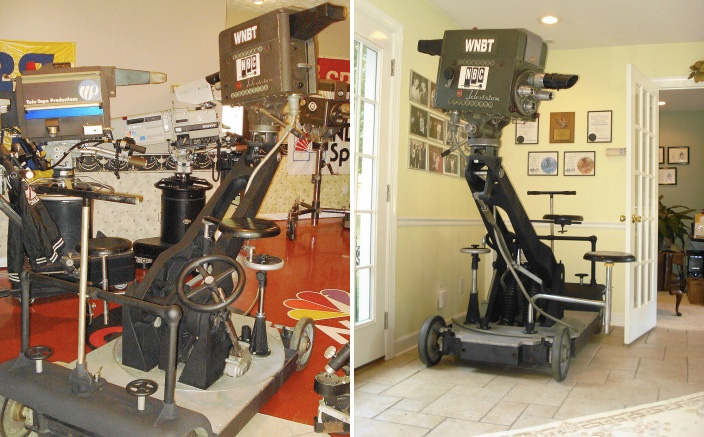 Chuck told me that there was one on eBay in Charlotte, NC. By noon the next Monday, it was at my house. By Thursday afternoon, it had been refurbished and repainted in its original flat black. Interestingly, the dolly is made mostly of aluminum and brass for a very low magnetic profile. From the expert opinions I have gotten, I believe this dolly is a very early (and perhaps first) model of the Panoram. The Houston Fearless tag lists it as a TVD model and the serial number is 335.
Below left is a March 1949 and photo showing a Panoram in use on the first network TV news show, The Camel News Caravan with John Cameron Swayze. Note the black color of the boom, rear push bar and the sold black wheel that controls the boom height. Also notice that the umber grey TK30 is lighter than the boom. Below right is Frank Merklein in 1952, on what he told me was a brand-new Panoram that had just been delivered to NBC. Notice it has a lighter color; now, the camera is darker than the boom, which on the newer models is now perhaps a shade or two darker than grey primer. Also, the swing out jump seat on mine has a smooth, curved 90-degree bend. The later models had sharp 90 degree angles on the jump seat support.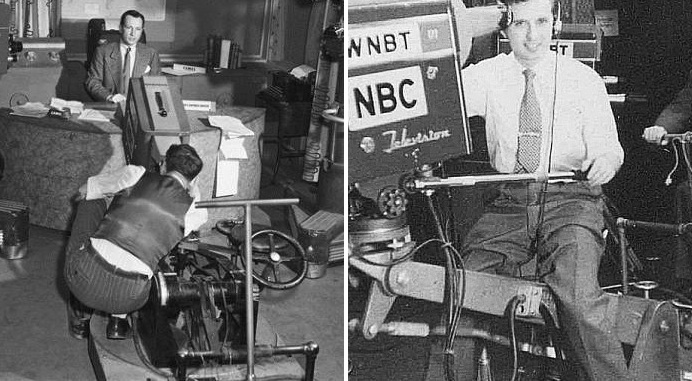 The dolly originally belonged to Paramount Pictures and is known to have been used on King Creole and other Elvis Presley movies. It is quite likely that the dolly was leased to Hal Wallace Productions, which produced most of the Elvis films. It's also possible that it was used at KTLA-TV in Los Angeles, also a Paramount property. Paramount also owned Carowinds Amusement Park in Charlotte and during that period stored wardrobes, props and equipment there for use on East Coast productions. When Paramount sold its interest in the park, this Panoram dolly was sold to a local film equipment rental house, where it stayed until its move to my house.
The Man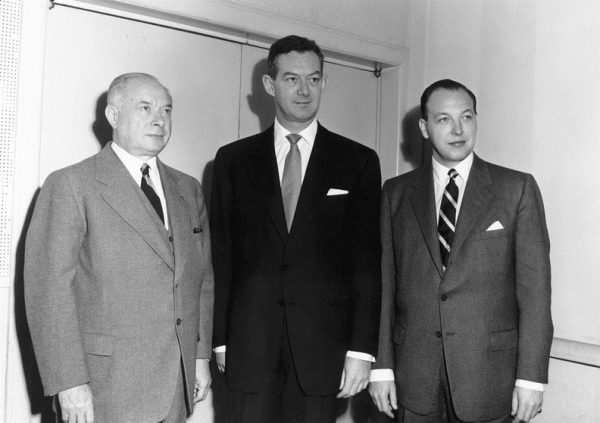 Above is Sylvester "Pat" Weaver surrounded by Sarnoffs. An ironic photo in a way, because being sandwiched between the father (David, left) and son (Robert, right) was one of the reasons he left NBC. The General was not an easy man to get along with. Below, Pat is hiring Dave Garroway as host of Today.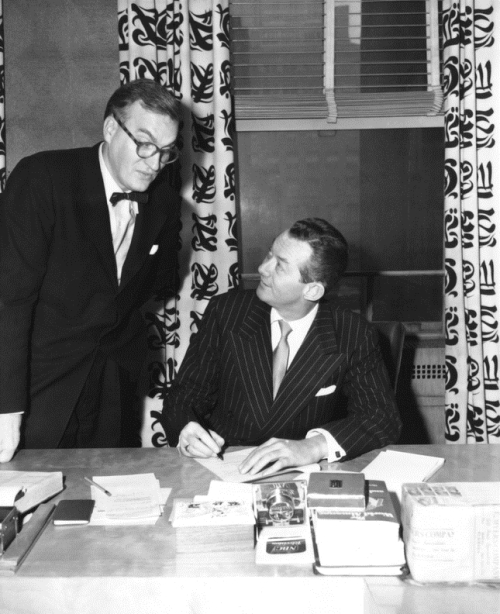 If you like to read great television history books, I strongly recommend Pat Weaver's book The Best Seat In The House: The Golden Years of Radio and Television.
Pat was a real innovator. I've been in broadcasting since 1965 and until I read his book, I had no idea so many of the everyday things of radio and TV, and, the way we do these things, are directly attributable to him! Pat started in radio as a writer in the 1930s, but became a hugely successful advertising executive at legendary Young & Rubicam. He was dealing with the biggest names in radio before he arrived at NBC in 1949. At NBC he advanced rapidly, serving as a vice president, vice chair, then network president, and finally chairman of NBC. Pat stayed until 1956, but in those seven years, he did more than 10 men could have.
One of things Pat can claim credit for is the "magazine" style advertising format. In the early days of radio, which was relatively inexpensive to produce compared to TV, sponsors bought the whole hour, owned the show and had their way with content. Weaver broke this mold when he got to NBC Television. He was starting from scratch, so he could make the rules. One thing he did not want was heavy handed sponsors, so, he decided the network would own the shows and sell time…kind of the reverse approach to what had gone on in radio for so long. He also would not let a sponsor have a whole show and preferred at least three sponsors per hour, but would settle for two.
Of course you probably already know that Pat created Today, Tonight, Home, Wide Wide World, the spectaculars, and much more. Although CBS, like NBC, had a great lineup of stars on radio and was moving them to television, Pat took NBC's television lineup straight to the top. The network was head and shoulders above CBS in ratings until well after he left, thanks the shows he created and the people he hired.
Most don't know that Pat also helped save NBC Radio, too! Ironically, television's, and in particular NBC television's success was hurting radio badly. During his days as NBC president, Weaver needed to rescue the radio division. He came up with a weekend programming service, a spectacular magazine-type effort that lasted nearly the length of the weekend. It was a "spectacular" of sorts for listeners, and it lasted almost 20 years. It was Monitor. Monitor had something for everybody: news, science, sports, music, the arts, comedy (most famously, Bob and Ray), opinions, politics and more. I remember it well. The CBS television show Sunday Morning reminds me a lot of Monitor…now, just imagine that lasting all weekend.
That's why everyone at NBC loved Pat Weaver: he made them all wildly successful, and they though it appropriate to give him something that was an eyewitness to the history he created with them. The camera gift memorialized the company's affection and appreciation for him, and a special moment in the golden age of television.
Unfortunately, as is often the case in "family" businesses, David Sarnoff and his son Robert were not as appreciative of Pat as most, although they benefitted the most. The General was quite a publicity hound, and Pat seemed to always get the credit, the press, and the adoring magazine profiles. Sarnoff was particularly unhappy when the New Yorker published a lengthy profile of Weaver in 1954; Sarnoff had wanted for years to have the New Yorker profile him, but with no success.
While not the sharpest knife in the drawer, Robert's last name was Sarnoff, and we can credit Robert for eventually running NBC and RCA into the ground, which is I guess fitting. You know…dust to dust. RCA was born of GE and in the end, was bought and dismantled by GE with great gusto. NBC survived, but the dynamic culture of the company did not. Many top people were fired and replaced by GE executives who had no idea of what real broadcasting was about. The bean counters had arrived and won.
For an excellent short history on Pat Weaver from the Museum of Broadcast Communications, click here.
The Story
The camera's history with Pat Weaver starts with the arrival of the RCA TK41 color cameras at NBC's Studio 3K in late 1955. On September 11, 1955, one of the TK30s from historic Studio 3H was given to him by the engineering department; however, people in every department from programming to sales, and the radio division, appreciated Pat's contributions. Pat's son Trajan Weaver has helped me fill in some blanks, and I am most appreciative for his assistance.
In February of 2007, with the help of Chuck Pharis, I was able to buy this camera from the estate of one of his good friends, "Skip" Jennings, the very well-known and respected ABC News cameraman. Strange but true, neither of us knew anything about the camera's history until months later, when Jan Lowry mentioned it to Chuck.
Skip had bought the camera a couple of years earlier in Los Angeles from the Weaver estate. A little while after Pat died, his wife wanted to move to a smaller home and began downsizing. It's possible Skip knew of the camera from a interview he filmed at the Weaver home some years earlier.
Below is the email sent to Chuck from Skip's friend (and longtime ABC cameraman) Jan Lowry that tells the early story of my TK 30s history:
As told to me by Skip….
In 1955 when NBC NY was changing over from B&W to Color cameras, the engineering dept. gave one of the TK-10/30A to Sylvester "Pat" Weaver, then NBC President, for his office. It remained an honored centerpiece in his office for years. (His brother was Doodles Weaver and Sigourney is his daughter).
Pat was held in high esteem by NBC employees…he gave them tons of work….Today Show….Home Show…Tonight…..etc. That was NBC's heyday.
When Weaver died, his family kept it for a while but decided to get rid of it. Somehow, Skip found out about it and offered to buy it, and off it went to his family room.
And that's the story. The camera has a remarkable history. First at RCA-NBC owned WNBT-TV (later named WRCA-TV and now WNBC-TV), then to Weaver's Rockefeller Center office, then to their home in LA and then to Skip.  -Jan Lowry 
Many thanks to Jan for those details, and "Happy Trails!" Jan retired in 2008 after 40 years of service to ABC-TV. Below is Jan Lowry (r) and Chuck Pharis (l) at the NAB in 2002.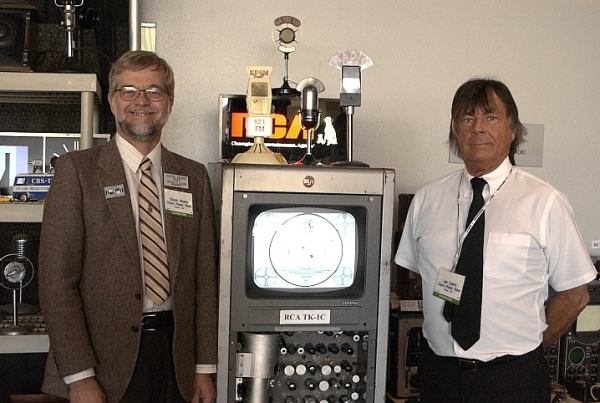 Just a note about the WNBT, WRCA and WNBC call letters on the cameras. WNBT was the original set of call letters of the NBC owned-and-operated station in New York City, and was located among the network's studios at 30 Rockefeller Plaza. The call letters later changed to WRCA in 1954, then to WNBC in 1960. Until the TK40s and color came along, most cameras owned by NBC had the network logo as well as the local station call letters on their sides. Early on, the NBC owned-and-operated stations included only four markets. Cleveland later became the fifth of the original five.
New York was WNBT (the T for NBC Television). Washington D.C. was WNBW (the W for NBC Washington). Los Angeles was KNBH (the H for NBC Hollywood). Chicago was WNBQ (the Q was a tieback to WMAQ radio, which NBC had owned since the 1920s). All of the TK10-30 and TK11-31 cameras NBC owned were interchangeable between network and local studios and between studios and remote units.