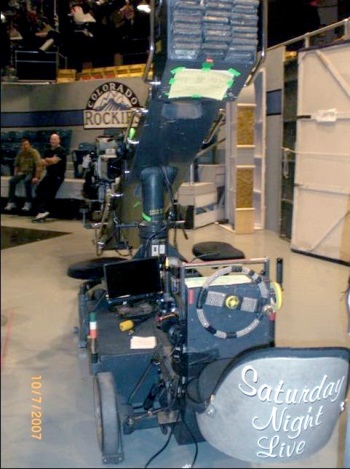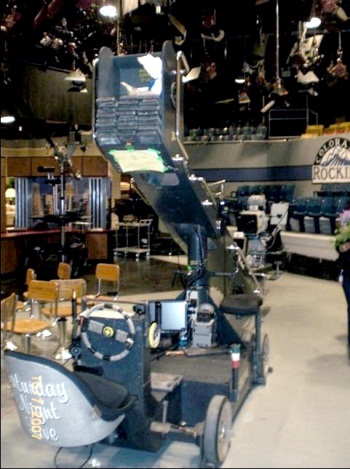 Among the very few things that have not changed since Saturday Night Live debuted in 1975 are the studio it originates from, and the constant use of this Chapman Electra stage crane on the show. We've all seen it a thousand times, but never like this before.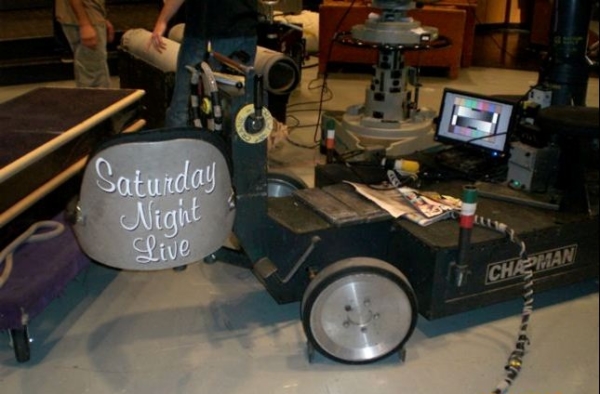 Above is the driver's seat, and you can see the flat panel monitor that shows the driver the camera feed as the crane is moved. Only the rear wheels turn to steer, and you can see the brake pedal that stops the battery-powered rig. Below is the view from the driver's seat up the boom arm, showing the boom operator's monitor.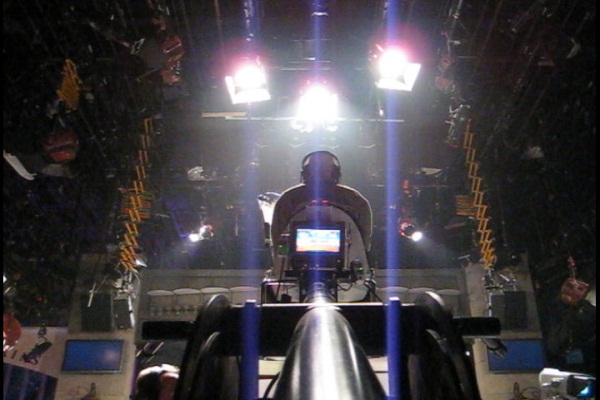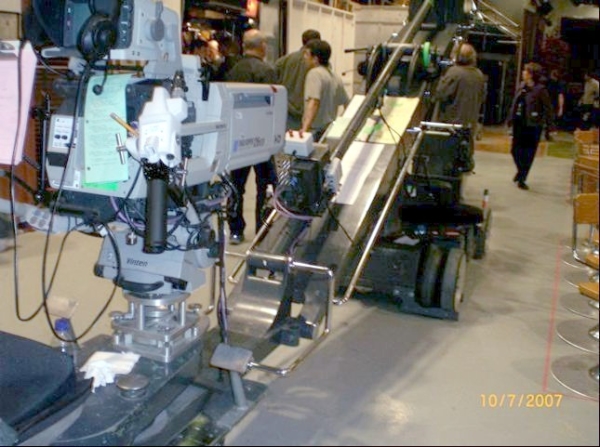 Above, we see the camera operator's perch and the foot controls used to turn the turret plate the camera and seat are mounted on, which rotates 360 degrees. Below is another great shot of the camera turret with the boom all the way up. Can you say "catbird seat"?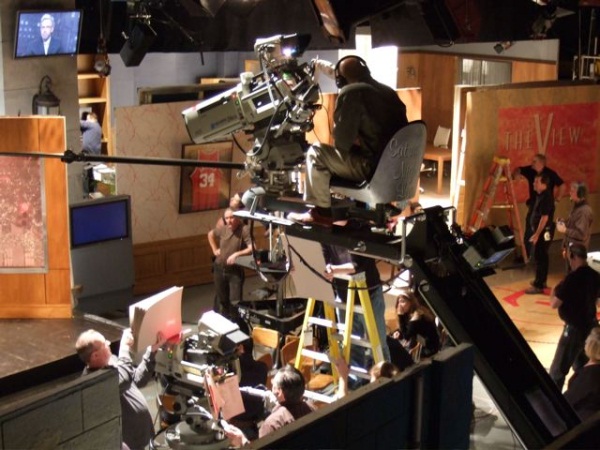 SNL comes from NBC Studio 8H on the 8th and 9th floors of 30 Rockefeller Plaza. As pictured below in this 1939 Life article, 8H was built in the 1930s as a radio soundstage, and originally seated 1250 people. Promotional materials of the day often called 8H the "auditorium studio." Its most famous tenant was Arturo Toscanini and the NBC Orchestra. In 1950 it was converted to a television studio.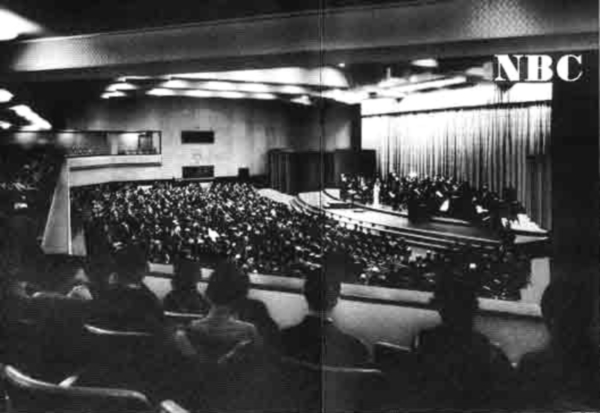 When the show started in 1975, it was decided SNL would originate from 8H. There needed to be a crane for all the frenetic movement in this very busy show, and the Chapman Electra was selected. It has called 8H home since 1975, but it is occasionally used in other studios because when the boom arm is removed, it can fit in the NBC freight elevator to move between floors.
Although 8H has been SNL's home since '75, it too is also used for other productions and events, such as the Summer Olympics from China in 2008. Below you see you see two photos of the 8H studio floor covered with temporary announce booths. Each booth has a producer's room and a larger announcer's room where two or even three announcers watch the live feeds from China and add their commentary.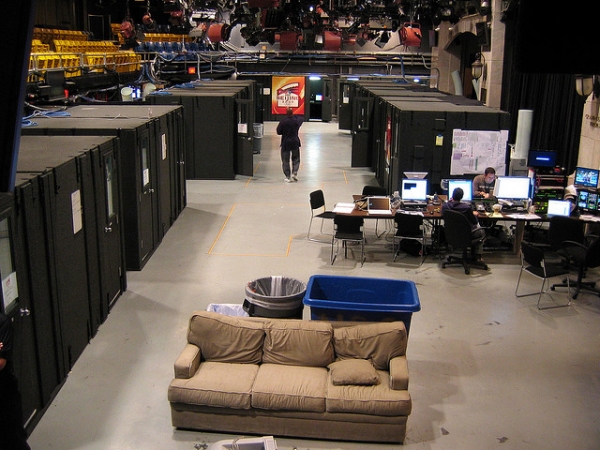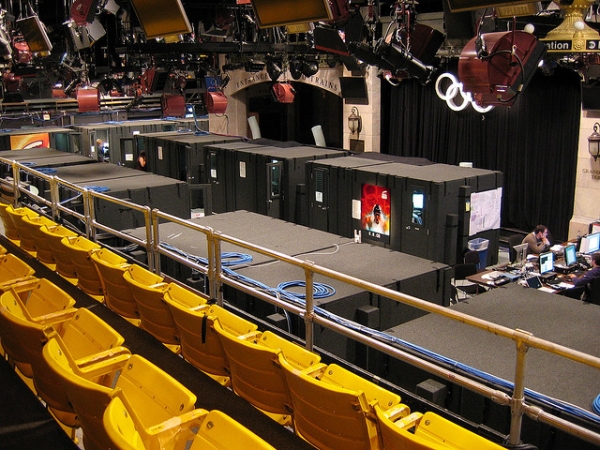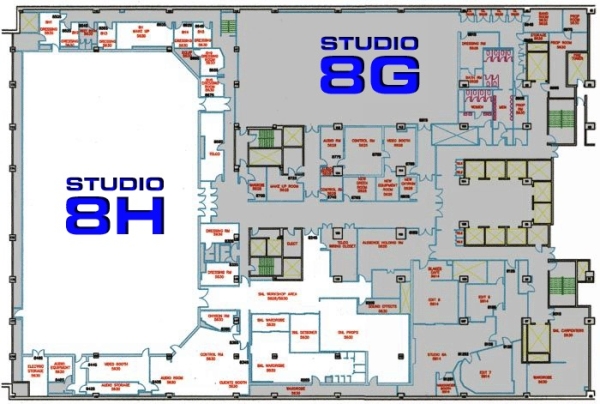 As you can see in the diagram above, 8H and 8G are side by side. Occasionally, the Chapman works there for projects like national election coverage. Below are two shots from 1978 showing Studio 8H in preparation for a new season of SNL (top) and in 8G, the new election set is getting final, last-minute touch-ups and making ready for camera rehearsal (bottom). With so much action in SNL broadcasts, crane shots are essential, but even in situations like election coverage, the unique visual aspect they offer makes a big difference by adding motion abilities the pedestal cameras can't. Crane shots make static shot situations more fluid with even a small degree of movement.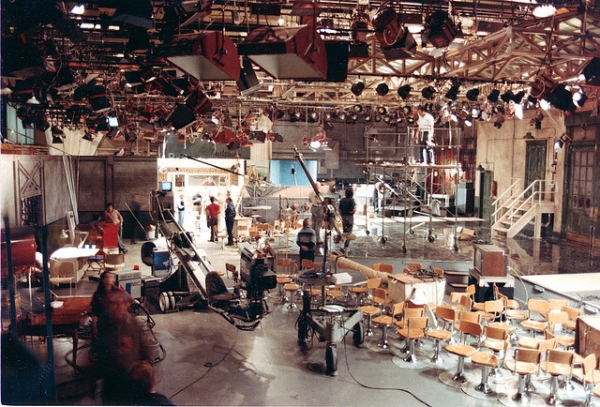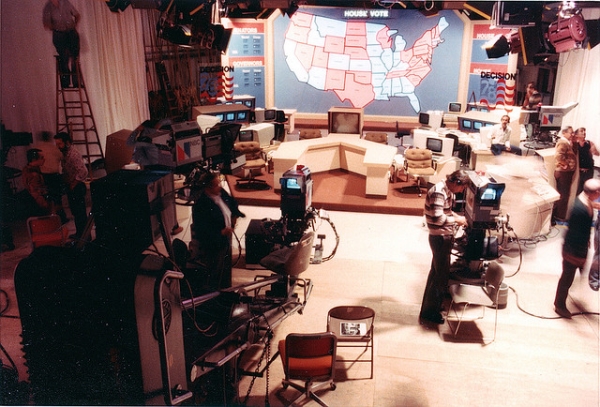 Now, it's time to take a closer look at where the rubber meets the road – literally! Notice the front wheels have two sets of wheels: one set pneumatic and one set hard rubber. The back/steering wheels are single hard rubber wheels. The reason for the dual-form tire arrangement is to give the smoothest possible ride. The single front hard rubber tire gives a firm ride and single front pneumatic gives a softer ride, but together, they give the best possible "Goldilocks" ride: not too hard, not too soft. I'm sure the cable guards come in handy, too.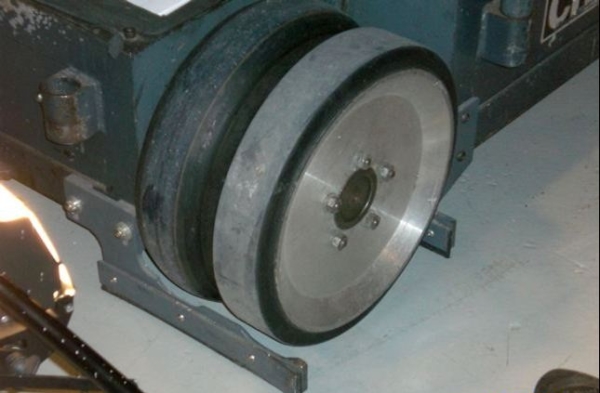 Operating the crane is basically a three-person operation requiring a driver, a boom arm operator and a camera operator. Below is an amazing time-lapse video of Saturday Night Live in production. Much of it was shot from small cameras mounted on this crane. Interestingly, there are two boom arm operators.
I've said on other pages of this site how glorious it must be to run the camera on a Chapman…sheer fluidity and grace in motion. Speaking of motion, here is a schematic that shows this crane's motion capabilities.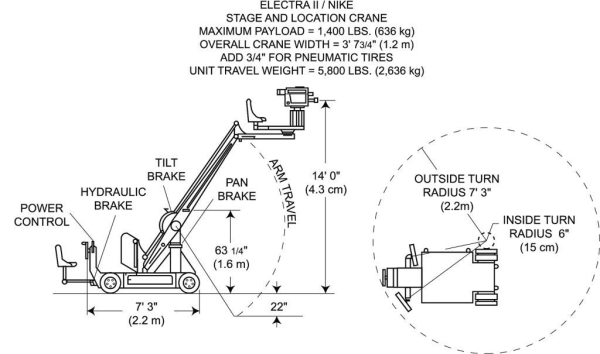 Now, here of some shots of what feels like an old friend…one we've known for years. I'm sure many of us would love an hour in John Pinto's chair. He's the cameraman, and we'll meet him below.
The camera shown is a Sony HDC 1500 in the Sony HDLA 1505 build-up kit. In the images below, you'll see the camera folded back into the boom arm while it's not in use.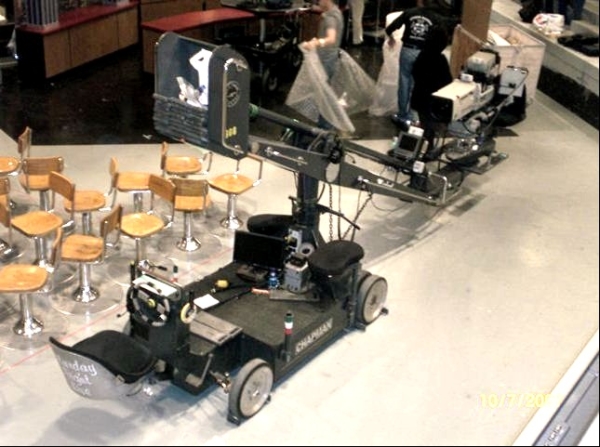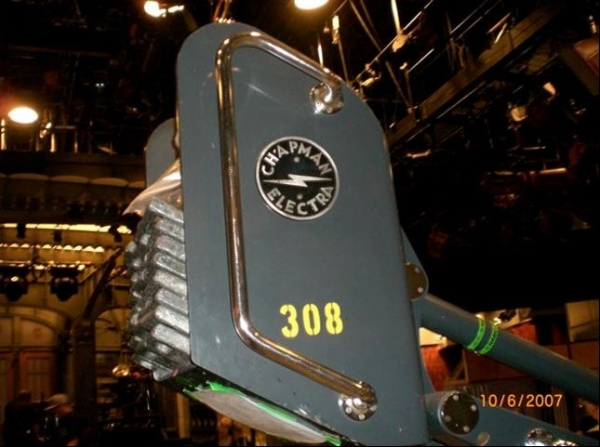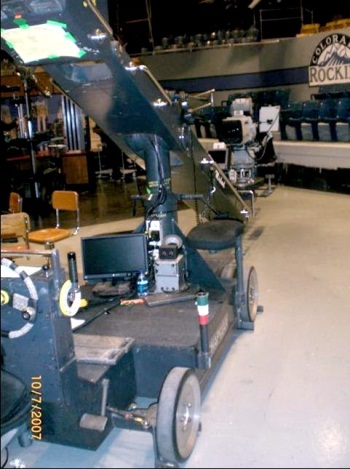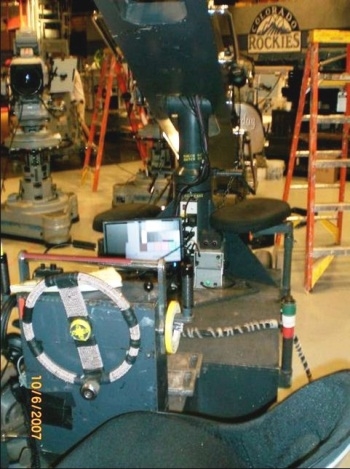 Now that we've met the Chapman Electra, let me introduce you to one of the luckiest men in television…the man who gets to ride it. Meet John Pinto.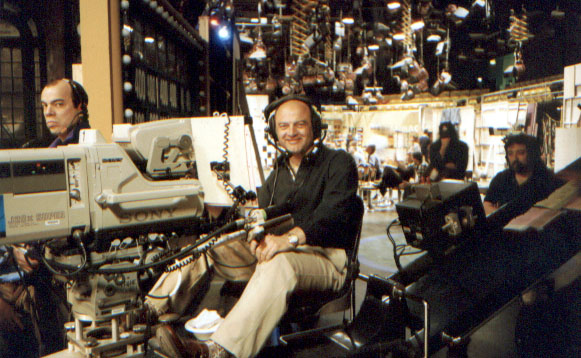 In 1975, the show Lorne Michaels and Dick Ebersol were developing became a reality. Aside from casting the "Not Ready for Prime Time Players," the staff casting was going on too. NBC set out to recruit a hip, young, but professional crew…and got it. Among those hired were John Pinto, who was at ABC, and Jan Kasoff and Al Camoin, who were at NBC's Brooklyn studios, and they stayed for many years. John is still there, but more on John and Jan below.
The first camera in use on SNL was the TK44. Below, we see one on the Chapman, possibly operated by Al Camoin, the original crane cameraman.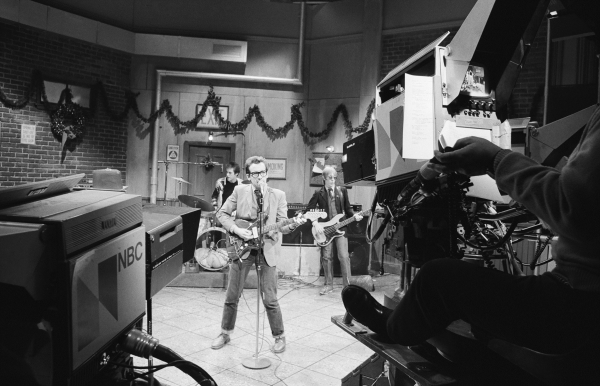 The next camera in use at SNL was the TK47.  Below are two shots of a 47 on the Electra, with John at the controls.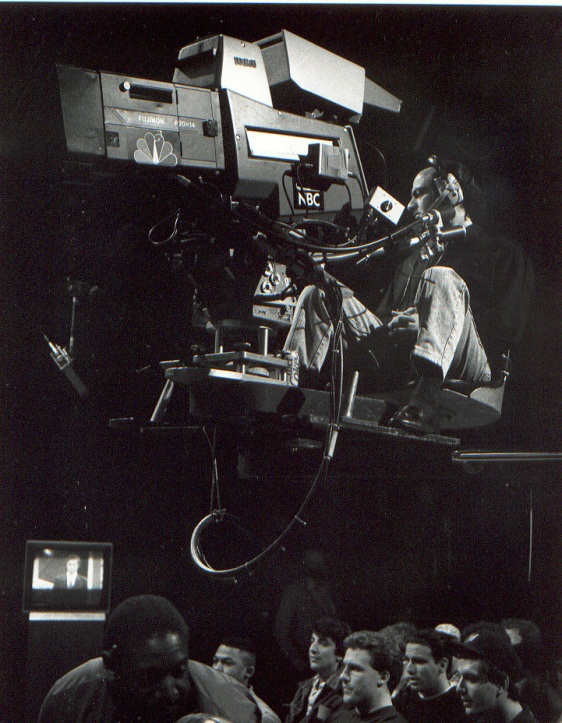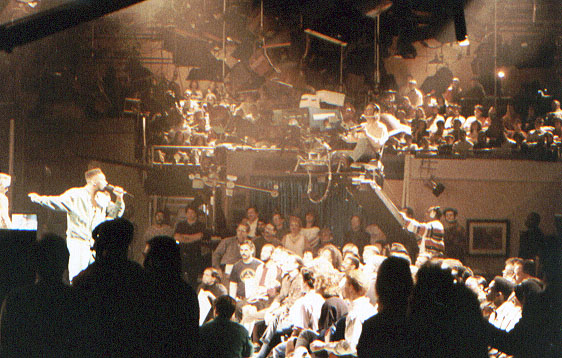 I wanted to put this next image further up the page, but held it for here so I could make the comments I want without veering from the Chapman story too much. Now I can say what I was thinking when I first saw the image below, and what it reminded me of.
Before you read further, please take a moment to really look at this photo and see if you see what I see.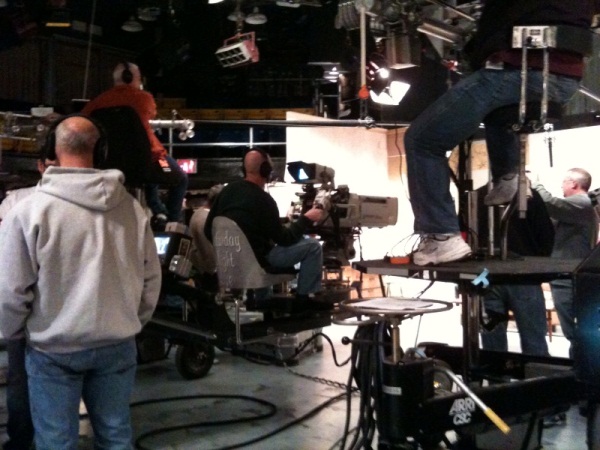 At first, I saw just the camera. But then, to my amazement, I also saw perambulators…yes, sound booms. Two of them! Did you notice them in the pictures above? No? Neither did I, but they are there if you look. Then, a shoe dropped.
I thought, wow. How did I not notice the use of these pieces of equipment that were so vital to television just yesterday, but so unique in studios today? Then the other shoe dropped…the big one. Do you have any idea what that epiphany was?
The people! If you visit almost any local TV station these days, the only people you'll find in the studios is the talent, and maybe a floor director. Yes, there are news cameramen in the field with ENGs, but robotic pedestals and wireless mics have killed the studio crews.
Thank God there's still production value at SNL that only skilled and experienced humans can satisfy. Only the networks are keeping the art of camera work alive in the studio and in sports. Thank you!
That is not the first time that has occurred to me. It's one reason for creating Eyes Of A Generation: to memorialize and pay tribute to the behind-the-scenes people…and to all of you, past and present, thank you!
Many thanks to Greg Hill for the images and information. Greg is Operations Manager for Chapman – Leonard, the world's leading name in cranes and camera support since 1945. Thanks also to Dennis Degan for his great images of 8H, and to the NBC staff in New York who helped with some background details, including John Pinto and Jan Kasoff. You'll meet Jan below.
One final note on cranes. Just so we don't forget the Electra's predecessors at NBC, I'm adding these images.
Below top is the Sanner studio crane. I think this debuted around 1948, just after the TK10/30 came out. The picture from WKY in Oklahoma City was taken in 1950 and by then, they were in wide use at well-heeled local stations and at the networks. CBS used them in New York longer than NBC, but as you see below, one of NBC's Sanners is hard at work on Your Show Of Shows with Sid Caesar. RCA listed this Sanner in its catalog as the TD-6A.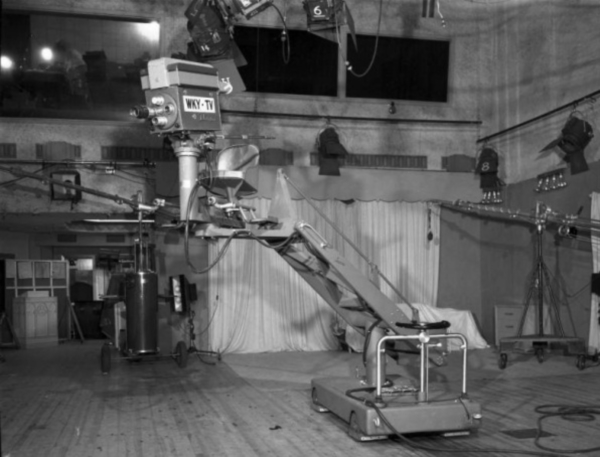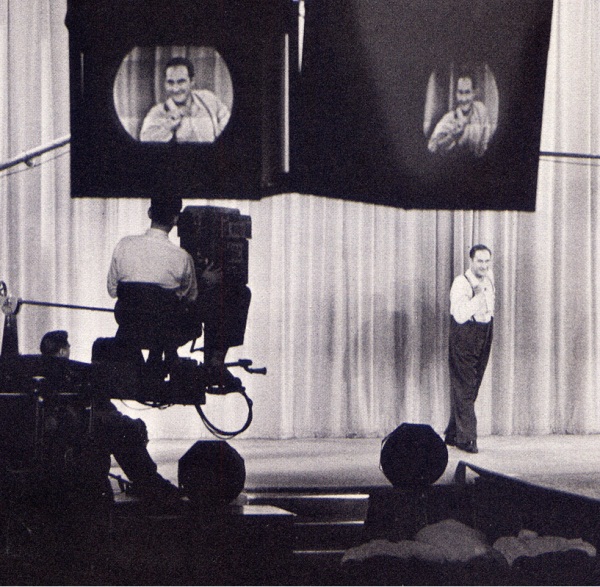 Below, the great Houston Fearless 30B stage crane that I think came out around 1954, and was built to handle the weight of the new color cameras.
NBC had several of these at 30 Rock, at the Brooklyn I and II studios, and at the Ziegfeld Theater for Perry Como. Burbank had several, too. NBC went to the 30B much earlier than CBS, probably because NBC had a lot of TK41s and CBS did not. I've never seen a TK41 on a Sanner, and don't think it would bear the weight. When CBS added color at Television City, the network bought several 30Bs and used them under the TK11s, too. I think the 30B is beautiful – it kind of has an art deco look to it.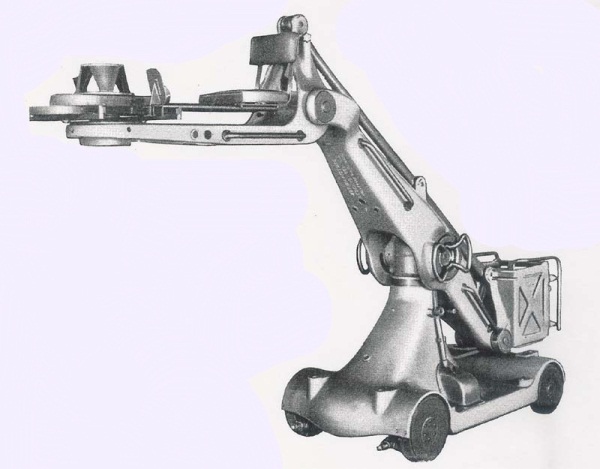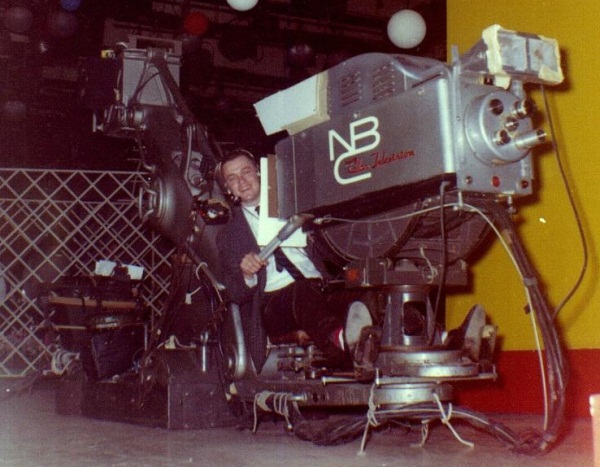 Above is 36-year NBC veteran cameraman Jan Kasoff. His TK-41 is mounted on an HF 30B in use at NBC's Brooklyn studios in a photo from around 1968. Jan started full-time with NBC in 1967 and until 1978 he worked on soap operas, game shows, sports, news and more. Jan did his first Saturday Night Live in 1977 to cover for a cameraman who was out. He was asked to do SNL as a regular in '78 and continued there for the next 26 years as a permanent member of the SNL crew until he retired in 2001.
After a six-month hiatus Jan came back to do the show for another year and a half until he became a Florida snowbird. He did his last Saturday Night Live in March 2003. After his second retirement, NBC continued to ask Jan back at busy times; he would return to work NBC Nightly News and other programs. He did his last assignment for NBC in November 2008, when the Florida winters became just too good to pass up. Below, we see Jan on the SNL set just before show time.
Jan got his start by doing what a lot of us used to do: apprenticing. He was around The Perry Como Show set at the Ziegfeld Theater in New York a lot and made himself useful to the staff and crew. He was raised on the TK41s and was one of NBC's top color cameramen. That camera brings back a lot of fond memories for Jan, and he would just love to have one in his den, but don't mention this to his wife. (If she complains, Jan, tell her you want the crane, too. That should do the trick.)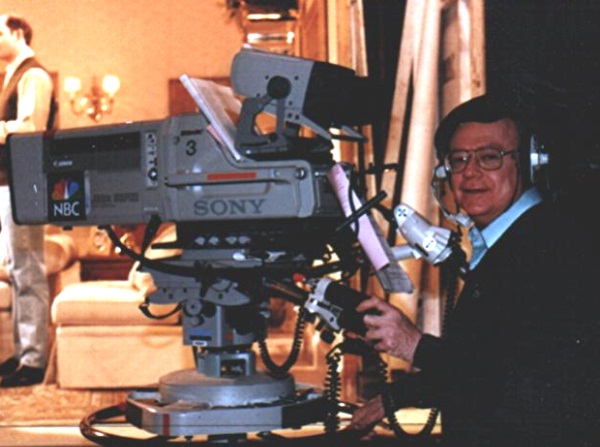 One final thing. Here is a table of productions done at NBC New York, showing the studios they come from and some interesting notes. Thanks to Wikipedia.