History / The B&W Years / The Color Years / Just For Fun
First, I have to thank Kevin Martorana and his company, Take One Productions, Inc. in Lancaster, Pennsylvania for all his help in getting these images and history. Kevin did a brilliant 60th Anniversary video for the station. He's the reason we were able to get all these great photos, but we have to thank WGAL for the photos from their archives.
Below is Kevin's outline of the station's history and below that, lots of images that I'll break into "The Black and White Years" and "The Color Years." There are just so many photos that I can't offer captions and comments for all of them, but I will say this: from the way WGAL did business, you would never guess that not only were they not in a top ten market, but that they were in the absolute smallest TV market in the country when they started! As a matter of fact, in the image below and a few others, you'll see what looks like a bunch of visitors looking at their new RCA TK41 color cameras. Those aren't tourists. Those are ad agency people. Not local agency folks…New York agency heads! They flew them out, made a pitch and got tons of ad dollars! These were some very sharp people! Still are!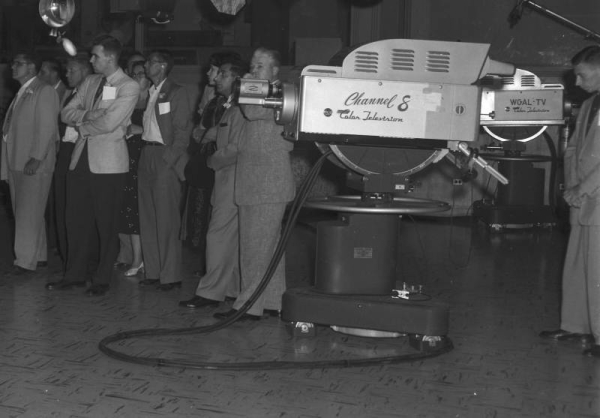 ---
THE HISTORY OF WGAL

The WGAL Television tradition began on March 18, 1949 when the first television facility between Philadelphia and Erie, Pa. first broadcast from studios at 24 S. Queen Street in Lancaster.
Initially operating on channel 4, WGAL-TV began serving the Susquehanna Valley. It was the first television station between Philadelphia and Pittsburgh.
Four days later the pioneer television station produced its first formal program for a group of RCA Television executives, dealers and radio station personnel. The show originated in one room of the Stevens House Hotel in Lancaster, and was shown on 25 receivers placed in the hotel's ballroom.
The Kiwanis Club, meeting at the Hotel Brunswick on that very same day (March 22, 1949), was treated to a special broadcast of the WGAL test pattern. Two months later newspaper headlines proclaimed: "Television Has Come of Age in 1949; Lancaster Is Smallest City In U.S. With TV."
Six weeks later, on May 5, WGAL began a 47-year tradition by presenting the area's first local newscast. The 15-minute newscast originated live from the WGAL studios and included a sports commentary by anchor Dave Brandt.
Early entertainment programming on WGAL consisted of film features and shorts. Later, WGAL carried selected programming from CBS, ABC, NBC and the now-defunct DuMont Network before becoming the exclusive NBC affiliate for the Harrisburg-Lancaster-York-Lebanon area.
What started out as an exploration in electronic communications by Steinman Stations, Inc. created the groundwork for what became the 44th largest television market in the country.
WGAL-TV originated in 1949 as an innovation in broadcast communications, and that commitment to bring constantly improved service to its viewers continues today. Here's how WGAL has led the way for free television in Pennsylvania's Susquehanna Valley:
1951 — WGAL-TV began its daily sign-on before 12 noon each day.
1952 — WGAL's broadcast day was again extended to a 7 a.m. sign-on with the premiere of NBC's Today show.
— The station was granted an increase in power from 1,000 to 7,200 watts. Under this new grant, the station was required by the FCC to move from Channel 4 to Channel 8 on the broadcast dial. That change happened on December 31, 1952, as WGAL signed off the air as Channel 4 and came back on the air as Channel 8.
— The first program to be telecast by WGAL over Channel 8 was a prizefight between Jake LaMotta and Danny Nardico.
1954 — On January 1, WGAL presented Channel 8 viewers with the station's first television show to be broadcast in color, The Tournament of Roses Parade.
— The lovable puppet Percy Platypus made his television debut on Slapstick Theater.
— The station's power was boosted to the maximum of 316,000 watts when a new tower, antenna and transmitter installed at Hellam, Pa. were put into service.
1954 — Slapstick Theater was created by Marijane Landis and puppeteer Jim Freed. This program started during the 1954 Christmas season. It continued as a 15-minute regular program on weekdays and added a half-hour Saturday morning in late 1955.
1956 — On Christmas Day, 1956, Channel 8 began broadcasting from the new WGAL Telecenter at 1300 Columbia Avenue, Lancaster.
1957 — Romper Room, Sports Desk and The Weatherman were the first live color shows to originate from the Channel 8 telecenter.
1957 — Percy Platypus was also telecast in color. It required new sets.
1958 — The first on-air use of new videotape recording equipment was employed to produce pre-recorded commercial announcements featuring station personalities Marijane Landis and Jim Freed.
1959 — Marijane Landis officially joined puppeteer Jim Freed in the newly revamped children's show called Percy Platypus and His Friends. This show was produced and broadcast by WGAL for 15 years, until 1974.
1961 — Noonday on 8" premiered.
— Area teenagers were eager to spend Saturday afternoons at the Channel 8 studios performing on Dance Party, the Susquehanna Valley's answer to American Bandstand.
1962 — The first local videotape color recording was made and aired over WGAL-TV.
1974 — The station completed construction on a new tower and antenna. At that time, Channel 8's tower was the tallest man-made structure in Central Pennsylvania.
1979 — The Pulitzer Broadcasting Company, a subsidiary of Pulitzer Publishing Company, St. Louis, purchased WGAL Channel 8 from Steinman Stations, Inc.
1981 — WGAL was the first television station in the market to expand its newsgathering facilities with the opening of a second newsroom in downtown Harrisburg.
— WGAL was the first television station in the Susquehanna Valley to take viewers to news events via a LIVE mobile news truck.
— The station invested in the area's first satellite dish to more efficiently receive national commercials and locally transmitted syndicated programming.
1983 — Newsgathering capabilities continued to increase as WGAL opened a third newsroom in downtown York.
1984 — During the first 35 years of operation, the WGAL staff had grown from less than 10 people to 127 full-time employees.
— WGAL's news operation had grown from producing two 30-minute newscasts daily in 1979 to five half-hour programs weekdays and two newscasts each on Saturday and Sunday.
1985 — WGAL is the first television station in the state to begin transmitting audio on stereo.
1990 — The station expanded to 24-hours-a-day, seven-days-a-week operation on February 6.
— WGAL premiered the LIVE show, the market's only daily, live talk show. The show was renamed 12:30 LIVE and ran until March 2001. During that time it was one of the few locally produced daily live talk shows in the country.
1991 — WGAL was the first station in the market to broadcast local news from 5:30 — 6 p.m. weekdays, with the premiere of News 8's First News.
1992 — News 8 added a computerized communication system that allows instant communication between the York, Harrisburg and Lancaster newsrooms and provides closed-captioning capabilities for the deaf and hard of hearing.
— News 8 introduced its Harrisburg SkyCam, a remote-controlled camera mounted on top of 333 Market Street in downtown, which still provides viewers with unique views of Pennsylvania's capital city.
1994 — The demand for even more local news was met by WGAL when it was the first station in the market to add another two and one-half hours of local news weekly with News 8 at 5.
— In response to viewer suggestions, WGAL invested in "SchoolWatch," a sophisticated computer system which allows the station to broadcast a record number of area school closings and delays without interrupting regular programming.
1995 — WGAL introduced LIVESTAR, the market's first Satellite News Gathering (SNG) truck. The station commissioned this truck to be specially built and equipped as a fully operational mobile newsroom. LIVESTAR, which allows News 8 to broadcast events live from anywhere in North America, served as a state-of-the-art prototype for stations around the country.
–News 8 was the first to fill the void of local news and information weekend mornings. The station premiered the News 8 Morning Report in September by providing thirty minutes of local news and weather Saturday and Sunday at 9 a.m.
1997 — On July 14, News 8 continued to expand its information with the premiere of News Today at 5:30 p.m. WGAL 8 now broadcasts 90 minutes of local news and weather every weekday morning.
1999 — WGAL celebrates 50 years of broadcast service to the Susquehanna Valley.
— On the date of WGAL's anniversary, March 18, 1999, Pulitzer Broadcasting finalized the sale of WGAL to Hearst Argyle Television.
2001 — TheWGALChannel.com launches, allowing Web users everywhere to follow the latest local, national and international news, including breaking news, at any time. The site allows users to be e-mailed with news updates throughout the day.
— Also in 2001, WGAL activated WGAL-DT 58, the broadcaster's digital television channel, for continuous operation. The March sign-on made WGAL the first commercial station in the Harrisburg-Lancaster-Lebanon-York Television Market to broadcast a digital signal.
---
The Black and White Years
Here you'll see lots of RCA TK30s and TK11s at work – and, to get us started, a fabulous shot of the early, paper-roller-style teleprompter. Notice the TK30 in the background mounted on a Houston Fearless Panoram dolly…I told you these guys did it right! Below that is a better shot of the dolly and a new TK30.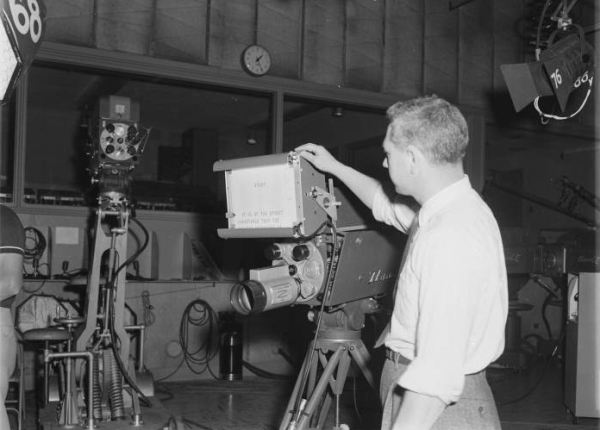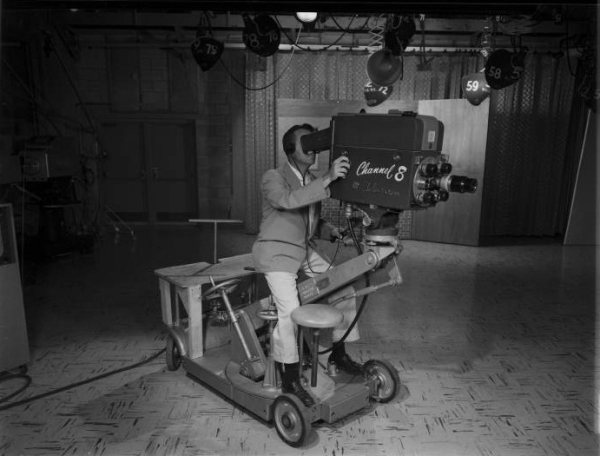 The cameras above are TK30s, so to remind you what the TK11 looks like, here's one on a WGAL farm show.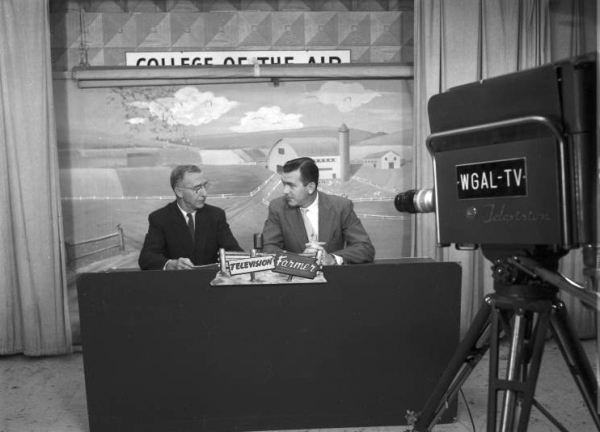 The TK30 and TK11 images are mixed together, so if you are wondering about dates on the images, just remember the TK11 (which has the curved metal handles) came out in 1953. Some pictures with a TK30 (which had no side handles) will be 1953 or earlier – but pay attention to some of the modifications you'll see over the years, like the additional circular cooling vents you'll see on some TK30s. At any rate, enjoy the black-and-white years.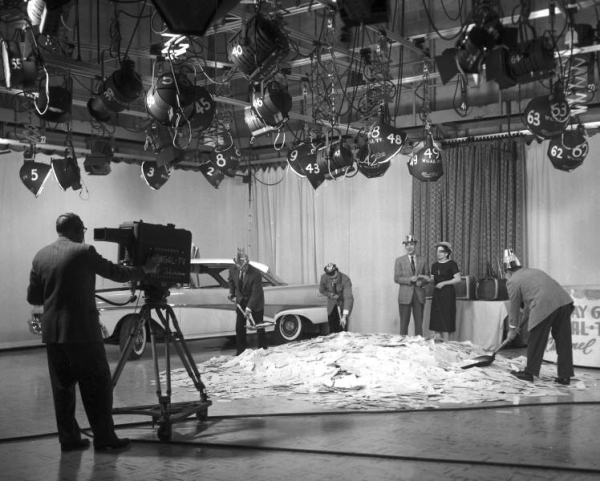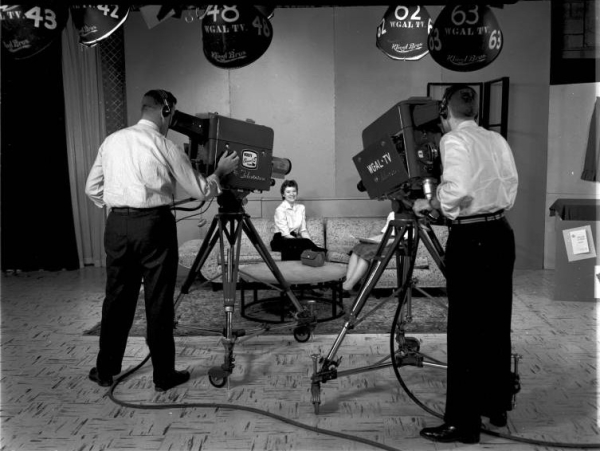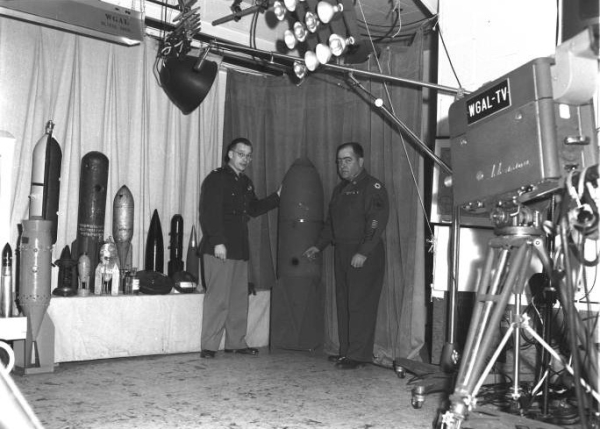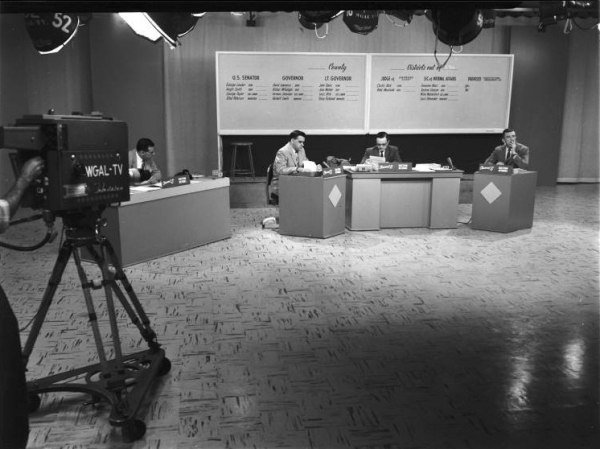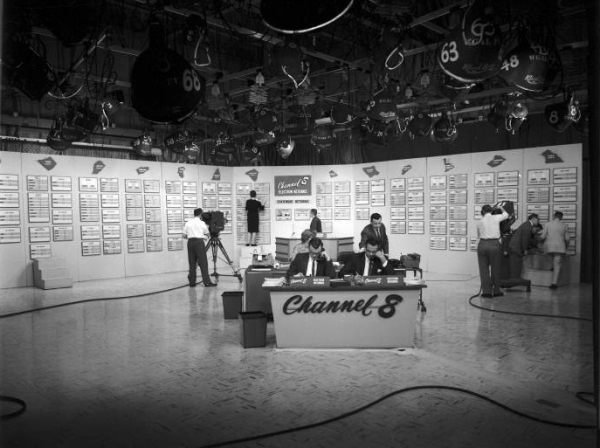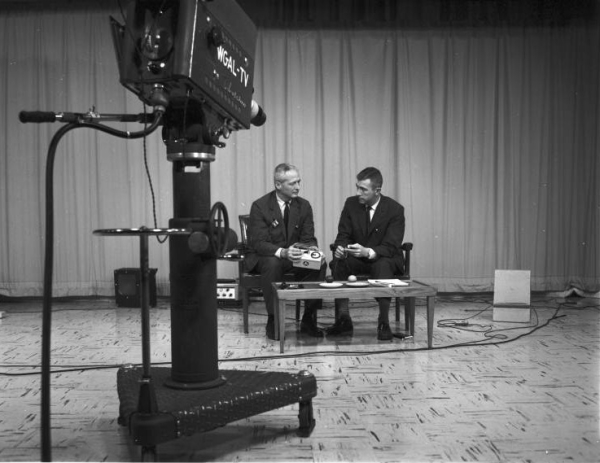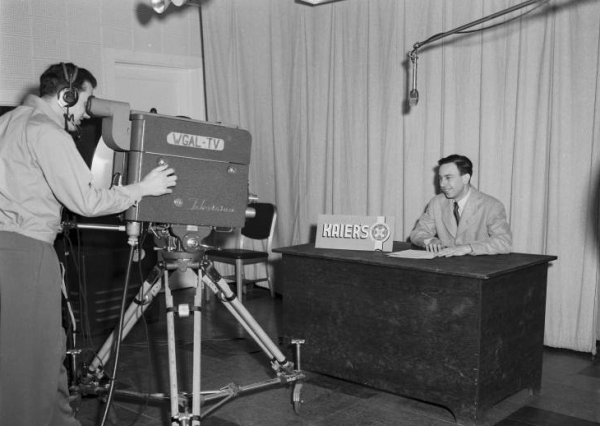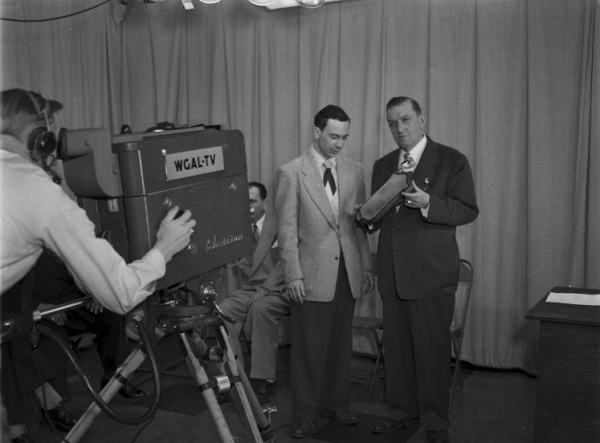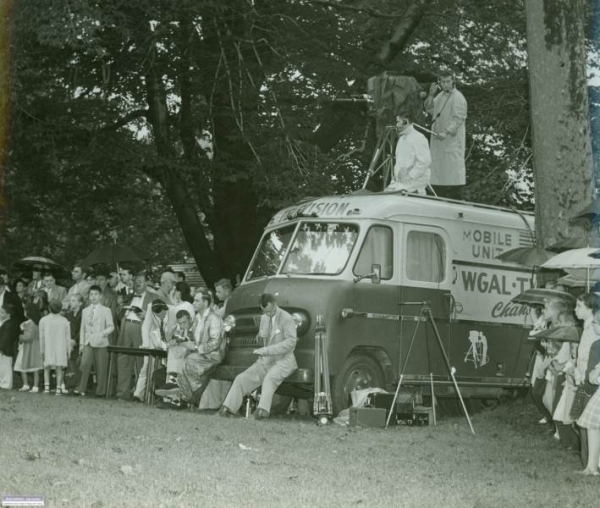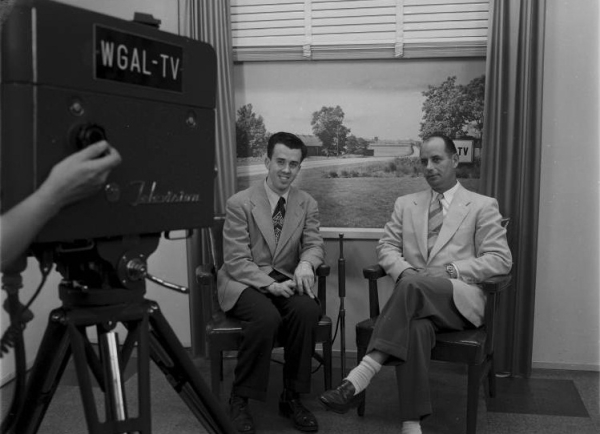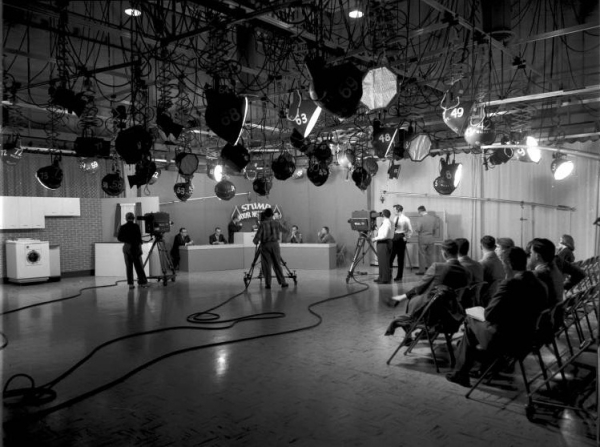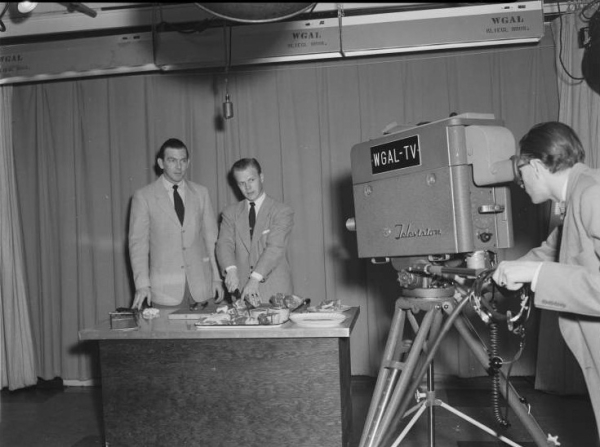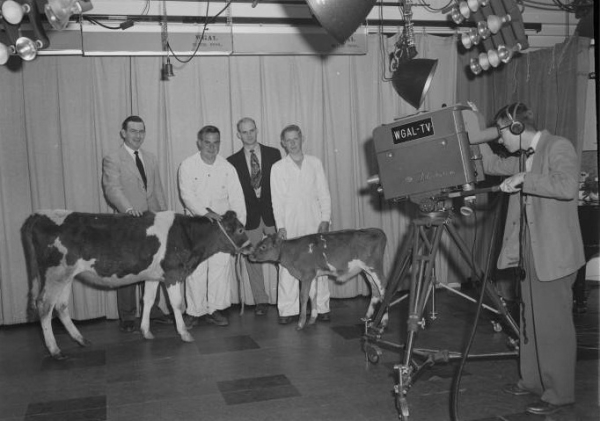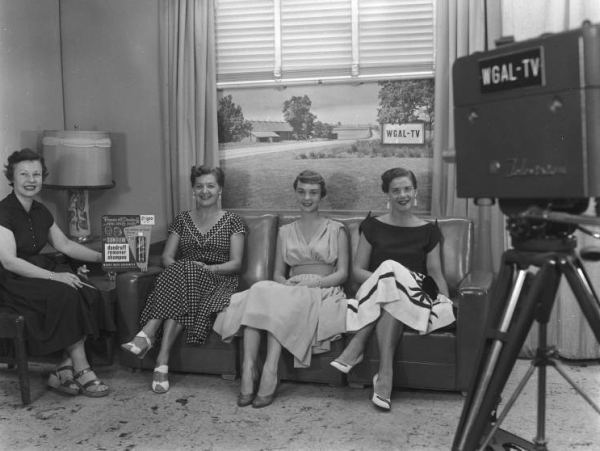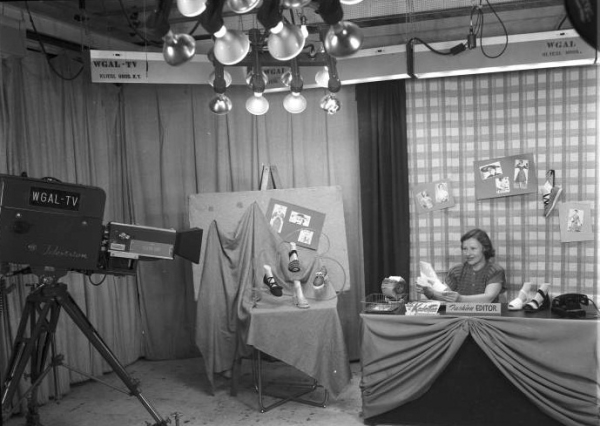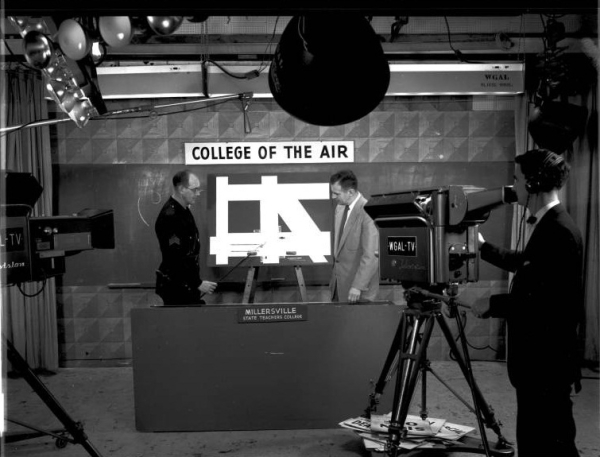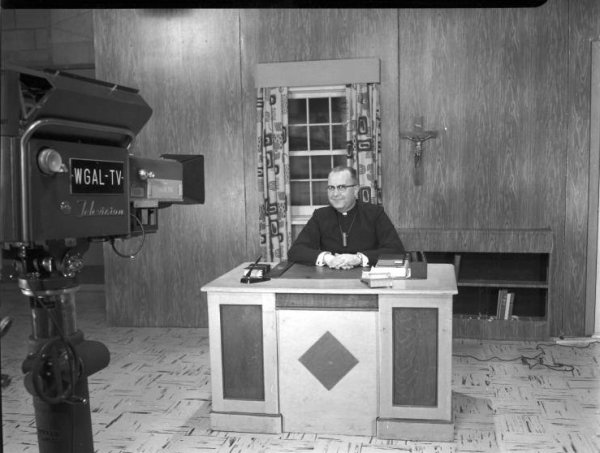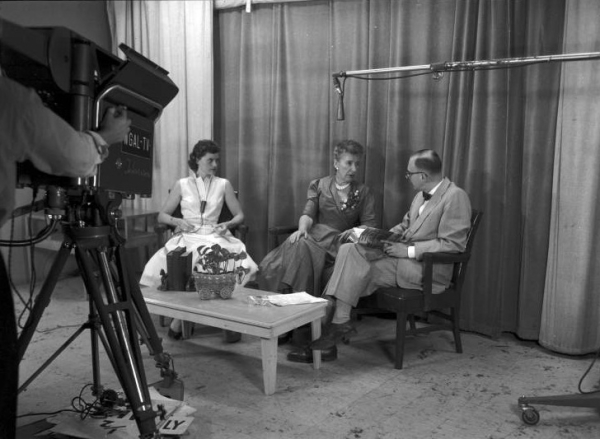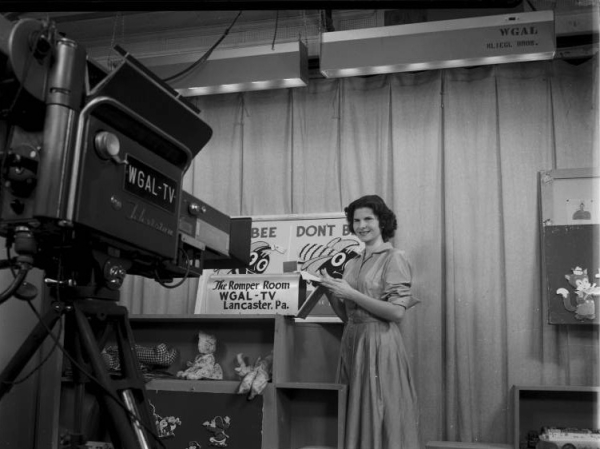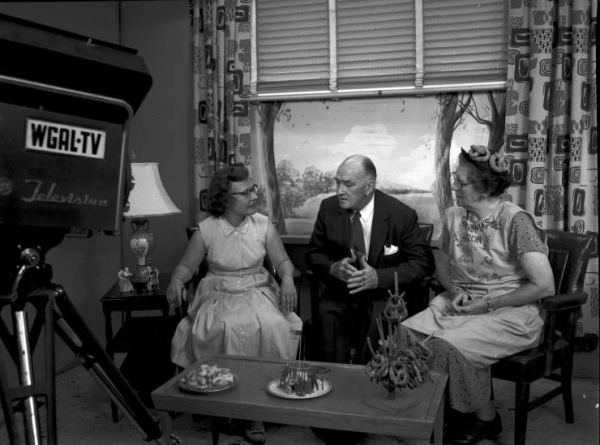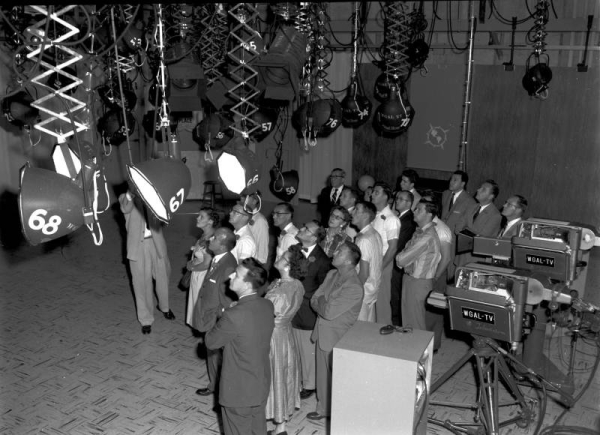 ---
The Color Years
In these images, you'll see lots of RCA TK41s and TK42s at work. Remember what I said about how these guys were real go-getters? Here's one example: WGAL-TV hosted an episode of NBC's Meet The Press, as you will see below. Further below: yes, that's Roy Rogers and Dale Evans. The nuns? I suspect they are visiting from WIHS, a Catholic TV station in Boston, to test-drive the TK42s as potential replacements for their TK11s.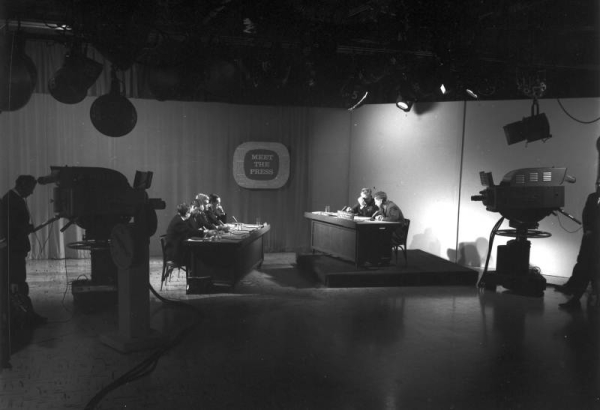 When the National Governors' Conference was held in Lancaster in 1962, WGAL-TV provided facilities for an edition of NBC's Meet the Press on July 1. Guests included Gov. Wesley Powell (R-NH), chairman of the conference, and Gov. David Lawrence (D-Pa).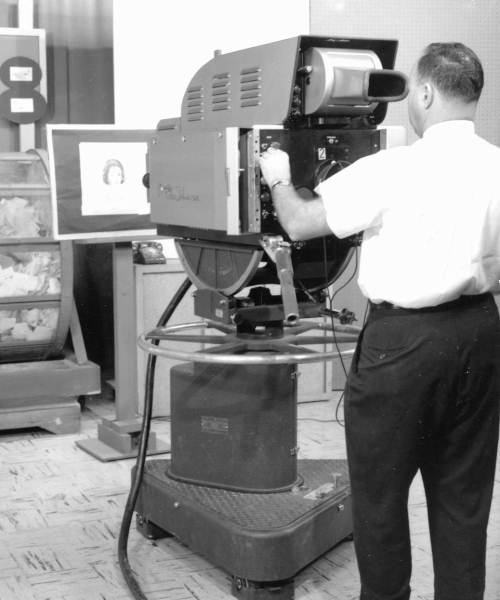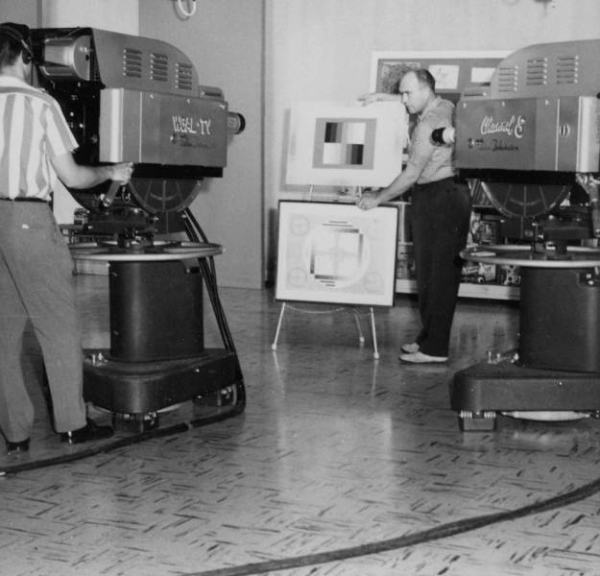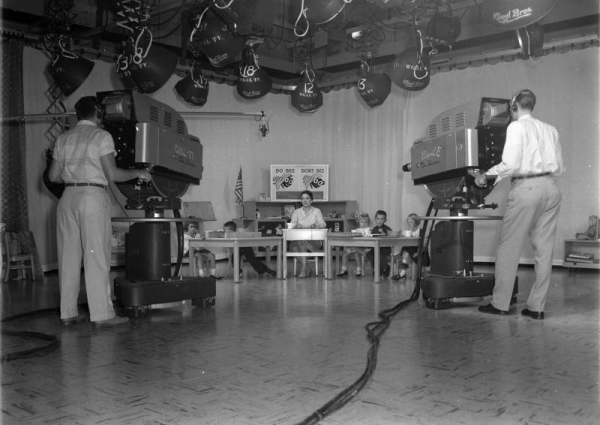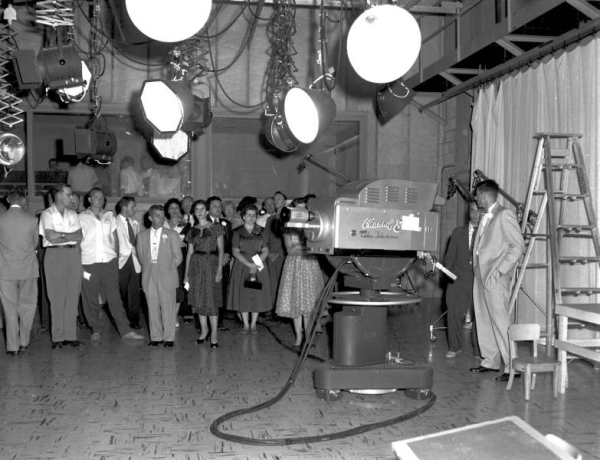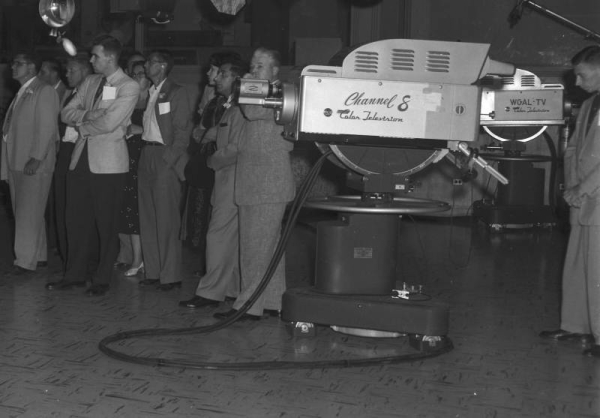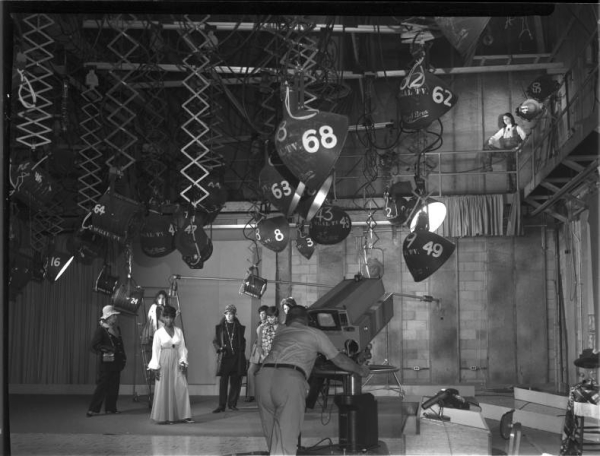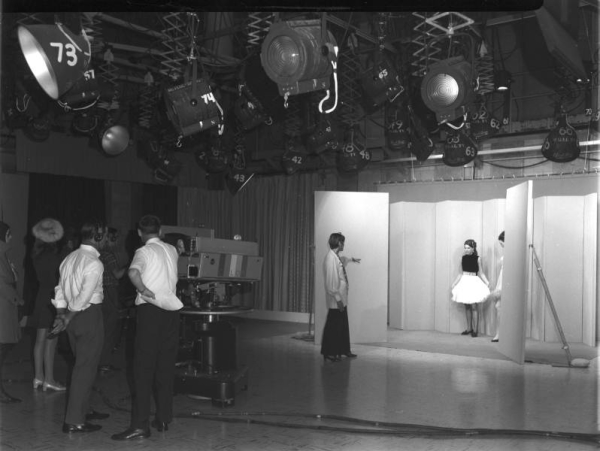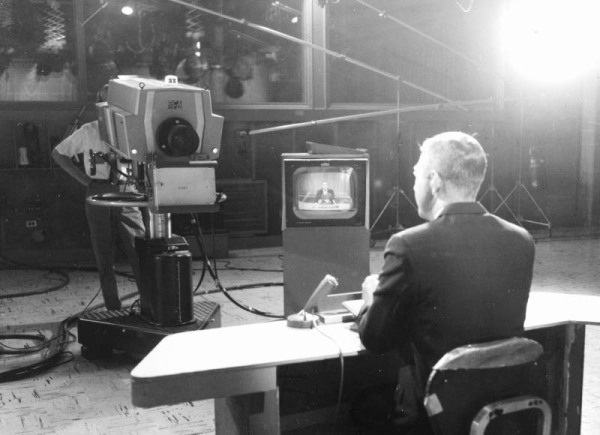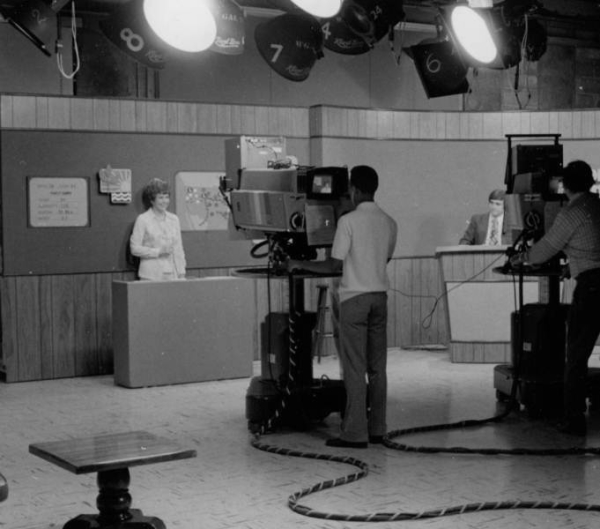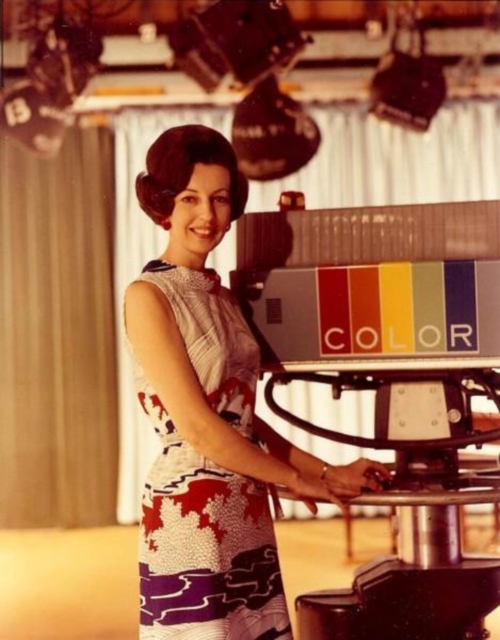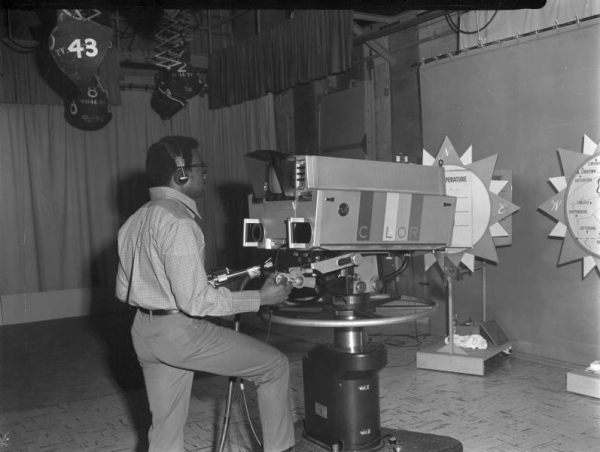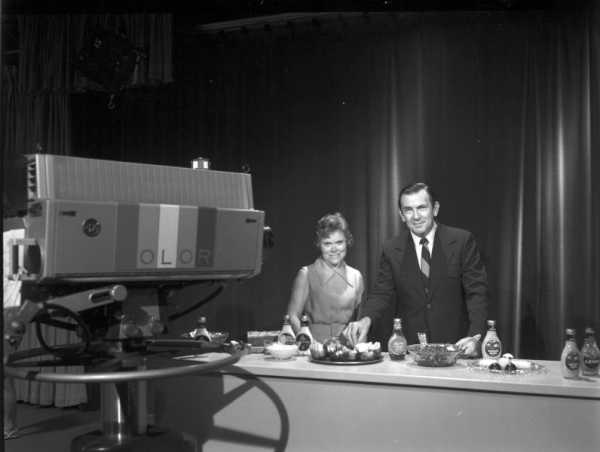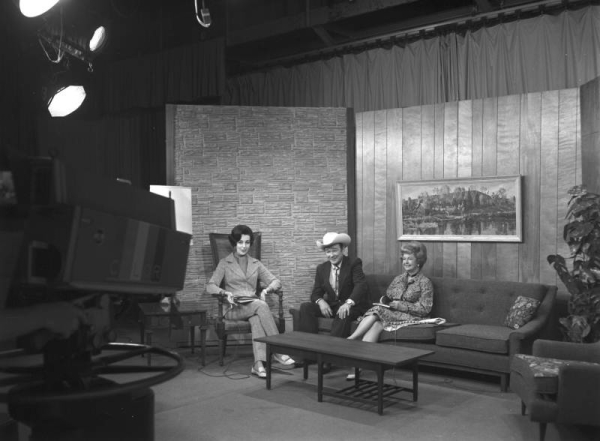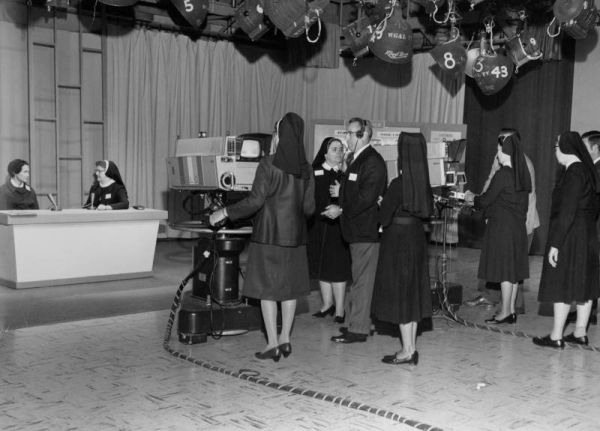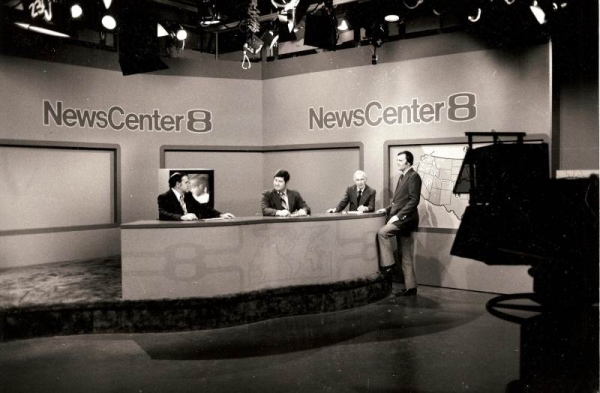 ---
Just for fun
Here is a little taste of what life was like back in the good old days! Sprinkled around are some SOF cameras (sound on film), film edit bays, a Houston Fearless film developer, old hard-board weather sets, some interesting program promo showcases, control rooms, and even the latest development of the time: the RCA TK76 ENG (electronic news gathering) camera.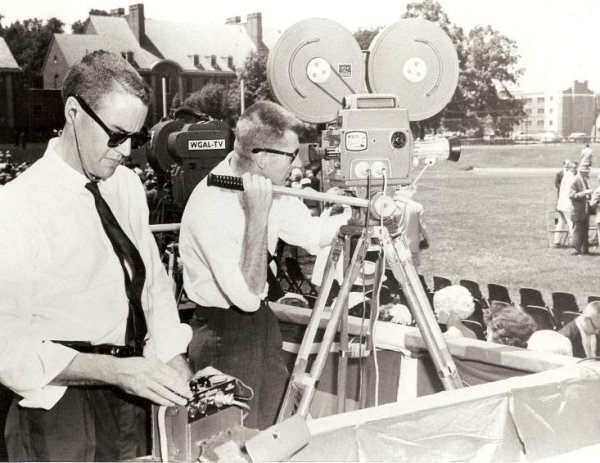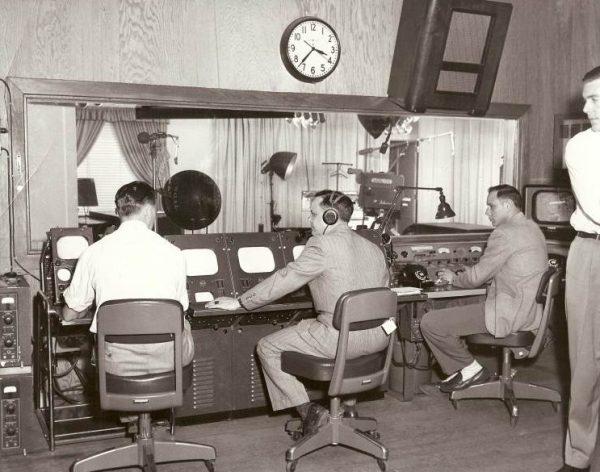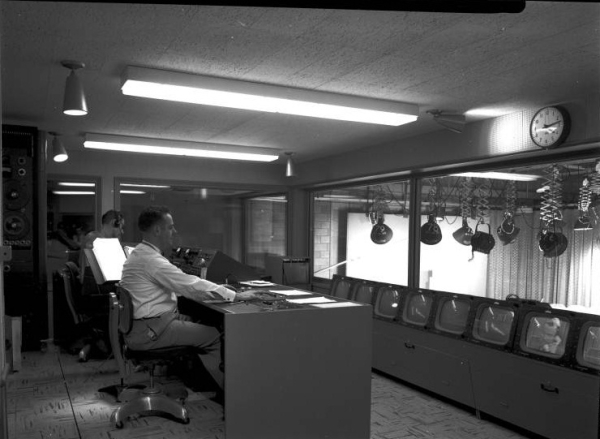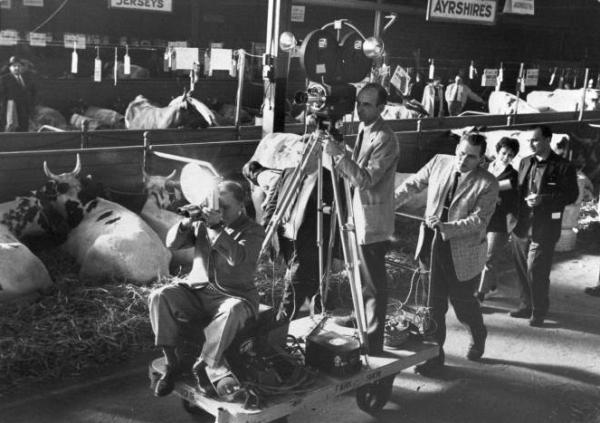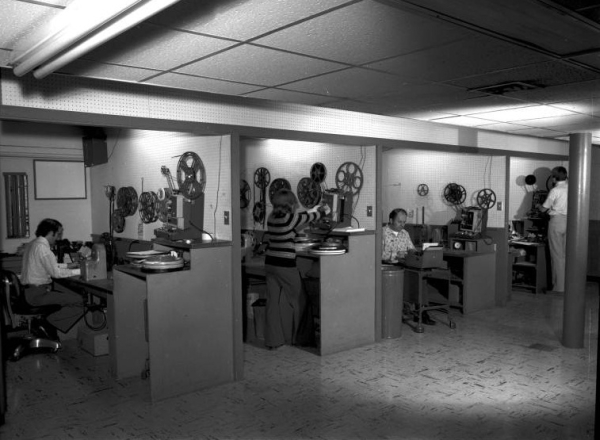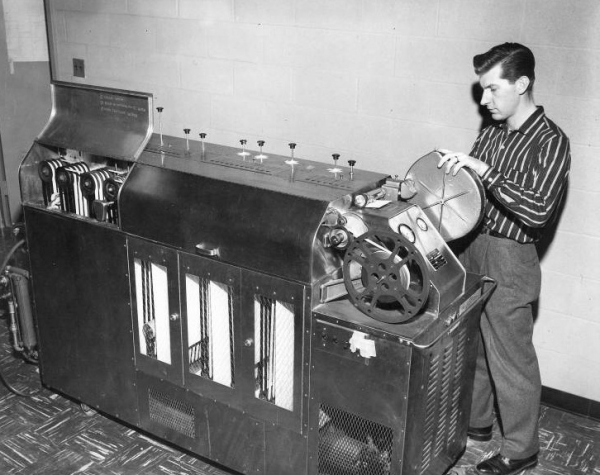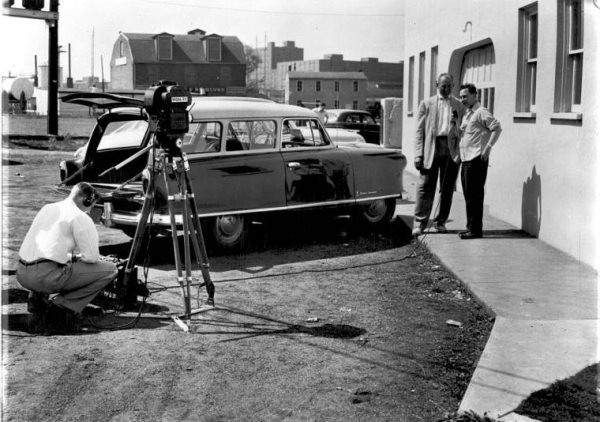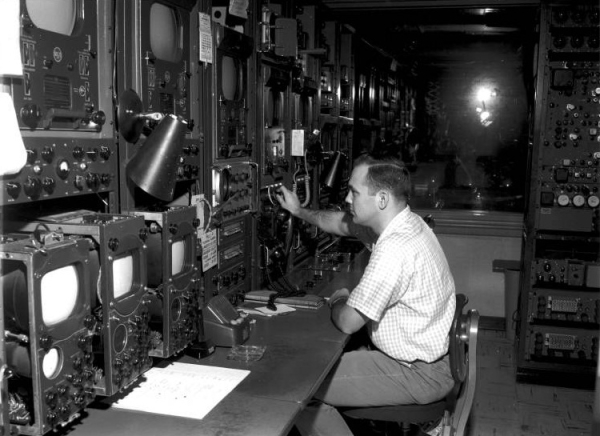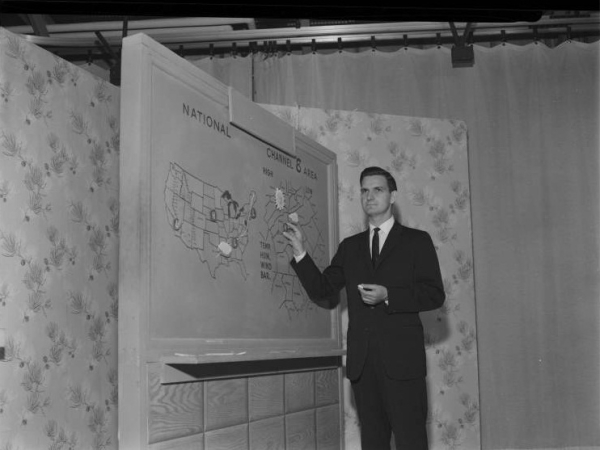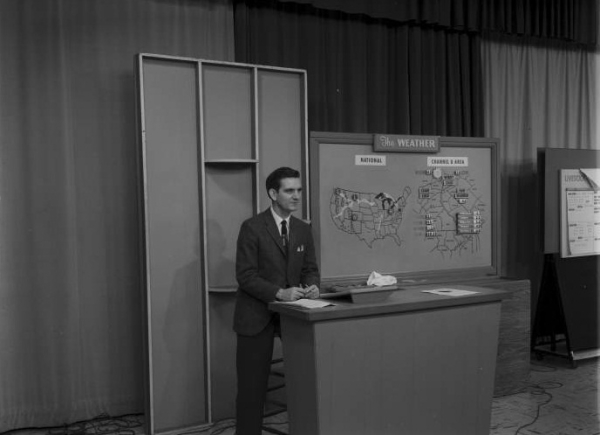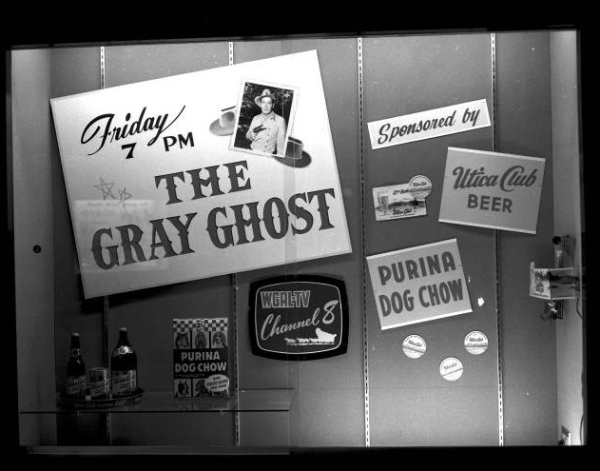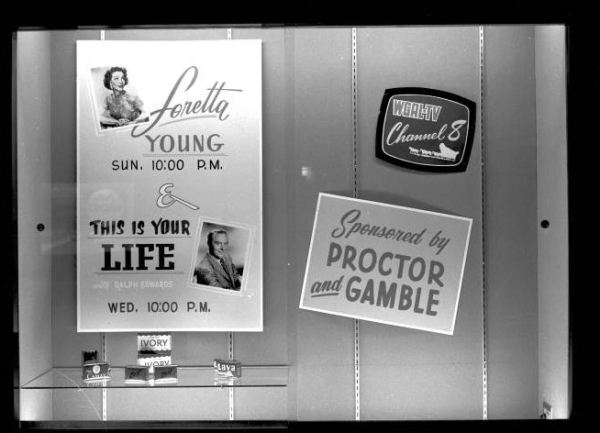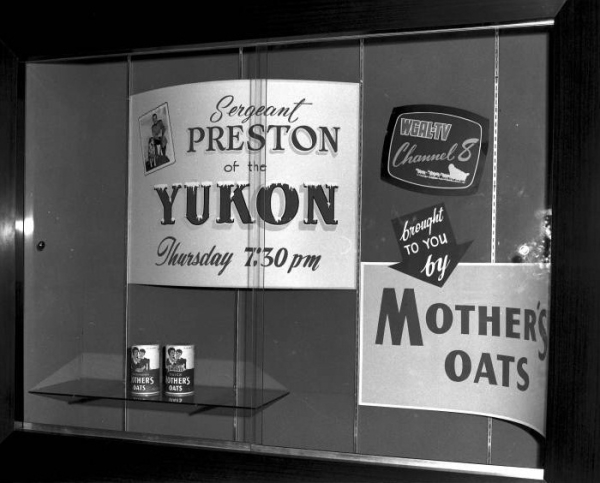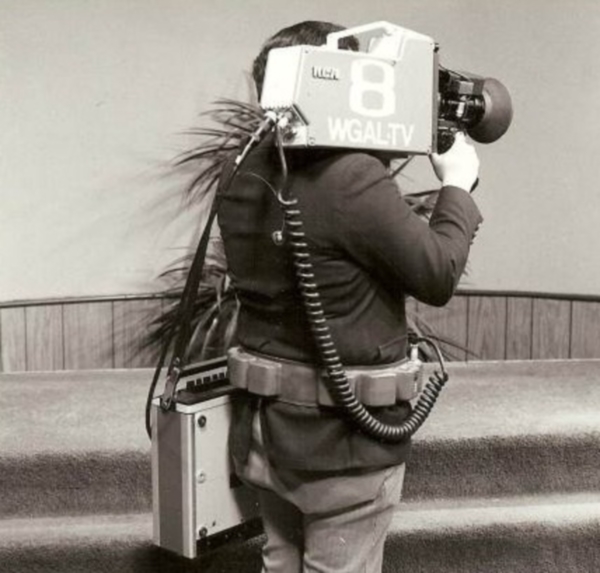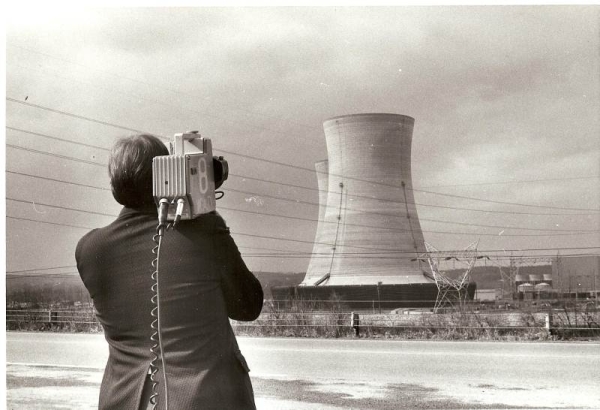 ---
Hope you enjoyed the tour. Y'all come back now, ya hear?