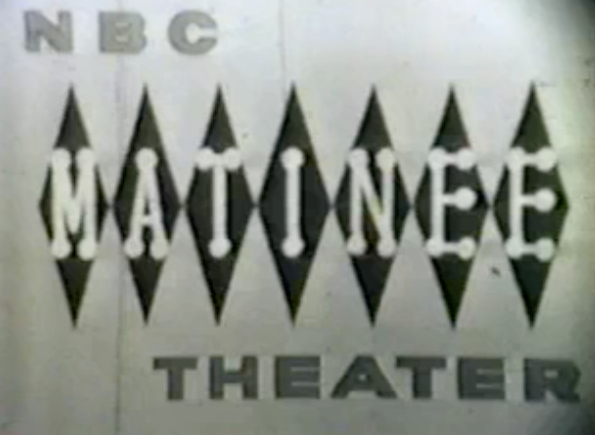 A Huge Show Few Remember Gave Us The First Use Of Live Chromakey
A Huge Show Few Remember Gave Us The First Use Of Live Chromakey
NBC's "Matinee Theater"…October 31, 1955 – June 27, 1958
This morning, I sat down to write a story on the first ever use of a live chromakey effect on network television. That happened on this show, "Matinee Theater" in June of 1957, but…then I realized what the show was and was as surprised as you may be as you read about that part too.
In a nutshell, "Matinee Theater" was five, live, one hour color plays a week from NBC Burbank, which aired at 3 eastern and noon in the west. All the other live anthology series were weekly, but this undertaking was on every weekday with a whole new play! Let that sink in a minute.
The show's creator, Albert McCleery hired five directors to oversee production of five separate casts, working on five different teleplays. The show featured over 7,000 actors in over 660 productions which were generally high quality performances.
The show won an Emmy in 1956, but also won over RCA and their dealers because this live color show was on the air during store hours and customers could see it. "Howdy Doody" was the first daily color show and that change happened on September 12, 1955.
At this link to The Archive Of American Television's interview site, Barbara Billingsley, Robert Kulp, Leonard Nimoy and others talk about their appearances on "Matinee Theater" and how the show was done. http://www.emmytvlegends.org/interviews/shows/matinee-theater#
Now for the chromakey part of the story….
Motion picture production had been using compositing for years prior to the invention of television, but it was an involved process requiring optical printers and intermediate film mattes, hardly suitable for the immediacy of live television.
In July of 1957, chroma key had its first on-air test on one of NBC Burbank's most ambitious projects, "Matinee Theater". The source material varied, but often it was an adaptation of some famous literary work.
One of those shows was s television version of the H.G. Wells classic "The Invisible Man," which lent itself perfectly for the first live use of chroma key. When the title character's hands and head were wrapped in blue and he stood in front of a blue screen, the chroma key amplifier would replace the blue parts of the video with an image from another camera. All that would be seen in the composite shot was the man's clothing in front of scenery being shot by the background camera, thus making him appear to be invisible.
Chromakey was developed by Frank Gaskins, NBC Burbank's technical operations supervisor and Milt Altman, graphics arts supervisor. Some stories say they came across the effect by accident when some TK41 camera maintenance was underway and all of the blue balloons on the set "dissapeared".
For the real story, here, on page 8 is an article called "Studio: The World…NBC Introduces Chromakey" in RCA's Electronic Age magazine. Enjoy and please share! -Bobby Ellerbee
http://www.americanradiohistory.com/Archive-Radio-Age/Electronic-Age-1958-Winter.pdf
By the way, all the photo here are from rehearsals of "Matinee Theatre" which were done in Burbank's 2 and 4.