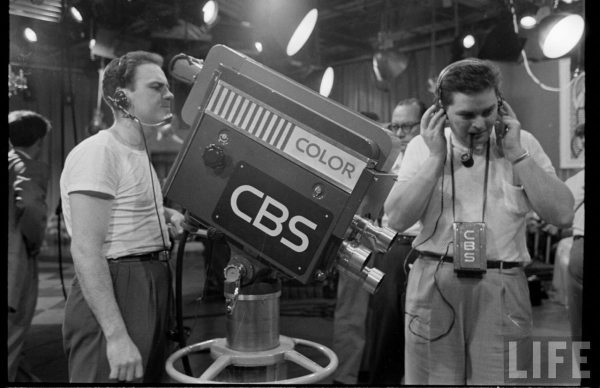 CBS Field Sequential Color Cameras at Studio 57
Below I have collected more than twenty images of the fabled CBS Field Sequential Color cameras in action. Until their debut here, these images have not been seen like this before. Below, Ed Sullivan prepares for his part in the production that is documented in this one-day sequence of photos.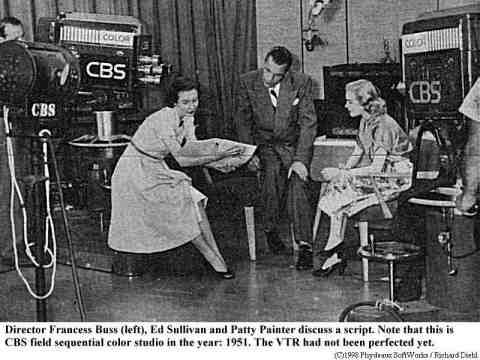 This page is mostly about the cameras and some history, but the full technical story, beautifully told and impeccably accurate, is available at Ed Reitan's great site. http://www.earlytelevision.org/Reitan/index.html
Other parts of the Ed's posts and research include the entire story and chronology on the great battle between CBS and its Field Sequential Color System and RCA's Dot Sequential Color System, and how we morphed into the NTSC standard.
It should be quite obvious that these are retrofitted RCA TK10s, but I've just recently discovered the two images below. At top, we see a prototype of a different color camera configuration that possibly anticipates strong pushback from RCA on the CBS customization of its TK10 design. Below that is a photo of the console that controls each camera. The camera appears to have two lenses on a hinged front, and on the camera's left side, there is what looks like a Mitchell movie camera viewfinder.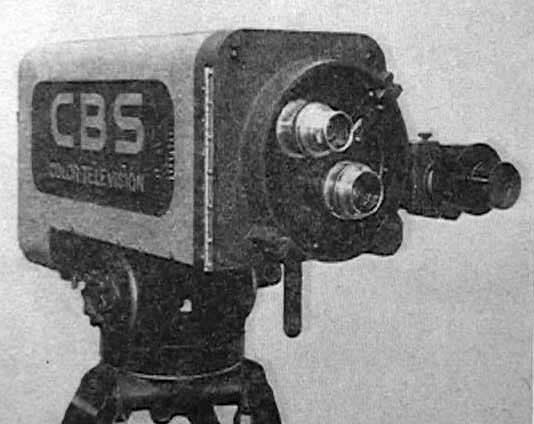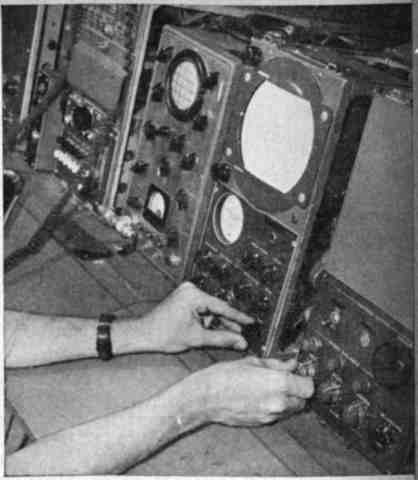 In the photo below, you can see the color wheel just behind the turret in a place you would normally find the filters. That color wheel has alternating clear film sections of red, blue and green filters and spins to give an effect similar to this, but much faster.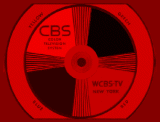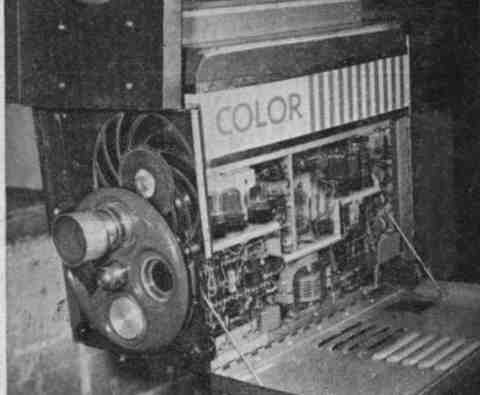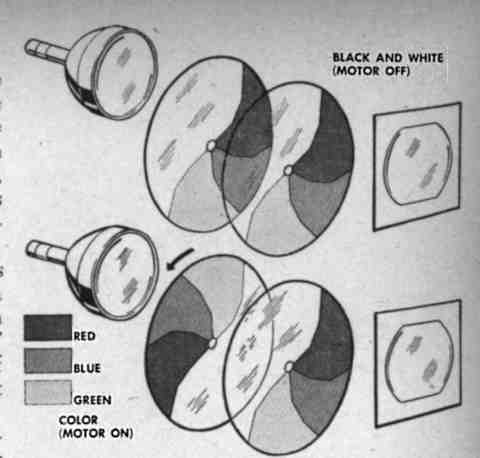 On the other end, there is an identical mechanism in the home receiver and you can see a trial version of it below. The broadcast signal has an embedded timing pulse to synchronize them.
Interestingly, this story is a lot like the one told in the NBC 8G Camera section of this site. Both prototype cameras had their own studio, were built by network engineers, and in limited numbers. There were four of the 8G cameras, but I can only identify three of the CBS Color cameras and only by their left side (operator's left) vent systems. One appears to have no left door vent, one has a vertical row of center vents, and one has a wire mesh configuration.
These photos are from Life Magazine and the only reference was the date of June 1951. Using the information from Ed's CBS Color Programming page, I believe these pictures were all made the same day…probably June 24, 1951, at the final dress rehearsal of Premiere. The air date was the next day, June 25th from 4:30 to 5:30, and it originated in Studio 57 (not to be confused with the current Studio 57 at the CBS Broadcast Center).
CBS Color Studio 57 was located at 109th Street and 5th Avenue. The host for the first half-hour was Arthur Godfrey, while Ed Sullivan handled hosting duties for the second half. Among others on that day's show, there was Faye Emerson, Garry Moore, Robert Alda and Isabel Bigley (stars of Guys and Dolls), the New York City Ballet, William S. Paley (CBS Chairman) and Frank Stanton (President of CBS), with Archie Bleyer and His Orchestra (the house band for Arthur Godfrey's programs). FCC Chairman Wayne Coy also appeared, talking about the FCC's decision on color and praising the "hour of triumph" for CBS…but, given what would soon happen, those words would ring hollow.
By the way….the crane cameraman here went all the way up the corporate ladder, to become a very valued VP of CBS Sports. His name is Harold Classen.

(All photos below courtesy of Life Magazine).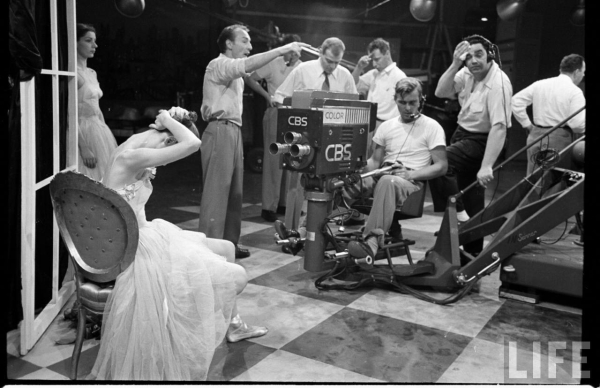 The first thing I noticed in this shot was that everybody is hot and mopping sweat. I've heard it got so hot in there the floor buckled. This is June in New York with massive lights in a huge studio with NO air conditioning.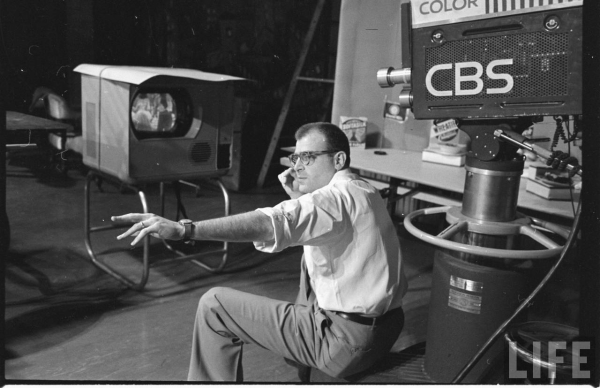 With monitor in view, this crew member sits on the pedestal of one of the cameras. Notice the metal mesh-like sides on this camera. As we go along, you'll see that every camera had different side panel modifications for cooling.
Before we get too far along with the cameras, remember that the CBS Field Sequential Color system worked on the basis of a synchronized spinning color wheel. There was a wheel in the camera and a wheel in the receiver…eventually. I'm guessing here, but this seems to be a external color wheel distributed for home demonstrations of the CBS color broadcasts, as I don't think there were any receivers in 1951 with the wheel inside. Only a few hundred were ever made, and then were actually recalled.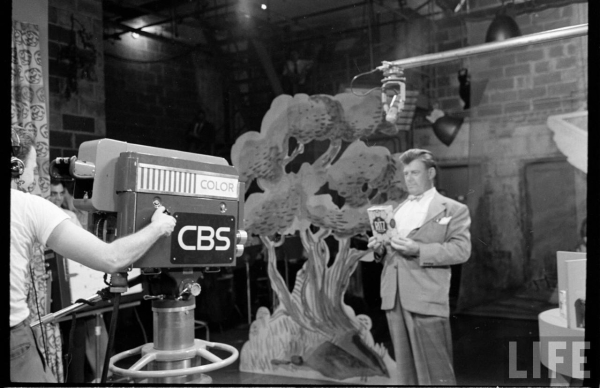 Host of the first half of Premiere, Arthur Godfrey, in a Ritz live spot run-through…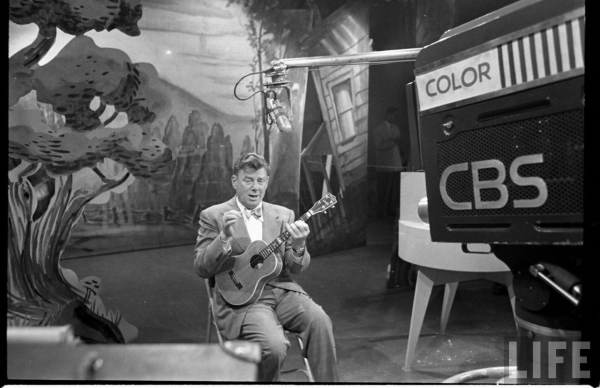 …and performing "On Top Of Old Smoky."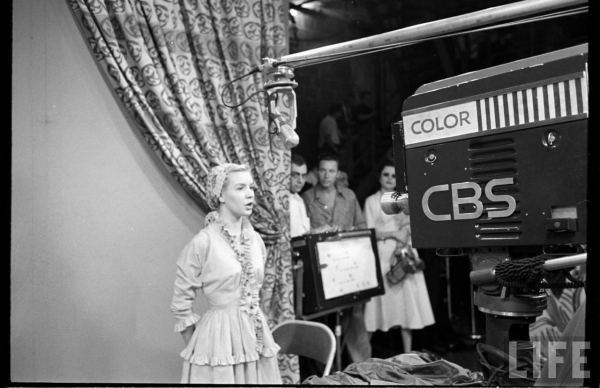 Given what I've seen in the full set of pictures, I believe there may have only been three of these cameras. The one mounted on the Sanner crane has vertical center vents on the left door vent, one of the cameras has the partial wire mesh door, and the camera below seems to have no vents in its door.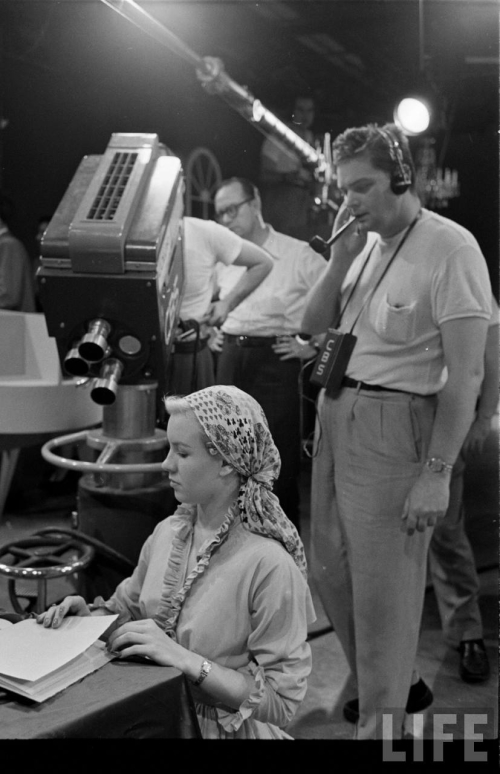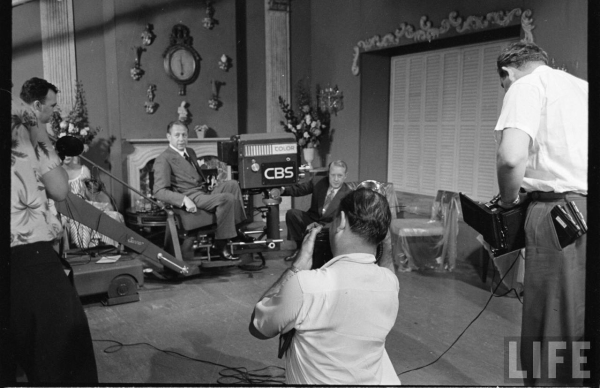 CBS Chairman (in the crane chair…naturally) William Paley and CBS President Frank Stanton as guests on the Premiere debut show.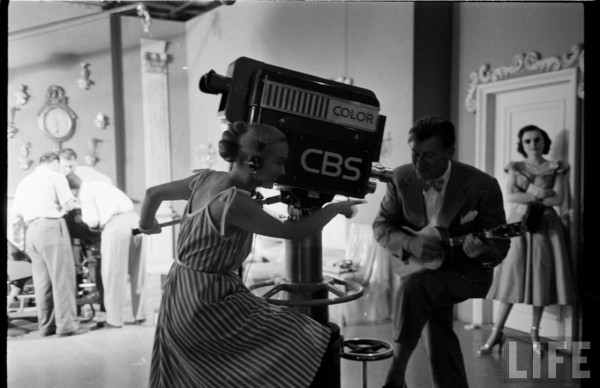 Co-host Arthur Godfrey and guest star Faye Emerson are getting along famously. Godfrey was already famous for his radio and television programs, but Faye Emerson was a big star in her own right. Referred to as "Mrs. Television," she was a well-rounded entertainer, and such a 'natural' that she even hosted two late night talk shows in 1949…one on CBS and one on NBC. Wow! For more on Faye's very interesting life, click here.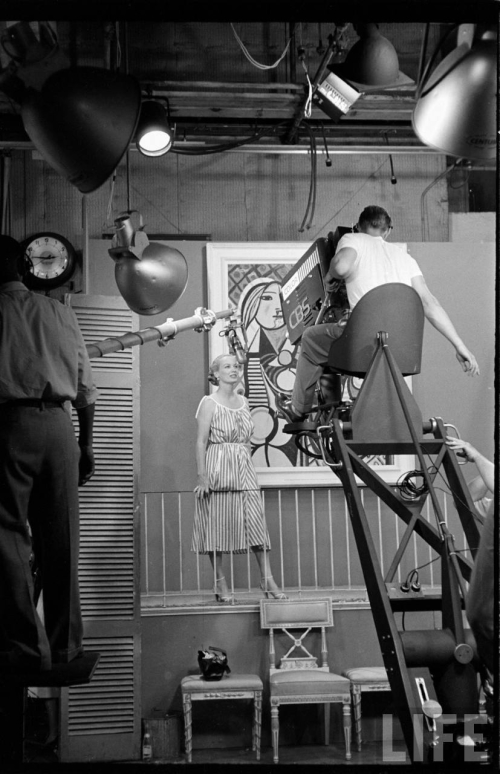 Above and below, Faye Emerson shows off colorful paintings by Picasso, Renoir and Hopper, on loan from the Metropolitan Museum of Art and the Museum of Modern Art.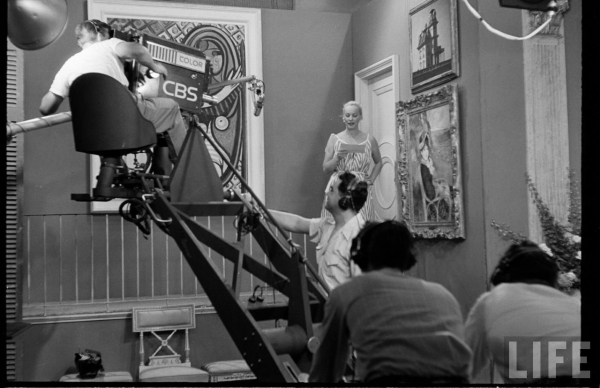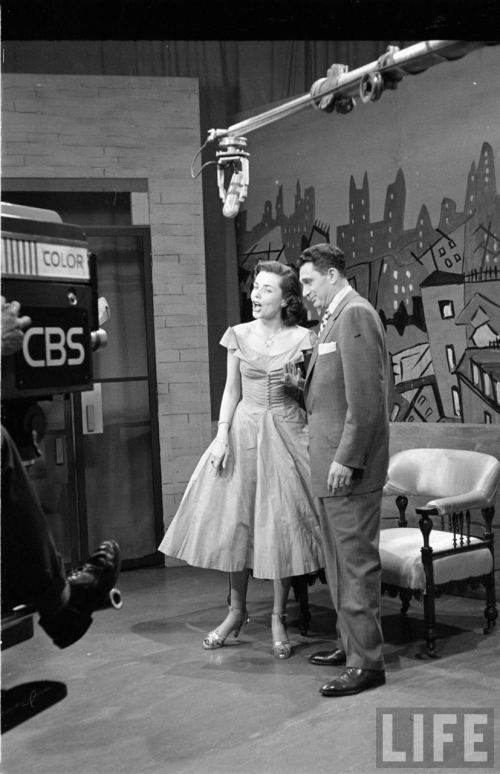 Above, Isabel Bigley and Robert Alda perform Irving Berlin's "You're Just In Love" from the musical Call Me Madam.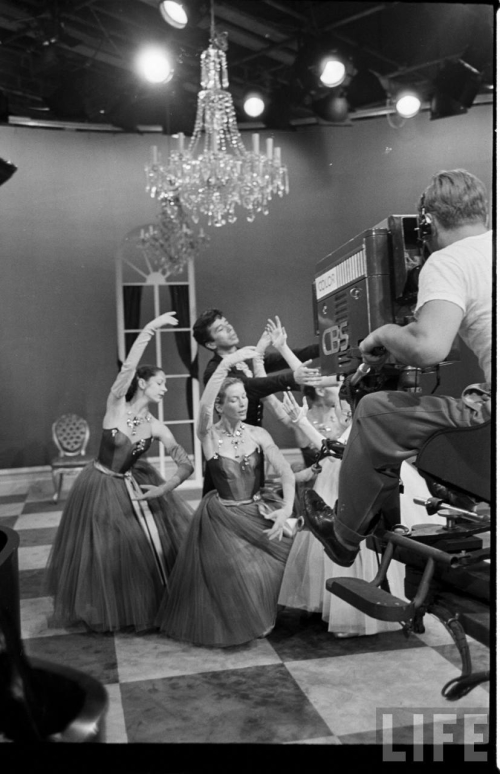 Members of the New York City Ballet, under the direction of George Balanchine with staging by Sol Hurok, perform Maurice Ravel's La Valse.
From here on, I'll just let the pictures below explain themselves with no further captions.