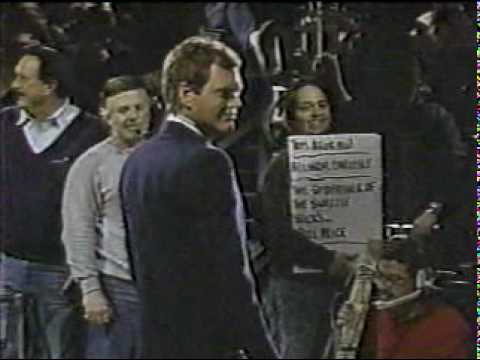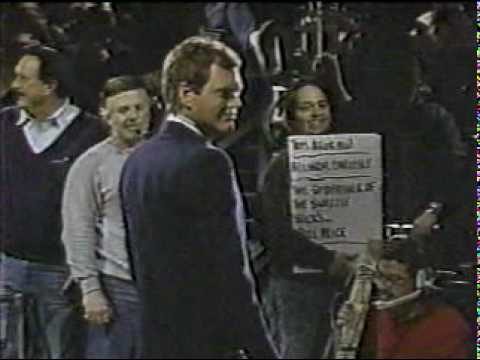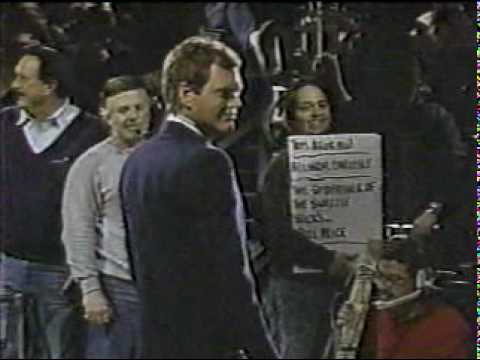 March 1, 1988…It Was "Camera Night" On The Letterman Show…

March 1, 1988…It Was "Camera Night" On The Letterman Show
Just for fun, here is NBC Studio 6A packed with 13 cameras, mostly RCA TK47s, plus a few had helds. When announcer Bill Wendell called it "Camera Night" in the intro, he wasn't kidding!
This was about the half way point in Dave's NBC run from 1982 till 1993 and he was as fresh as ever. The Winter Olympics in Calgary, Canada had just ended the day before, NY Mayor Koch had just called President Reagan a "wimp" in the war on drugs, the Chicago Cubs had just gotten permission to install lights and play night games and Jimmy Swaggert had just confessed his sins live.
Bruce Springsteen's "Tunnel Of Love" tour had just started, and two days later at the Grammy show Dave mentions, he won best male vocal performance. U2 won album of the year for "Joshua Tree", "Somewhere Out There" was song of the year and Paul Simon's "Graceland" was record of the year.
QUESTION: Would you give up all you have now to go back to that point in time for a redo of these past 29 years, if you could know all that you know now and…best of all, be the age you were in 1988?
I would! Enjoy! -Bobby Ellerbee
https://www.youtube.com/watch?v=Yr0sel58sug
Tonight is camera night! 13 cameras in the studio instead of the usual 4.